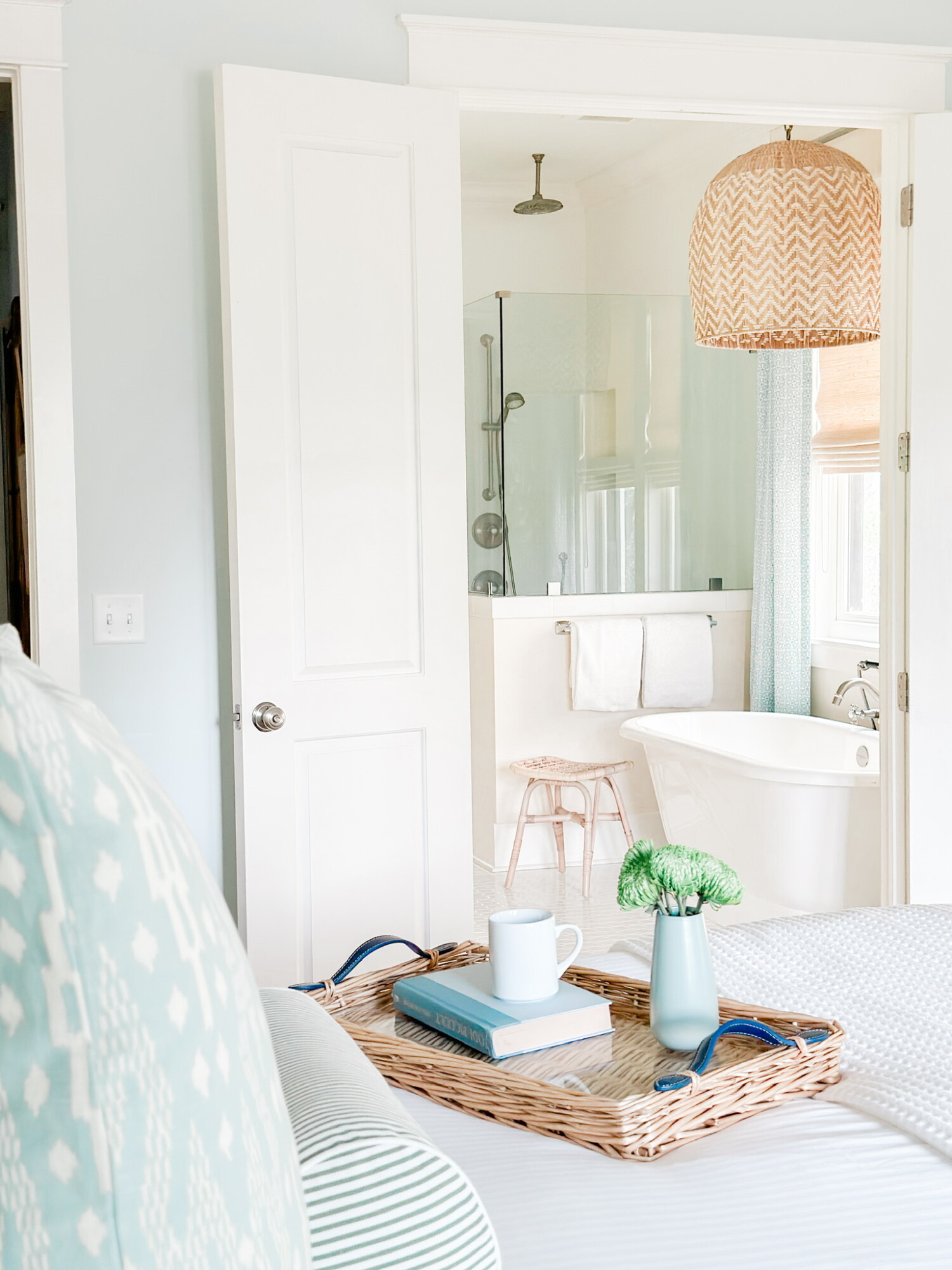 Hello Everyone! It's Sarah and I'm back with my summer reading list. I was tearing through books this winter and spring and I've finally started keeping track of what I'm reading via Goodreads. While my reading has slowed a bit with a busy summer, I'm still trying to get through my to-be-read piles (yes, there are multiple). I read 2-3 books at a time: I have a book I read on my lunch break at work, a book I read before bed, and sometimes I'll listen to an audiobook while traveling or doing things around the house. I've pulled together books from several different genres in hopes that you'll find your next favorite read from my summer reading list.
ACOTAR Series by Sarah J. Maas
Fantasy Series
When nineteen-year-old huntress Feyre kills a wolf in the woods, a terrifying creature arrives to demand retribution. Dragged to a treacherous magical land she knows about only from legends, Feyre discovers that her captor is not truly a beast, but one of the lethal, immortal faeries who once ruled her world. At least, he's not a beast all the time. As she adapts to her new home, her feelings for the faerie, Tamlin, transform from icy hostility into a fiery passion that burns through every lie she's been told about the beautiful, dangerous world of the Fae. But something is not right in the faerie lands. An ancient, wicked shadow is growing, and Feyre must find a way to stop it, or doom Tamlin-and his world-forever.
I just finished the 4th book in this 5 book series. I was a little skeptical about this series but there are a LOT of people talking about it. I liked the first book in the series enough to read the second book and that's when I got hooked. This series is technically categorized as YA but I'm not sure how. In my opinion, this series has more adult themes than the YA books of my era!
City of Girls by Elizabeth Gilbert
Romance/Historical Fiction
In 1940, nineteen-year-old Vivian Morris has just been kicked out of Vassar College, owing to her lackluster freshman-year performance. Her affluent parents send her to Manhattan to live with her Aunt Peg, who owns a flamboyant, crumbling midtown theater called the Lily Playhouse. There Vivian is introduced to an entire cosmos of unconventional and charismatic characters, from the fun-chasing showgirls to a sexy male actor, a grand-dame actress, a lady-killer writer, and no-nonsense stage manager. But when Vivian makes a personal mistake that results in professional scandal, it turns her new world upside down in ways that it will take her years to fully understand. Ultimately, though, it leads her to a new understanding of the kind of life she craves – and the kind of freedom it takes to pursue it. It will also lead to the love of her life, a love that stands out from all the rest.
This was a great audiobook selection!
Crying in H Mart by Michelle Zauner
Memoir
In this exquisite story of family, food, grief, and endurance, Michelle Zauner proves herself far more than a dazzling singer, songwriter, and guitarist. With humor and heart, she tells of growing up one of the few Asian American kids at her school in Eugene, Oregon; of struggling with her mother's particular, high expectations of her; of a painful adolescence; of treasured months spent in her grandmother's tiny apartment in Seoul, where she and her mother would bond, late at night, over heaping plates of food.
This was another recent audiobook for me. It's read by the author and is a quick listen. 
From Scratch: A Memoir of Love, Sicily, and Finding Home by Tembi Locke
Memoir
It was love at first sight when actress Tembi met professional chef, Saro, on a street in Florence. There was just one problem: Saro's traditional Sicilian family did not approve of his marrying a black American woman. However, the couple, heartbroken but undeterred, forged on. They built a happy life in Los Angeles, with fulfilling careers, deep friendships, and the love of their lives: a baby girl they adopted at birth. Eventually, they reconciled with Saro's family just as he faced a formidable cancer that would consume all their dreams.
This was a wonderful read for me but fair warning, you might find yourself hungry and crying at the same time while reading. Once you finish reading, be sure to watch the Netflix adaptation. This will have you wishing you were working your way through your summer reading list in Italy!
Love on the Brain by Ali Hazelwood
Romantic Comedy/Contemporary Romance
Like an avenging, purple-haired Jedi bringing balance to the mansplained universe, Bee Königswasser lives by a simple code: What would Marie Curie do? If NASA offered her the lead on a neuroengineering project—a literal dream come true after years scraping by on the crumbs of academia—Marie would accept without hesitation. Duh. But the mother of modern physics never had to co-lead with Levi Ward. Sure, Levi is attractive in a tall, dark, and piercing-eyes kind of way. And sure, he caught her in his powerfully corded arms like a romance novel hero when she accidentally damseled in distress on her first day in the lab. But Levi made his feelings toward Bee very clear in grad school—archenemies work best employed in their own galaxies far, far away.
Ali Hazelwood's books typically focus on women in STEM and I love it! This book was funny, charming, and not what I expected. I read her The Love Hypothesis book as well but enjoyed Love on the Brain a bit more (but still recommend). This summer she released her latest book, Love Theoretically.
Mary Jane by Jessica Anya Blau
Coming-of-age story
In 1970s Baltimore, fourteen-year-old Mary Jane loves cooking with her mother, singing in her church choir, and enjoying her family's subscription to the Broadway Showtunes of the Month record club. Shy, quiet, and bookish, she's glad when she lands a summer job as a nanny for the daughter of a local doctor. A respectable job, Mary Jane's mother says. In a respectable house. The house may look respectable on the outside, but inside it's a literal and figurative mess: clutter on every surface, Impeachment: Now More Than Ever bumper stickers on the doors, cereal and takeout for dinner. And even more troublesome (were Mary Jane's mother to know, which she does not): the doctor is a psychiatrist who has cleared his summer for one important job—helping a famous rock star dry out. A week after Mary Jane starts, the rock star and his movie star wife move in.
I just started this book. I think it's going to be the perfect easy, summer read after a few heavy books recently. I'm planning on finishing it poolside this weekend. I'm hoping it's the perfect addition to my summer reading list.
Tomorrow and Tomorrow and Tomorrow by Gabrielle Zevin
Coming-of-age story
On a bitter-cold day, in the December of his junior year at Harvard, Sam Masur exits a subway car and sees, amid the hordes of people waiting on the platform, Sadie Green. He calls her name. For a moment, she pretends she hasn't heard him, but then, she turns, and a game begins: a legendary collaboration that will launch them to stardom. These friends, intimates since childhood, borrow money, beg favors, and, before even graduating college, they have created their first blockbuster, Ichigo. Overnight, the world is theirs. Not even twenty-five years old, Sam and Sadie are brilliant, successful, and rich, but these qualities won't protect them from their own creative ambitions or the betrayals of their hearts.
This was the first book we read in the book club I'm in and everyone loved it. You know it's a good book when you try to cast the actors who would play the characters in the movie version.
The Silent Patient by Alex Michaelides
Psychological Thriller
Alicia Berenson's life is seemingly perfect. A famous painter married to an in-demand fashion photographer, she lives in a grand house with big windows overlooking a park in one of London's most desirable areas. One evening her husband Gabriel returns home late from a fashion shoot, and Alicia shoots him five times in the face, and then never speaks another word. Alicia's refusal to talk, or give any kind of explanation, turns a domestic tragedy into something far grander, a mystery that captures the public imagination and casts Alicia into notoriety. The price of her art skyrockets, and she, the silent patient, is hidden away from the tabloids and spotlight at the Grove, a secure forensic unit in North London. Theo Faber is a criminal psychotherapist who has waited a long time for the opportunity to work with Alicia. His determination to get her to talk and unravel the mystery of why she shot her husband takes him down a twisting path into his own motivations―a search for the truth that threatens to consume him.
An excellent audiobook if you're like me and like to listen to books.
The Book of Lost Names by Kristin Harmel
Historical Fiction
Eva Traube Abrams, a semi-retired librarian in Florida, is shelving books one morning when her eyes lock on a photograph in a magazine lying open nearby. She freezes; it's an image of a book she hasn't seen in sixty-five years—a book she recognizes as The Book of Lost Names. The accompanying article discusses the looting of libraries by the Nazis across Europe during World War II—an experience Eva remembers well—and the search to reunite people with the texts taken from them so long ago. The book in the photograph, an eighteenth-century religious text thought to have been taken from France in the waning days of the war, is one of the most fascinating cases. Now housed in Berlin's Zentral- und Landesbibliothek library, it appears to contain some sort of code, but researchers don't know where it came from—or what the code means. Only Eva holds the answer—but will she have the strength to revisit old memories and help reunite those lost during the war?
I'm a sucker for female-driven WWII-era stories and this was no exception.
Woman on Fire by Lisa Barr
Art Thriller
After talking her way into a job with Dan Mansfield, the leading investigative reporter in Chicago, rising young journalist Jules Roth is given an unusual—and very secret—assignment. Dan needs her to locate a painting stolen by the Nazis more than 75 years earlier: legendary Expressionist artist Ernst Engel's most famous work, Woman on Fire. World-renowned shoe designer Ellis Baum wants this portrait of a beautiful, mysterious woman for deeply personal reasons, and has enlisted Dan's help to find it. But Jules doesn't have much time; the famous designer is dying. Meanwhile, in Europe, provocative and powerful Margaux de Laurent also searches for the painting. Heir to her art collector family's millions, Margaux is a cunning gallerist who gets everything she wants. The only thing standing in her way is Jules. Yet the passionate and determined Jules has unexpected resources of her own, including Adam Baum, Ellis's grandson. A recovering addict and brilliant artist in his own right, Adam was once in Margaux's clutches. He knows how ruthless she is, and he'll do anything to help Jules locate the painting before Margaux gets to it first.
This book is told from several different viewpoints and timelines and pulled me in.
I love to share my book recommendations and hope that you find something you love in my summer reading list. If you're interested in my other favorite reads, check out What's On My Fall Reading List, My Favorite Holiday Reads, and Maggie's Top Ten Summer Beach Reads. Happy Reading!