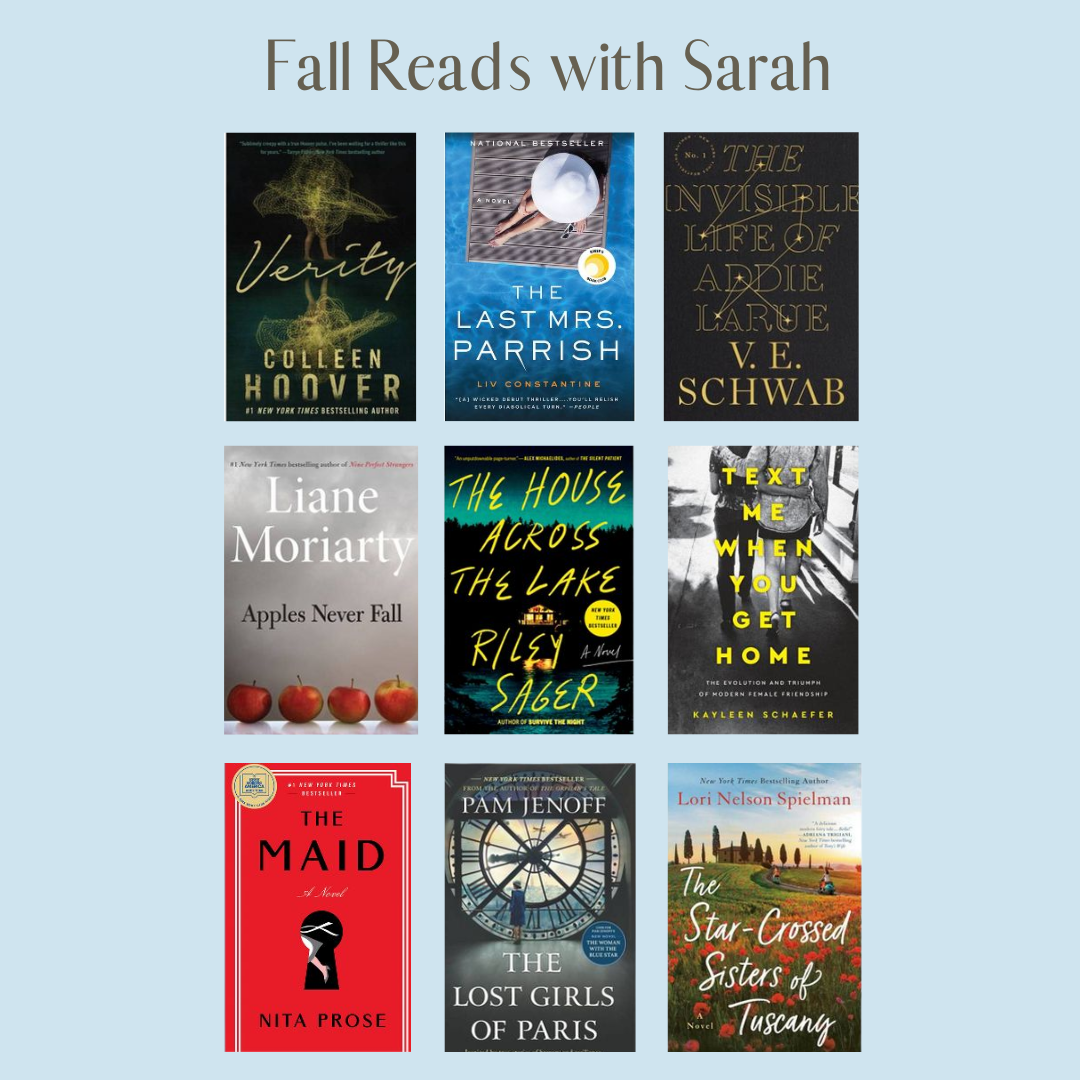 While it's hard to find time to read between working on my business and taking care of my family, it's something I'm trying to make more time for. However, I know someone who is an avid reader and I asked her to write up a few recommendations for you all. Without further ado, meet Sarah!
Hi Everyone! I'm so excited to share a few Fall reads with you all. I help Maggie out behind the scenes with her business and I usually have my head behind a book several times a day. I love to share book recommendations with my mom, friends, and now all of you! I've rounded up a few books that are on my Fall read list. Some of them I've already read and some are on my must-read list. There are a few mysteries along with a bit of romance and one on a history of female relationships. A bit of something for everyone! When I'm back in Jacksonville, I love to pop into Our Town Books and pick up one or two books on my list.
Verity by Colleen Hoover
Lowen Ashleigh is a struggling writer on the brink of financial ruin when she accepts the job offer of a lifetime. Jeremy Crawford, husband of bestselling author Verity Crawford, has hired Lowen to complete the remaining books in a successful series his injured wife is unable to finish. Lowen arrives at the Crawford home, ready to sort through years of Verity's notes and outlines, hoping to find enough material to get her started. What Lowen doesn't expect to uncover in the chaotic office is an unfinished autobiography Verity never intended for anyone to read. Page after page of bone-chilling admissions, including Verity's recollection of the night their family was forever altered.
I read this one last Fall and the ending had me hooked on Colleen Hoover!
The Last Mrs. Parrish by Liv Constantine
Amber Patterson is fed up. She's tired of being a nobody: a plain, invisible woman who blends into the background. She deserves more—a life of money and power like the one blond-haired, blue-eyed goddess Daphne Parrish takes for granted. To everyone in the exclusive town of Bishops Harbor, Connecticut, Daphne—a socialite and philanthropist—and her real-estate mogul husband, Jackson, are a couple straight out of a fairy tale.
Amber's envy could eat her alive . . . if she didn't have a plan. Amber uses Daphne's compassion and caring to insinuate herself into the family's life—the first step in a meticulous scheme to undermine her. Before long, Amber is Daphne's closest confidante, traveling to Europe with the Parrishes and their lovely young daughters, and growing closer to Jackson. But a skeleton from her past may undermine everything that Amber has worked towards, and if it is discovered, her well-laid plan may fall to pieces.
Confession, I listened to this on Audible instead of actually reading it. 
The Invisible Life of Addie LaRue by V.E. Schwab
France, 1714: In a moment of desperation, a young woman makes a Faustian bargain to live forever – and is cursed to be forgotten by everyone she meets. Thus begins the extraordinary life of Addie LaRue and a dazzling adventure that will play out across centuries and continents, across history and art, as a young woman learns how far she will go to leave her mark on the world. But everything changes when, after nearly 300 years, Addie stumbles across a young man in a hidden bookstore and he remembers her name.
Currently waiting for me on my stack of books next to my nightstand.
Apples Never Fall by Liane Moriarty
The Delaney family love one another dearly – it's just that sometimes they want to murder each other….
If your mother was missing, would you tell the police? Even if the most obvious suspect was your father? This is the dilemma facing the four grown Delaney siblings. The Delaneys are fixtures in their community. The parents, Stan and Joy, are the envy of all of their friends. They're killers on the tennis court, and off it their chemistry is palpable. But after 50 years of marriage, they've finally sold their famed tennis academy and are ready to start what should be the golden years of their lives. So why are Stan and Joy so miserable?
One night a stranger named Savannah knocks on Stan and Joy's door, bleeding after a fight with her boyfriend. The Delaneys are more than happy to give her the small kindness she sorely needs. If only that was all she wanted. Later, when Joy goes missing, and Savannah is nowhere to be found, the police question the one person who remains: Stan. But for someone who claims to be innocent, he, like many spouses, seems to have a lot to hide. Two of the Delaney children think their father is innocent, two are not so sure – but as the two sides square off against each other in perhaps their biggest match ever, all of the Delaneys will start to reexamine their shared family history in a very new light.
Placed a hold at the library for this one.
The House Across the Lake by Riley Sager
Casey Fletcher, a recently widowed actress trying to escape a streak of bad press, has retreated to the peace and quiet of her family's lake house in Vermont. Armed with a pair of binoculars and several bottles of bourbon, she passes the time watching Tom and Katherine Royce, the glamorous couple living in the house across the lake. They make for good viewing—a tech innovator, Tom is powerful; and a former model, Katherine is gorgeous.
One day on the lake, Casey saves Katherine from drowning, and the two strike up a budding friendship. But the more they get to know each other—and the longer Casey watches—it becomes clear that Katherine and Tom's marriage isn't as perfect as it appears. When Katherine suddenly vanishes, Casey immediately suspects Tom of foul play. What she doesn't realize is that there's more to the story than meets the eye—and that shocking secrets can lurk beneath the most placid of surfaces.
On my list.
Text Me When You Get Home by Kayleen Schaefer
For too long, women have been told that we are terrible at being friends, that we can't help being cruel or competitive, or that we inevitably abandon each other for romantic partners. But we are rejecting those stereotypes and reclaiming the power of female friendship.
Journalist Kayleen Schaefer interviews more than 100 women about their BFFs, soul mates, girl gangs, and queens while tracing this cultural shift through the lens of pop culture. Our love for each other is reflected in Abbi and Ilana, Issa and Molly, #squadgoals, the acclaim of Girls Trip and Big Little Lies, and Galentine's Day. Schaefer also includes her own history of grappling with a world that told her to rely on men before she realized that her true source of support came from a strong tribe of women. Her personal narrative and celebration of her own relationships weaves throughout the evolution of female friendship on-screen, a serious look at how women have come to value one another and our relationships.
Absolutely loved this book and had already cried a bit by page 3…
The Lost Girls of Paris by Pam Jenoff
One morning while passing through Grand Central Terminal on her way to work, Grace Healey finds an abandoned suitcase tucked beneath a bench. Unable to resist her own curiosity, Grace opens the suitcase, where she discovers a dozen photographs – each of a different woman. In a moment of impulse, Grace takes the photographs and quickly leaves the station.
Grace soon learns that the suitcase belonged to a woman named Eleanor Trigg, leader of a network of female secret agents who were deployed out of London during the war. Twelve of these women were sent to Occupied Europe as couriers and radio operators to aid the resistance, but they never returned home, their fates a mystery. Setting out to learn the truth behind the women in the photographs, Grace finds herself drawn to a young mother turned agent named Marie, whose daring mission overseas reveals a remarkable story of friendship, valor, and betrayal.
For all my historical fiction lovers out there, this one is top notch.
The Maid by Nita Prose
Molly Gray is not like everyone else. She struggles with social skills and misreads the intentions of others. Her gran used to interpret the world for her, codifying it into simple rules that Molly could live by. Since Gran died a few months ago, twenty-five-year-old Molly has been navigating life's complexities all by herself. No matter—she throws herself with gusto into her work as a hotel maid. Her unique character, along with her obsessive love of cleaning and proper etiquette, make her an ideal fit for the job. She delights in donning her crisp uniform each morning, stocking her cart with miniature soaps and bottles, and returning guest rooms at the Regency Grand Hotel to a state of perfection.
But Molly's orderly life is upended the day she enters the suite of the infamous and wealthy Charles Black, only to find it in a state of disarray and Mr. Black himself dead in his bed. Before she knows what's happening, Molly's unusual demeanor has the police targeting her as their lead suspect. She quickly finds herself caught in a web of deception, one she has no idea how to untangle. Fortunately for Molly, friends she never knew she had unite with her in a search for clues to what really happened to Mr. Black—but will they be able to find the real killer before it's too late?
On my list.
The Star-Crossed Sisters of Tuscany by Lori Nelson Spielman
Since the day Filomena Fontana cast a curse upon her sister more than 200 years ago, not one second-born Fontana daughter has found lasting love. Some, like second-born Emilia, the happily single baker at her grandfather's Brooklyn deli, claim it's an odd coincidence. Others, like her sexy, desperate-for-love cousin Lucy, insist it's a true hex. But both are bewildered when their great-aunt calls with an astounding proposition: If they accompany her to her homeland of Italy, Aunt Poppy vows she'll meet the love of her life on the steps of the Ravello Cathedral on her 80th birthday and break the Fontana Second-Daughter Curse once and for all.
Against the backdrop of wandering Venetian canals, rolling Tuscan fields, and enchanting Amalfi Coast villages, romance blooms, destinies are found, and family secrets are unearthed – secrets that could threaten the family far more than a centuries-old curse.
This is like a lovely rom com that transports you to Italy. 
While I can and will read any place and at anytime, I like to create an extra cozy scene for myself at home. I like to wrap-up in a blanket like this plaid throw blanket or this faux cashmere one and prop my feet up. To feel extra luxurious, I like to put on a pair of undereye patches and a lip mask to treat myself. (I also like to treat myself to either a glass of wine and popcorn or a cup of herbal tea and chocolate depending on how the day went). Then I light one of my favorite fall candles: Nest's Autumn plum and pumpkin chai are in heavy rotation these days.
I'm looking forward to cozying up with one of these books very soon-I just have to pick which one. I hope you find one of your new favorites in this list! Speaking of lists, I love to use the Soon app to keep organized. I have friends that use Goodreads to keep their book list but I love that with Soon you can keep a list for books, movies, tv shows, podcasts, etc.
Happy reading!
Disclosure: This post may contain affiliate links that I may earn a small commission from, at no additional cost to you. I only recommend products I would or have used myself.