I love gift guides for the holiday season. They're great for when you need a bit of inspiration for those who are hard to shop for or for those who have everything they need or want. And don't get me started on buying for your teens. This year I went with a less is more approach to my gift guides. I picked my top five items in various categories so you don't get overwhelmed. I hope you find inspiration in some of these gift guide items and find the perfect gifts for those on your list.
For Her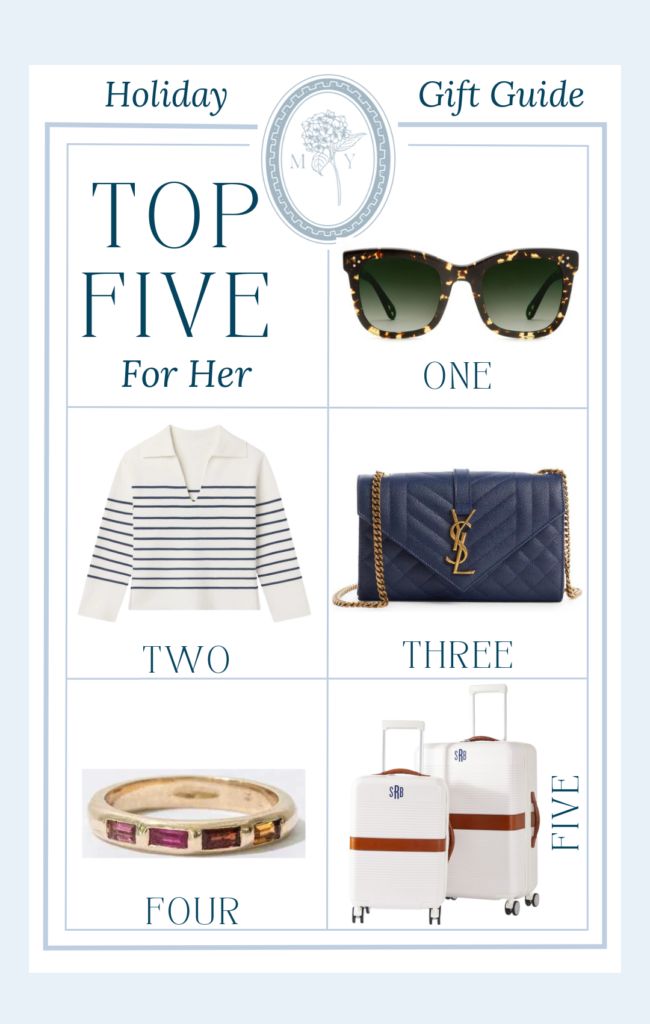 One of my top picks is this beautiful birthstone ring from Mary Frances Maker. I love how you can customize the number of stones, the colorways, and the minimalist style. We have a few trips coming up this winter and my luggage has seen better days. The new Terminal 2 luggage from Mark and Graham is just what I need. My favorite Lake Pajamas just debuted their sweater line and I have a feeling I'll be living in this one all fall and winter.
Beauty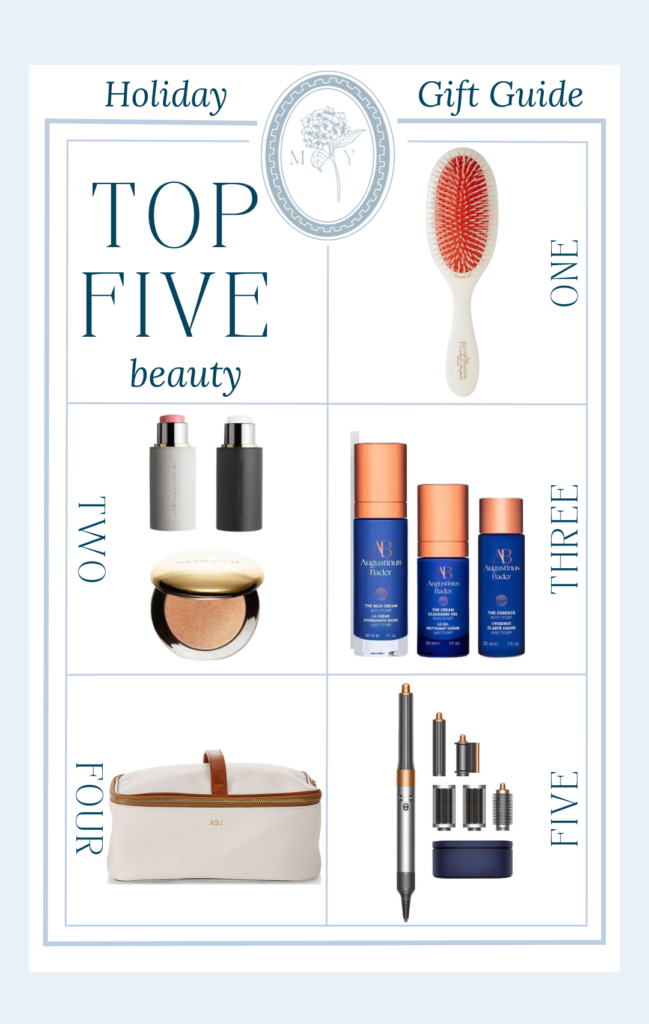 I love buying beauty gifts for friends and family as I think it helps them feel pampered. A good quality cosmetics case is always a good idea since it's not something most people would buy for themselves. Instead, we use whatever pouches we can find around the house. Similarly, I think we wouldn't normally buy ourselves a really great hairbrush but my hairdresser insists it's the key to perfecting your at-home blowout. If you want to take that blowout up a notch, the Dyson Airwrap might be just the thing to get that fresh-from-the-salon look.
For the Homebody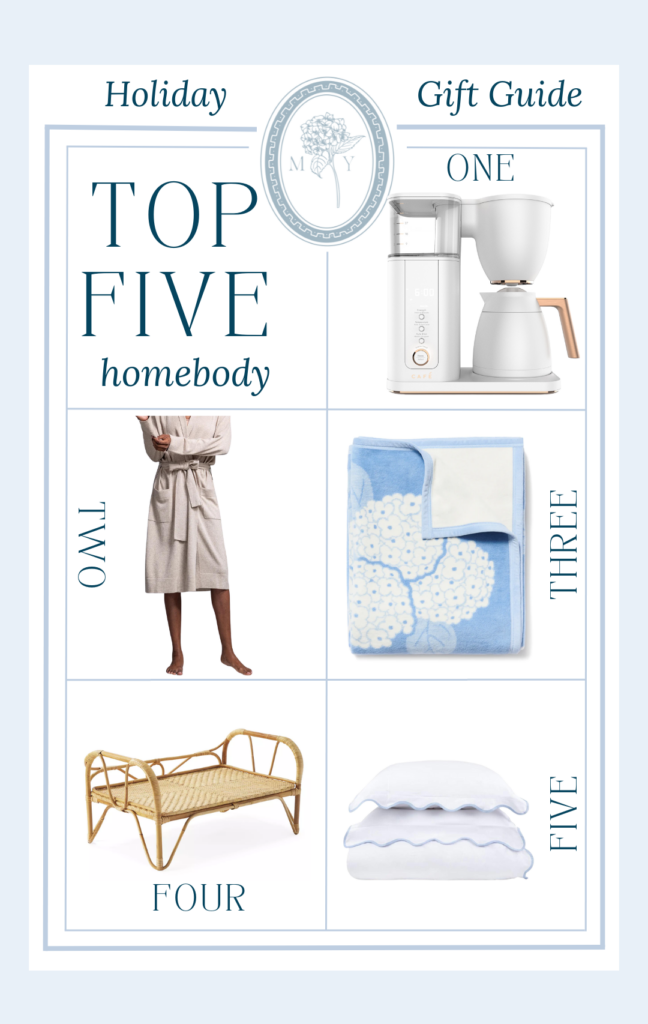 This time of year, I love to spend extra time curled up at home and these items are just the thing for your favorite homebody. The cashmere robe is so luxe and makes your post-shower or bath time extra special. For those lazy mornings, I've included my favorite duvet set and super soft blanket. And go ahead and order your breakfast in bed with the cutest rattan tray!
Coastal Style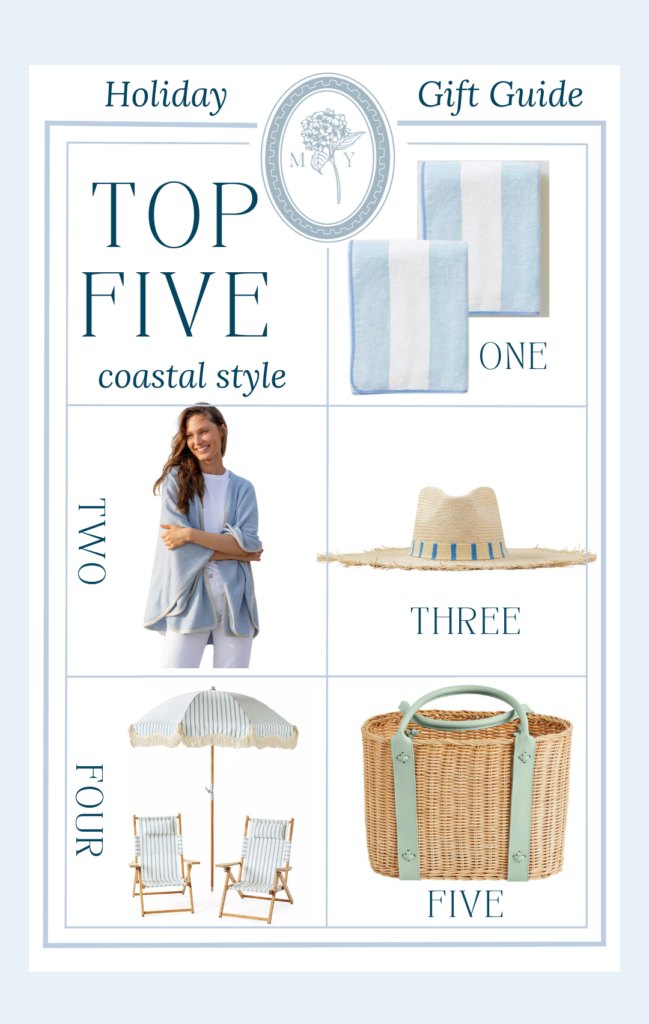 We are leaning into my two favorite color combinations for the coastal style gift round-up: blue and white! I adore all of these items. We have the striped beach towels and the beach chair and umbrella set up has been a long-time favorite. Know someone that's going on a fabulous beach getaway this winter? The wrap, bag, and hat would be perfect gifts to elevate their beach attire.
Little Luxuries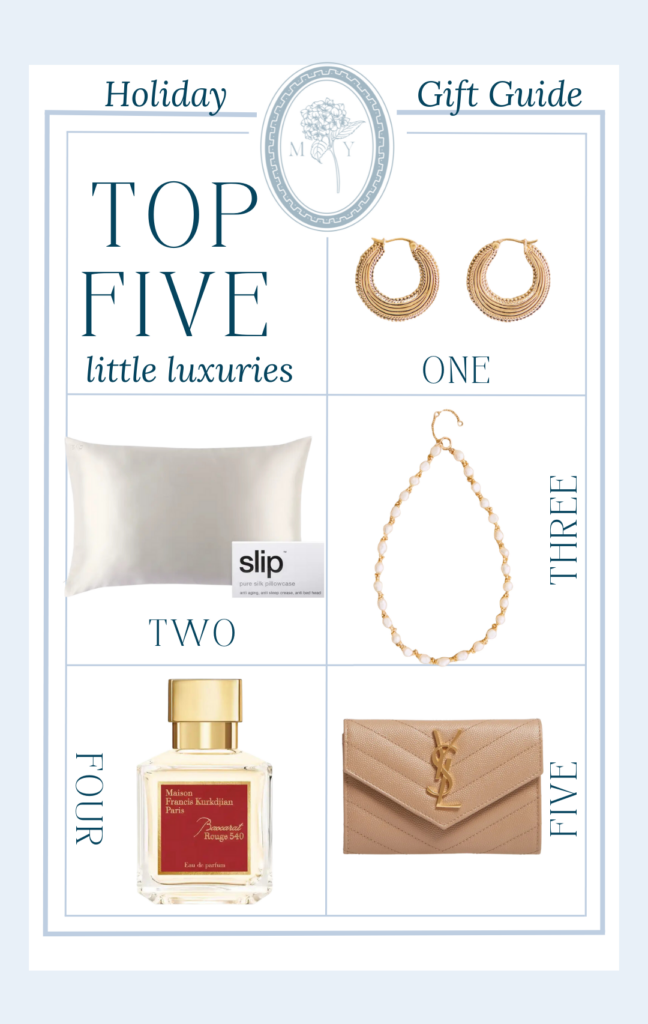 I consider these items that little something extra you wouldn't normally buy for yourself. Little luxuries that make you smile throughout the day. Whether it be a piece of jewelry, a leather wallet, or a silk pillowcase, these are sure to make anyone feel special. Anytime I wear the perfume, I always get a ton of compliments and questions about what I'm wearing!
Under $50 for Her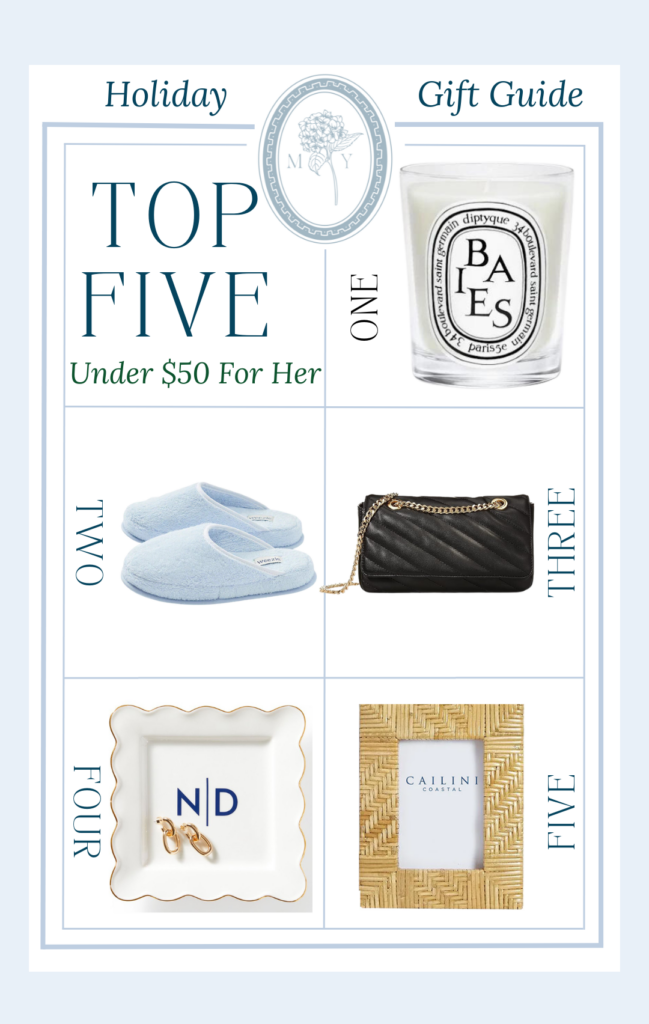 While we all would love a little luxury, there are many gifts and price points to make someone feel special. It can be a cozy pair of slippers, a delicious-smelling candle, or a lovely trinket tray to hold their treasures. If you're on a set budget, these items won't break the bank.
For Him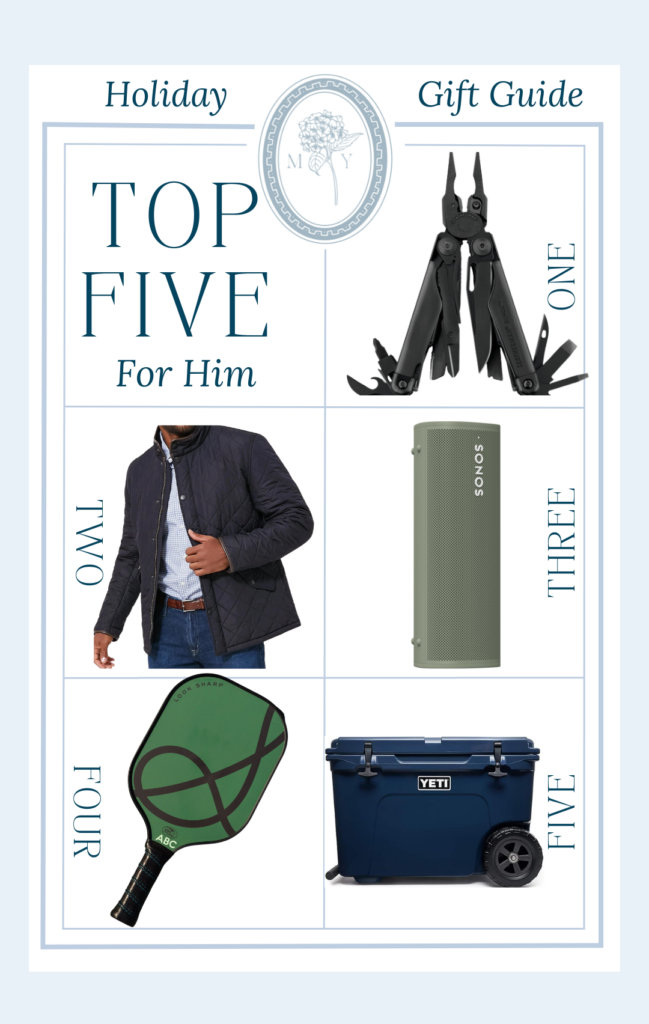 Sometimes I think it's hardest to shop for the men in my life. My husband will go out and buy whatever he needs or wants instead of waiting for a holiday. My go-to items are a stylish jacket for those days off the farm, a portable speaker, and a classic cooler. With a larger family, there's always a lot of food and drinks in our coolers when we need one. This wheeled option will make it much easier to transport. I'm also getting Adam his own paddle set for pickleball so he'll stop stealing mine!
Under $50 for Him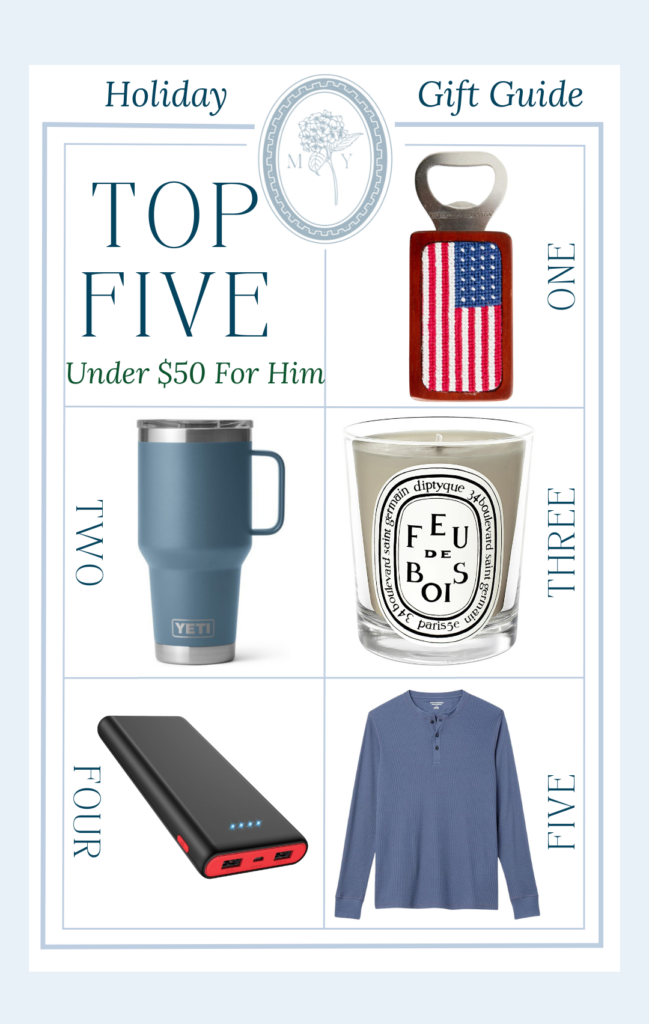 For those early farm mornings, a quality to-go coffee mug is a must-have in our house as is a portable charger. Adam is always on the phone checking in with clients and how things are going in certain fields multiple times a day and it drains his battery. For the shop, I love this candle to freshen up the scent.
For Teen Girl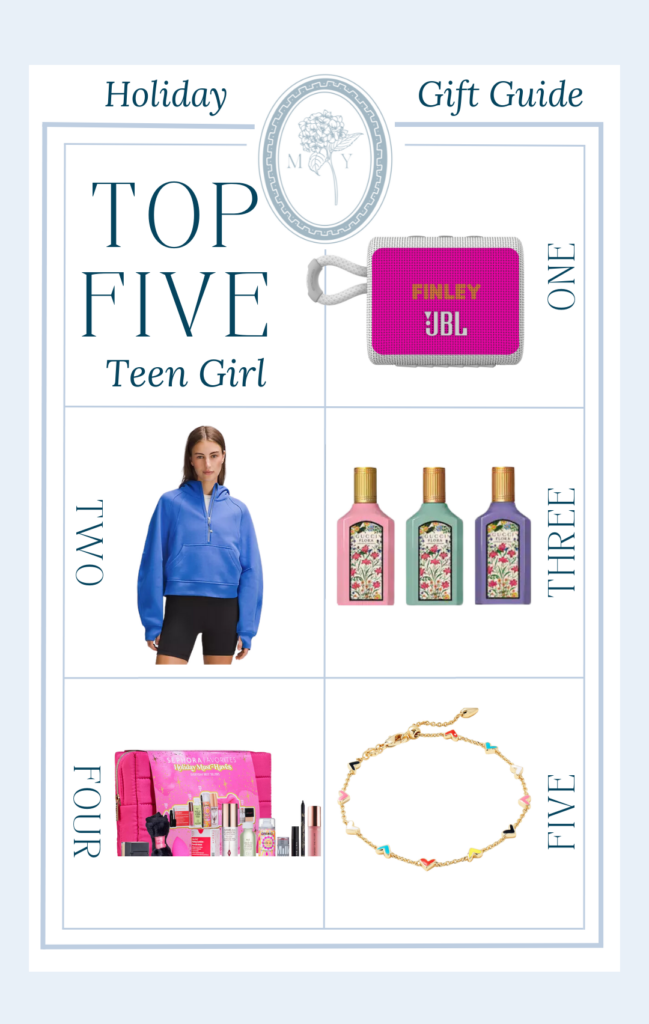 For more inspiration for teen girl shopping, I wrote up a whole post about what's on my teen girl's wishlist. It has a lot of great ideas for makeup, jewelry, and athleisure. All handpicked by my teen girl!
For Teen Boy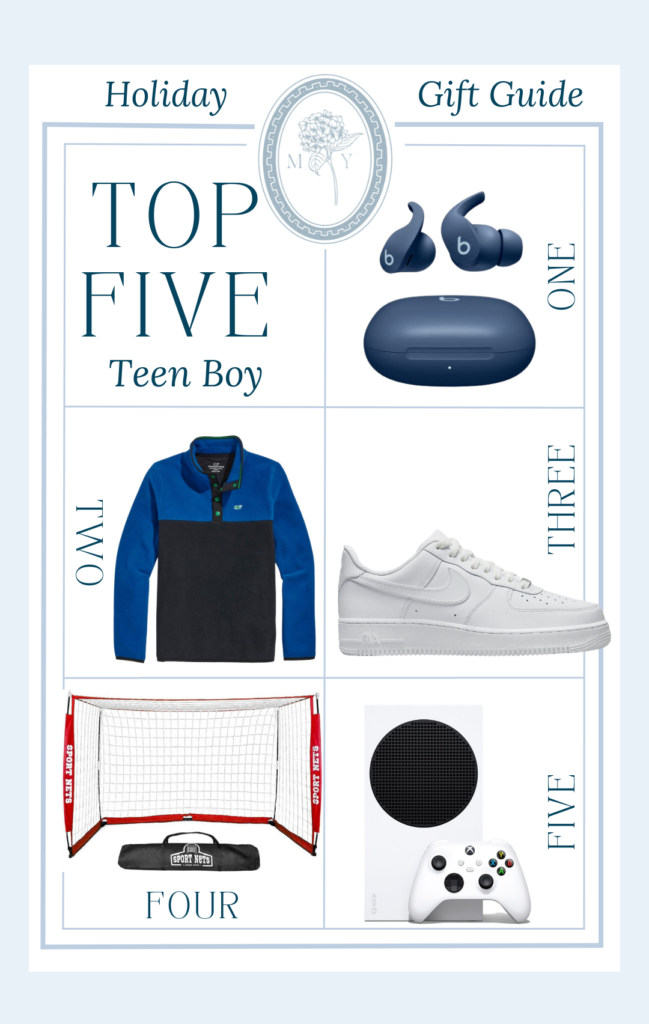 My teen boy is all about sports and video games so that was my main focus for my top five gift items. Henry loves the goal set and is always using it in the yard to get some practice in. We've even taken it with us to Florida as it packs away quite nicely when we drive down.
For Little Girls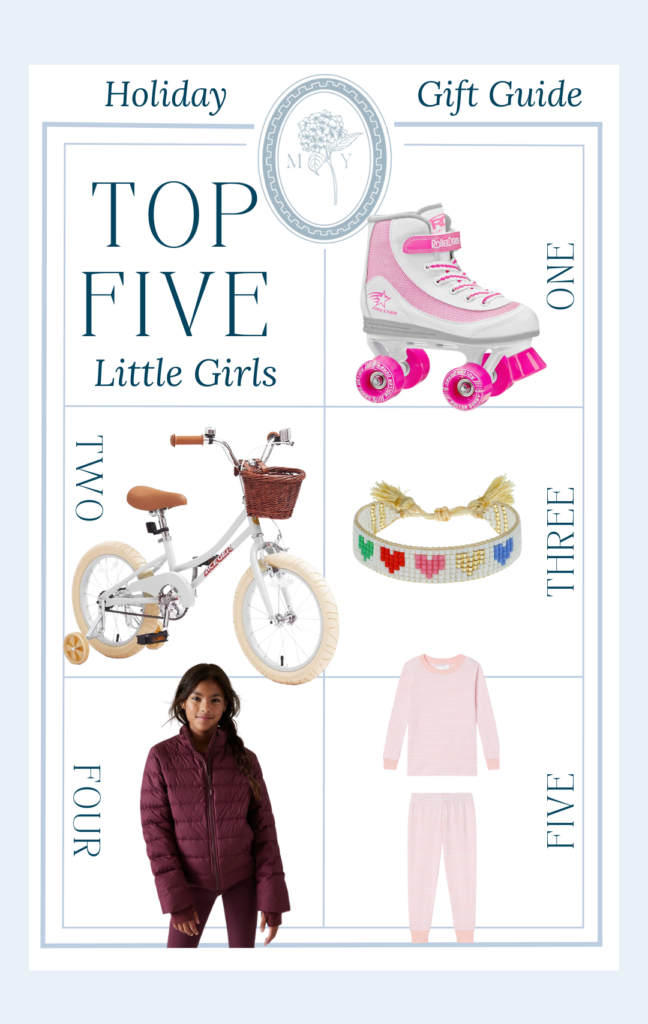 I miss having a little girl to shop for but luckily we have sweet nieces that will grow up soon enough to be able to use these gifts one day. One year Finley got a pair of roller skates for Christmas that she absolutely loved. I try to always do pajamas from Lake along with one or two items of clothing along with fun toys.
For Little Boys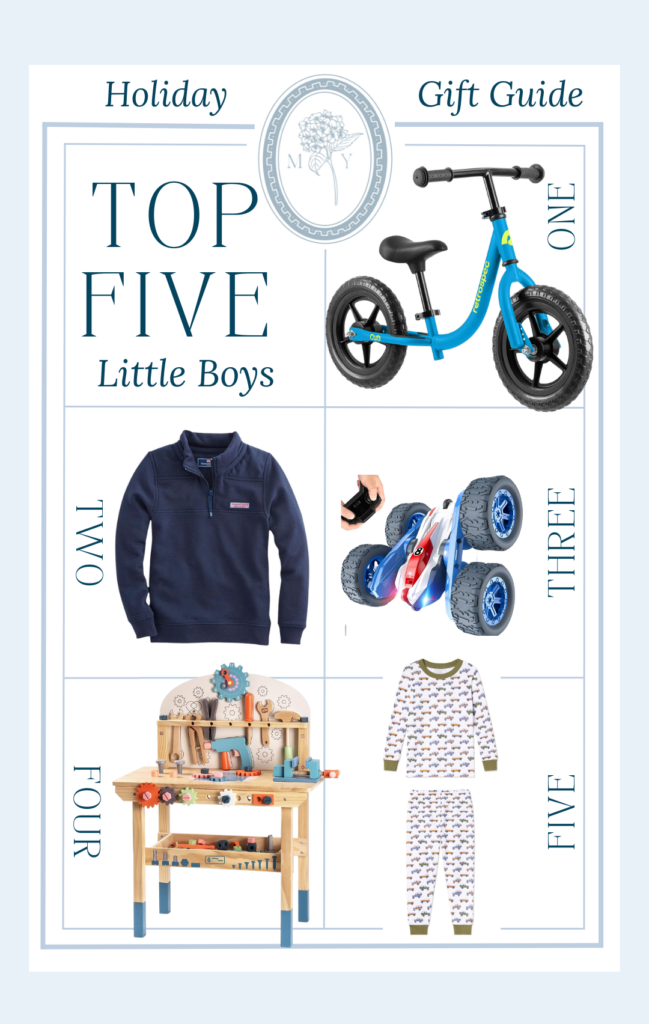 My two youngest boys love anything on wheels so a bike and remote-controlled car had to make the top 5 for boys' gift guides. For younger boys, the wooden tool workbench will keep them busy for hours.
For Baby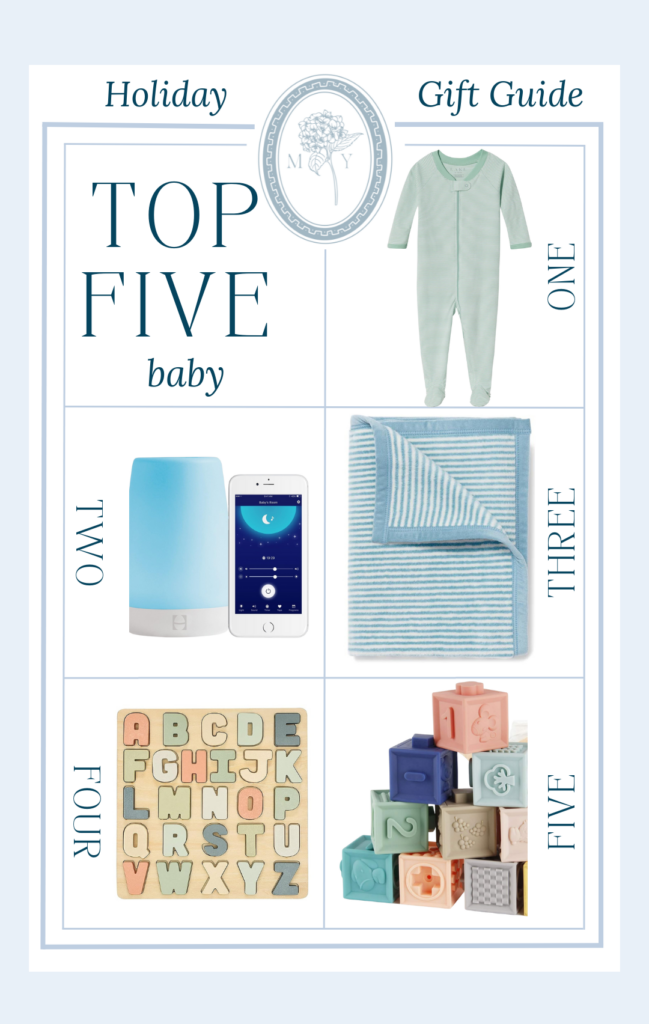 We have three sweet baby and toddler girls in our family and cozy sleepers and blankets are always a hit. Our babies also loved wooden alphabet puzzles and soft blocks. The Hatch baby sound machine is a perfect gift for both babies and parents. Definitely a must-have!
For Teachers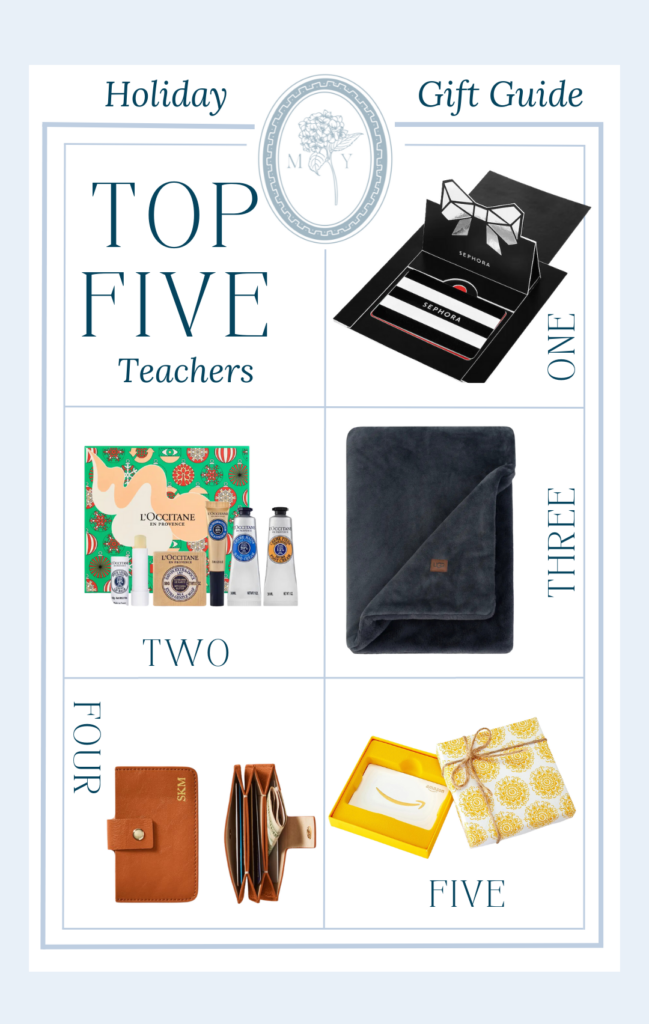 When I asked my teacher friends what gifts they do and don't want, I received quite the consensus. No more mugs, water bottles, or anything related to apples! They love gift cards to treat themselves to a beauty service or anything else to pamper themselves. Early in the school year, I send a little form to each child's teacher asking them about their favorite things. That way I am able to show my appreciation to them with something I know they'll love.
For Clients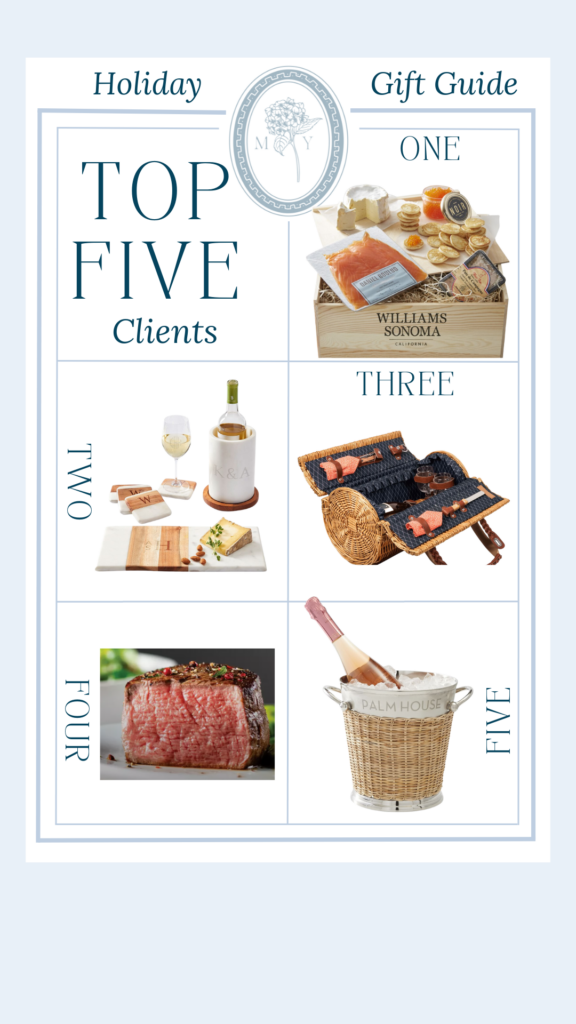 This category is for your clients and service providers. For our property manager in Watercolor, I plan on sending one of my favorite gift baskets from Omaha Steaks or Williams Sonoma for all the help he has given us as we opened our home up to renters. These gifts are also perfect for the hosts and hostesses in your life. The wood and marble gift set is perfect for those who love to have parties and I love the monogram option.
Be sure to visit my LTK page and Amazon storefront as I'll be sharing more gift guide finds during the season. Happy holiday shopping!
Disclosure: This post may contain affiliate links that I may earn a small commission from, at no additional cost to you. I only recommend products I would or have used myself.