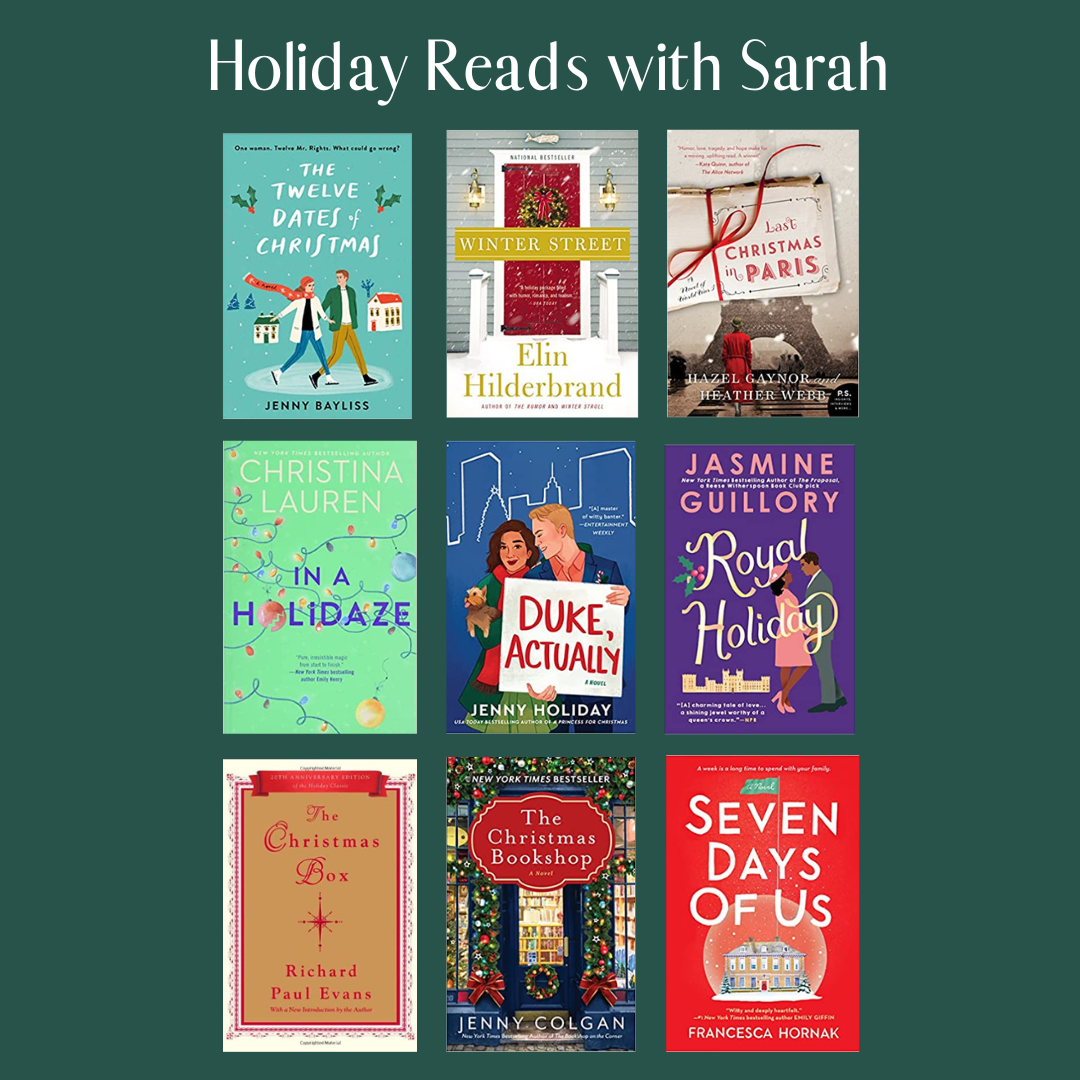 Hi Everyone! It's Sarah and I'm back with my latest book recommendations. My love for the holiday season runs deep and that extends to holiday-themed books.  As a kid, my mom always put out these large holiday storybooks that I would sit and read over and over each year.  I've rounded up some of my favorites below and a new one that is on my list to read this season. Hopefully, there are a few that are new to you as well!
The Twelve Dates of Christmas by Jenny Bayliss
When it comes to relationships, thirty-four-year-old Kate Turner is ready to say "Bah, humbug." But then her best friend signs her up for a dating agency that promises to help singles find love before the holidays. Twenty-three days until Christmas. Twelve dates with twelve different men. The odds must finally be in her favor . . . right? Yet with each new date more disastrous than the one before–and the whole town keeping tabs on her misadventures–Kate must remind herself that sometimes love, like mistletoe, shows up where it's least expected. And maybe, just maybe, it's been right under her nose all along.
This was my favorite holiday read last season. Sign me up for spending the holidays in quaint British Blexford!
Winter Street Series by Elin Hildebrand
Kelley Quinn is the owner of Nantucket's Winter Street Inn and the proud father of four, all of them grown and living in varying states of disarray. As Christmas approaches, Kelley is looking forward to getting the family together for some quality time at the inn. Before the mulled cider is gone, the delightfully dysfunctional Quinn family will survive a love triangle, an unplanned pregnancy, a federal crime, a small house fire, many shots of whiskey, and endless rounds of Christmas caroling, in this heart-warming novel about coming home for the holidays.
This series of four books was what got me interested in holiday reads. The Queen of the summer beach read takes us to Nantucket for the annual Santa Stroll event. Start with book 1: Winter Street.
Last Christmas in Paris by Hazel Gaynor and Heather Webb
An unforgettably romantic novel that spans four Christmases (1914-1918), Last Christmas in Paris explores the ruins of war, the strength of love, and the enduring hope of the Christmas season. August 1914. England is at war. As Evie Elliott watches her brother, Will, and his best friend, Thomas Harding, depart for the front, she believes—as everyone does—that it will be over by Christmas, when the trio plan to celebrate the holiday among the romantic cafes of Paris. But as history tells us, it all happened so differently.
This one is for all my fellow lovers of historical fiction. It's definitely not a light holiday read but very heartwarming.
In a Holidaze by Christina Lauren
It's the most wonderful time of the year…but not for Maelyn Jones. She's living with her parents, hates her going-nowhere job, and has just made a romantic error of epic proportions. But perhaps worst of all, this is the last Christmas Mae will be at her favorite place in the world—the snowy Utah cabin where she and her family have spent every holiday since she was born. As she drives away, the next thing she knows, tires screech and metal collides, and everything goes black. But when Mae gasps awake…she's on an airplane bound for Utah, where she begins the same holiday all over again. With one hilarious disaster after another sending her back to the plane, Mae must figure out how to break free of the strange time loop—and finally get her true love under the mistletoe.
Very cute and funny!
Duke, Actually by Jenny Holiday
A delightful contemporary Christmas romance, set in the heart of New York City, about a playboy baron and a woman who has said goodbye to love. There's a royal wedding on, and things are about to get interesting.
My first holiday read of 2022! I'm halfway through this book and love it. While there are holiday elements to the story, it spans an entire year. This might be the perfect choice for those that don't think they're into holiday reads and want to dip their toe in.
Royal Holiday by Jasmine Guillory
Vivian Forest has been out of the country a grand total of one time, so when she gets the chance to tag along on her daughter Maddie's work trip to England to style a royal family member, she can't refuse. She's excited to spend the holidays taking in the magnificent British sights, but what she doesn't expect is to become instantly attracted to a certain private secretary, his charming accent, and unyielding formality.
I love all books by Jasmine Guillory and this is no exception! What I loved most about this book was that it features a romance between two middle-aged individuals instead of the typical 20 and 30-somethings in rom-coms. 
The Christmas Box by Richard Paul Evans
Rick, Keri, and their 4-year-old daughter, Jenna, are hired as caretakers and are welcomed into the Victorian home of Mary Parkins, an elderly widow, just before the holiday season. As the relationship between Mary and the family develops we learn that Mary's past sorrows are compelling her to share an important message with Richard. But will he understand her message in time? A heartwarming story of parental love, healing, and Christmas.
A holiday classic when we get too caught up in the season.
The Christmas Bookshop by Jenny Colgan
When the department store she works in closes for good, Carmen has perilously little cash and few options. She doesn't want to move in with her perfect sister Sofia, in Sofia's perfect house with her perfect children and her perfectly ordered Edinburgh life. At Sofia's behest, Carmen is thrown into the daily workings of old Mr. McCredie's ancient bookshop on the streets of the old dark city. Can she use her design skills to revamp the store and bring it back to popularity in time to benefit from Christmas shopping traffic?
It's not a holiday read list without a story set in a bookshop! This book will have you wanting to pack your bags to spend Christmas in Edinburgh!
Seven Days of Us by Francesca Hornak
It's Christmas, and for the first time in years the entire Birch family will be under one roof. Even Emma and Andrew's elder daughter—who is usually off saving the world—will be joining them at Weyfield Hall, their aging country estate. But Olivia, a doctor, is only coming home because she has to. Having just returned from treating an epidemic abroad, she's been told she must stay in quarantine for a week…and so too should her family. In close proximity, not much can stay hidden for long, and as revelations and long-held tensions come to light, nothing is more shocking than the unexpected guest who's about to arrive.
This is at the top of my list to read this season! I was hooked from "aging country estate." 
Turn on the Christmas lights, light a candle, and snuggle up under your favorite blanket with one (or all) of these holiday reads this season. I can't wait to hear your favorites! Not into holiday reads? Check out my Fall Reading List post!
Disclosure: This post may contain affiliate links that I may earn a small commission from, at no additional cost to you. I only recommend products I would or have used myself.