I am so glad to have Hannah Holzum from Wholesome Nutrition Co. back with another blog post! Ever since we got back from vacation and entered a seemingly endless cycle of sickness, I have struggled to plan healthy lunches for myself. I'm planning on using a few of her go-to recipes to get me back on track and hope they help you as well!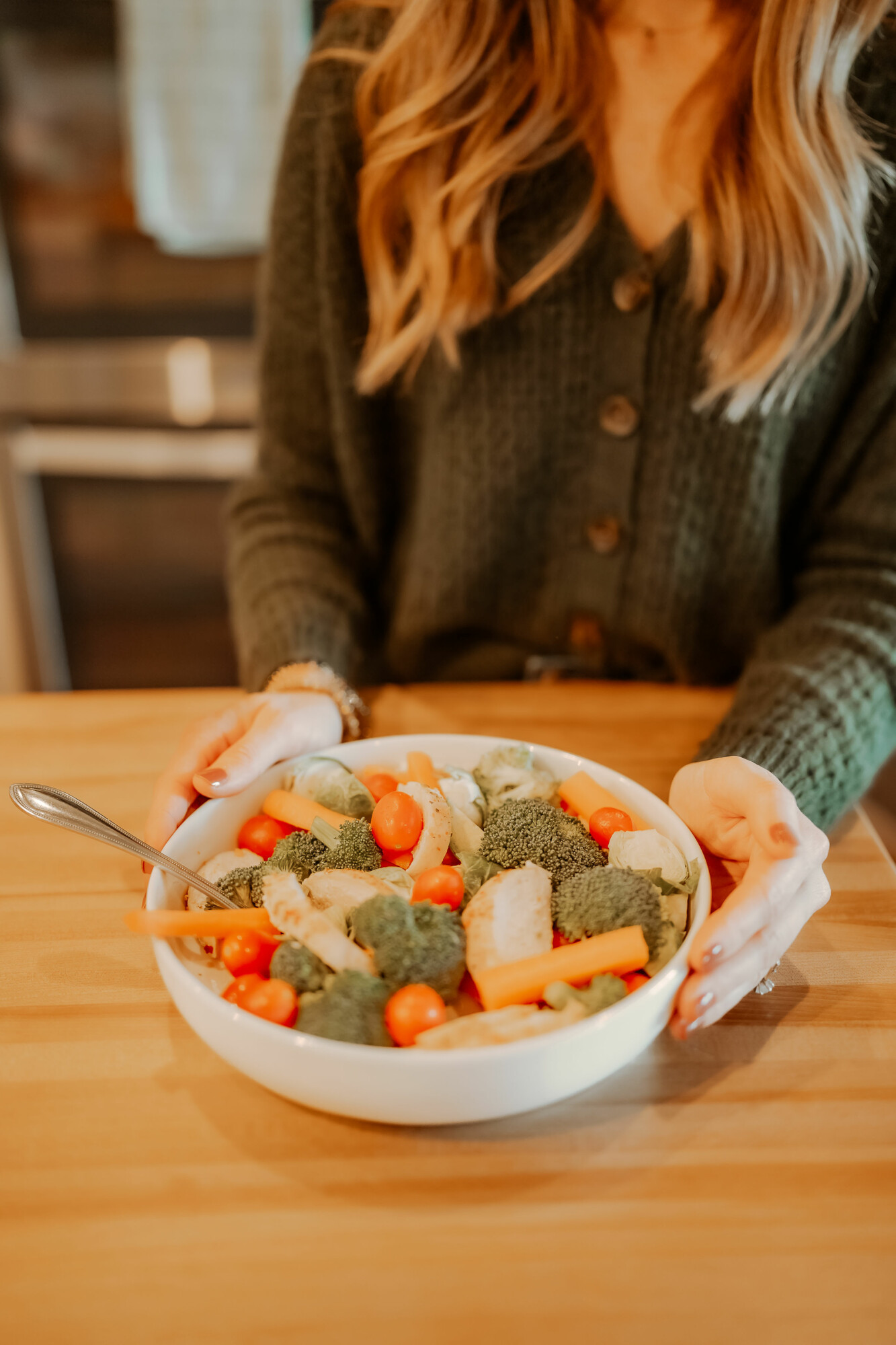 Hi. My name is Hannah. I'm a registered dietitian. And I hate planning my lunches. I really don't even like taking the time away from work to sit down and eat lunch. Can you relate? As a registered dietitian, I know how important it is to fuel your body consistently throughout the day. But it still takes a conscious effort to step away from my desk and go make a healthy lunch! Do you struggle with that too? 
Or maybe you find yourself packing beautifully balanced, nutritious lunches for your kids but when it comes to packing yours, you think to yourself that you'll just worry about it later. I've been there too!
It's crucial to eat a balanced and healthy lunch for so many reasons but here are just a few!
It helps stabilize blood sugar.

Unless you have diabetes, you may not give your blood sugar much thought at all! Our bodies do a really great job at managing our blood sugars throughout the day whether we're eating all day long or haven't had a bite to eat. What we eat greatly impacts our blood sugar; when you don't eat, your blood sugar may dip low. Guess what happens when your blood sugar gets a little low?

You crave carbohydrates and simple sugars

. Guess what doesn't fill you up very well or for very long? Simple carbohydrates and sugars. Eating "balanced" means making sure you have a good variety on your plate such as a protein source (think chicken, fish, tofu, edamame), carbohydrate source (potato, whole grain bread, fruit), and healthy fats (nuts, avocado, olive oil) as well as a good serving of colors and fiber like fruits and vegetables. 

It minimizes the afternoon slump.

This kind of comes back to blood sugar, really! If you are skipping meals or just grabbing a bag of chips for lunch, that energy will wear off quickly. The three most common culprits for the afternoon slump are dehydration, not eating enough or balanced enough at lunch, and lack of movement. So make sure you drink a large glass of water and get a well balanced lunch and see if it improves your afternoon slump! Plus if you're running kids around to practices in the afternoon/evening, you need all the energy you can get!

It helps us not overeat later in the evening.

As a dietitian who has coached thousands over the years, I see this happen all the time. Many people stay really busy at work and either forget to eat or don't take the time to eat a balanced lunch. Then they get home and they are ravenous. They may find themselves eating the scraps off their kids' plates, eating more sweets than normal, and definitely finishing off the evening with a big bowl of cereal. The more you can spread out your nutrition and eat more in the first part of the day, the less you are going to naturally eat in the evening.

It gives us energy to keep our workday flowing.

Have you ever noticed how you are usually most productive in the first part of your day? Have you thought about why that might be? Sure, maybe the strong coffee gave you some extra energy, but chances are if you find yourself in a spot where you haven't eaten in more than 4 hours, your body probably needs some real fuel, like lunch or a snack. Try eating more at lunch and add a snack if you need to, maybe even take a walk, and watch those energy levels improve in the afternoon!
Here are a few ideas for some easy, balanced lunches that will keep you nourished and feeling good throughout your afternoon!
Quick and Easy Items to Keep On Hand
Lightly breaded chicken tenders or pre-cooked chicken

. I love the Perdue brand on the chicken tenders but several companies now have a lightly breaded option. I like to throw these in the air fryer (they bake well in the oven too!) and eat them plain, throw them in a wrap, or cut up and put on a salad. Rotisserie chicken or cooking up some chicken breasts ahead of time can really help lunchtime go quicker!

Bagged salad mix.

If you have a good protein like chicken or tuna, you can easily throw that on top of a salad for a quick meal. 

Frozen meals.

You have to be careful to check the nutrition label, but there are some decent options when you're in a pinch! The Whole & Simple brand from Aldi is a great one! Amy's and Applegate are two other brands you can usually find at Target or your local grocery store that use good ingredients as well. Frozen meals are typically high in sodium so if you have high blood pressure, you may want to find another meal option. 

Chopped and washed fruits and veggies.

Let's be honest. Are you really going to wash and cut up that box of strawberries in the fridge right before you want to eat them? Are you going to peel and chop those carrots when you're already starving and ready to eat right that moment? No, probably not! If you can wash and cut everything up immediately when you get home from the grocery store, the chances of you eating it later will go up! These are easy to add on as sides for your lunch.

Food Prep for Leftovers – This is probably my go-to when it comes to lunches. I love a hot lunch so this is my preference! If you're a meal-prep kind of gal, I'd suggest making a big dish like a casserole or a soup to eat for lunches throughout the week. If you're not into meal-prepping, consider making an extra portion at dinner time to save for lunch the next day.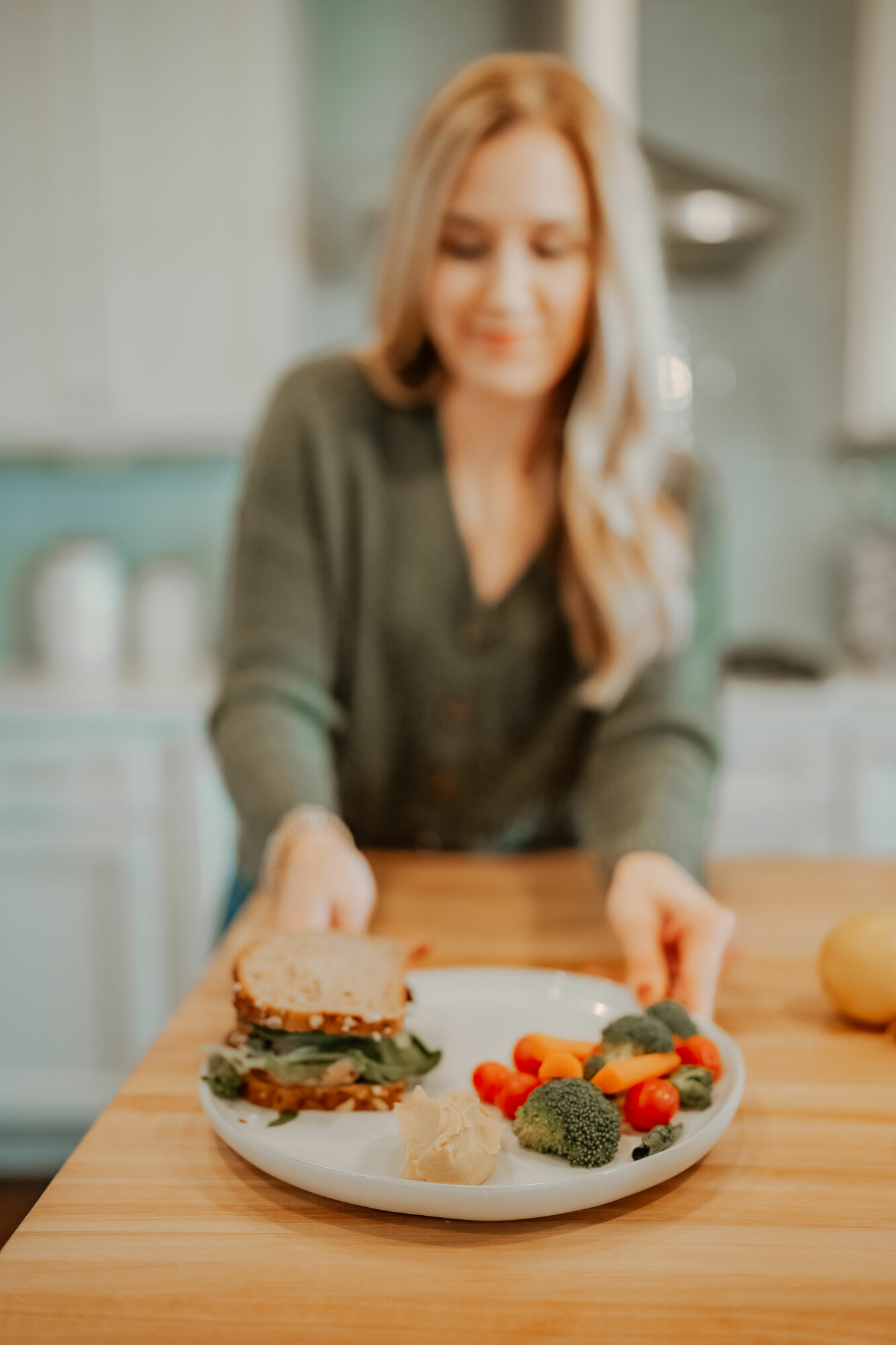 Here are six recipes that make great leftovers for an easy and healthy lunch! These would also be great to meal prep as well! 
Baked Southwest Chicken Casserole
Ground Turkey Sweet Potato Skillet
Instant Pot Vegetarian Chili Mac
I hope this encourages you to give some good thought to your lunches! If you struggle with low energy in the afternoon or find yourself feeling like you can't quit eating at night, evaluate your lunchtime habits and try some of my suggestions!
If you found this information helpful, don't be a stranger and come follow along with me! You can find me on Instagram and Facebook or you can find some great freebies and more information on my virtual coaching and meal subscription service at Wholesome Nutrition Co. website.
Be sure to check out my other blog posts: Getting Back Into a Routine and Healthy Items to Stock Your Kitchen.
Disclosure: This post may contain affiliate links that I may earn a small commission from, at no additional cost to you. I only recommend products I would or have used myself.