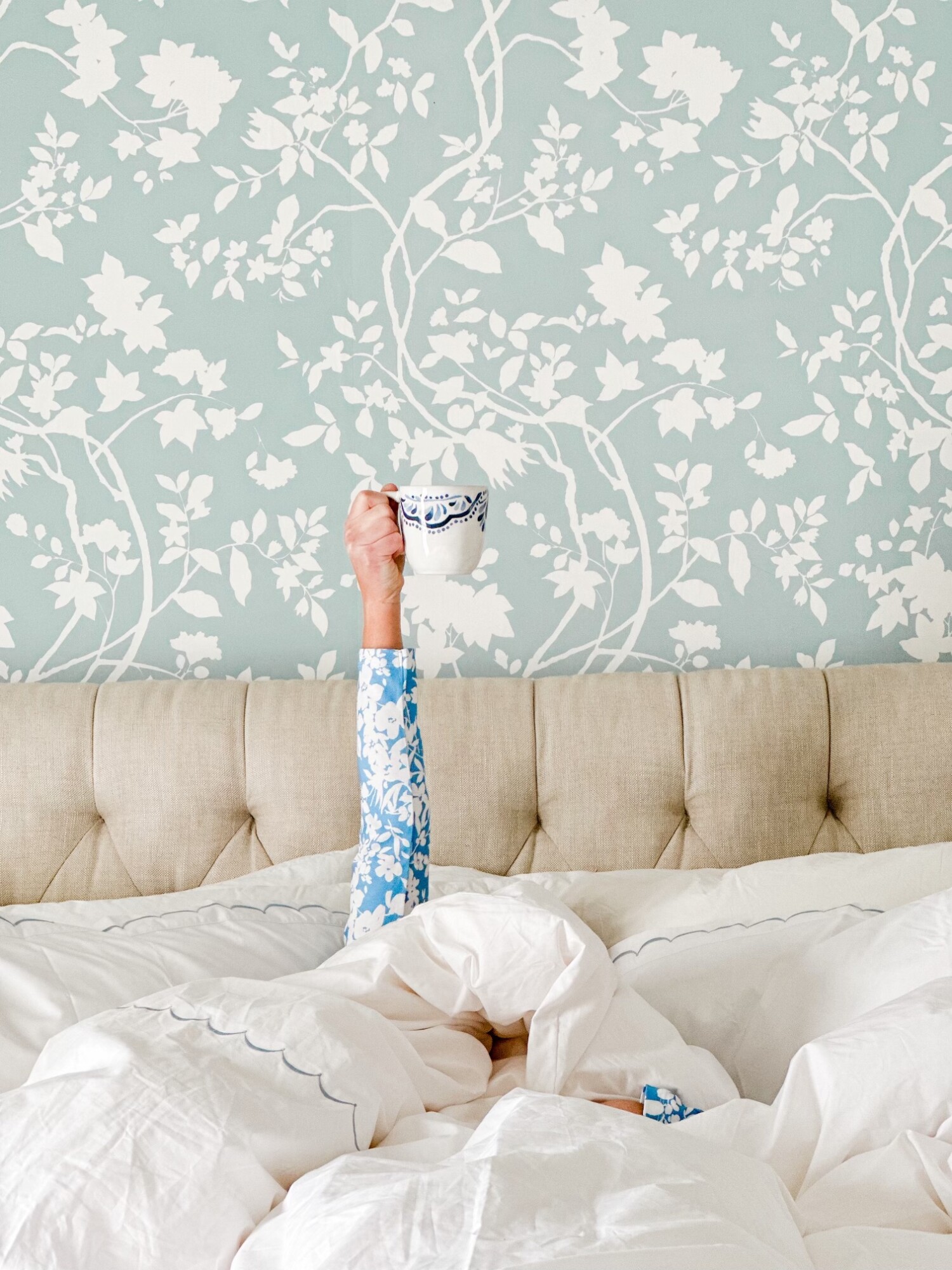 I love wallpaper.  I love taking simple dry-walled spaces and giving them character and depth with wallpaper.  I remember the first room in our home where I had wallpaper installed in and the instant transformation that happened from this amazing textile.  Over the years, I have received so many messages regarding the wallpapers in my home.  So I created a guide to help you source each of these papers.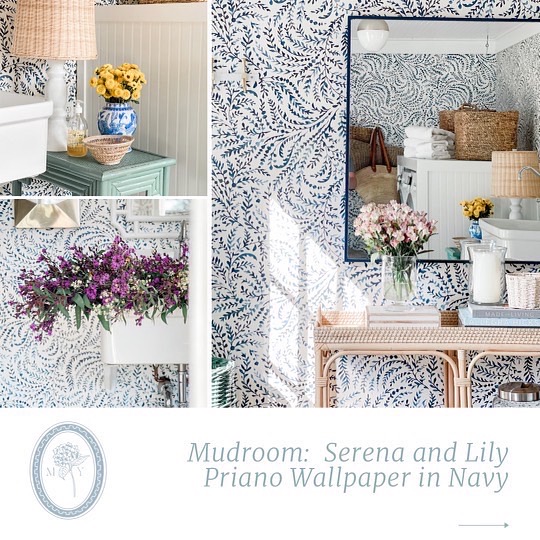 Our laundry and mudroom happens to be the back entrance into our home and the room had bare white drywall and just didn't feel warm and inviting. This blue and white paper caught my eye with its traditional yet playful design. It created such a joyous and happy environment to complete one of life's daily chores and cheerfully greets you when you walk in the door!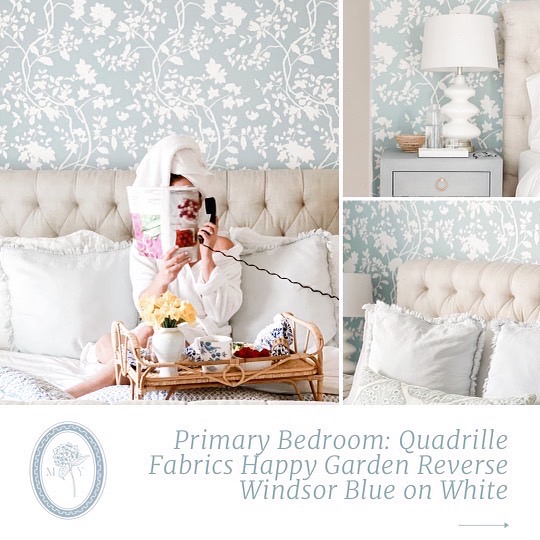 Last year I decided I was ready to add more personality to our bedroom in my favorite shade of blue.  I had been holding on to a swatch of Quadrille Fabric's Happy Garden Reverse in the most beautiful pale blue for something special.  When we had this paper installed in our room it instantly felt cozier and sophisticated.  I love pattern on pattern so it was really fun to mix this paper with a printed batik quilt and our pale blue nightstands.  This paper is incredibly soothing to me and has elevated the look of our bedroom! The same look can easily be achieved with this similar paper from Serena and Lily.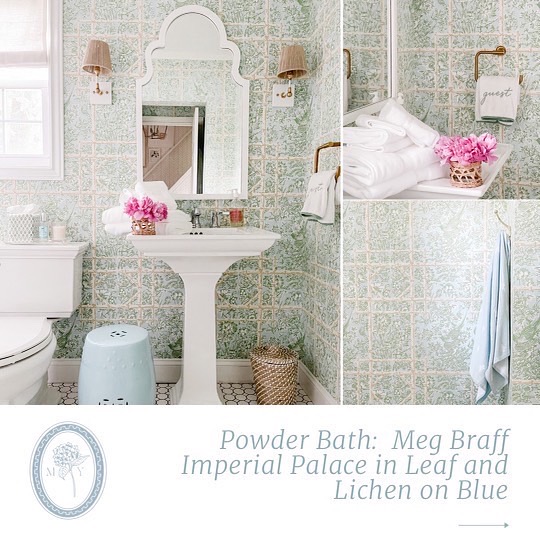 I knew I wanted to add more wallpapers in my home and instantly, this gorgeous green and blue wallpaper from Meg Braff was a game changer in this bathroom.  The walls went from a dark navy to this light and bright, cheerful space!  I smile every time I walk in here.  I love adding more green throughout our house and this was how I started.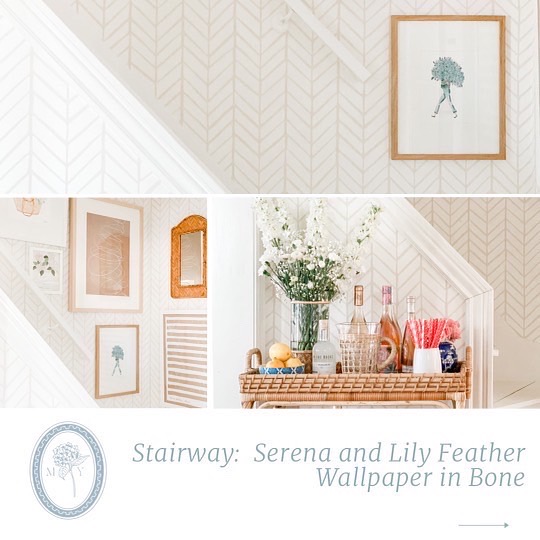 We live in an early 1900's farmhouse and typical of that era, our home has a very narrow, steep staircase going to the second floor.  This might have been the biggest transformation in our home.  The walls were bare and very boring.  I took a chance and wallpapered the entire stairway as well as the small vestibule below it with Serena and Lily's feather wallpaper in bone.  I opted for a neutral paper that worked well with the green and blue paper in the bathroom just off the vestibule.  I love that this is patterned yet subtle.  It has the slightest texture and has created the perfect backdrop for a gallery wall of fun art prints!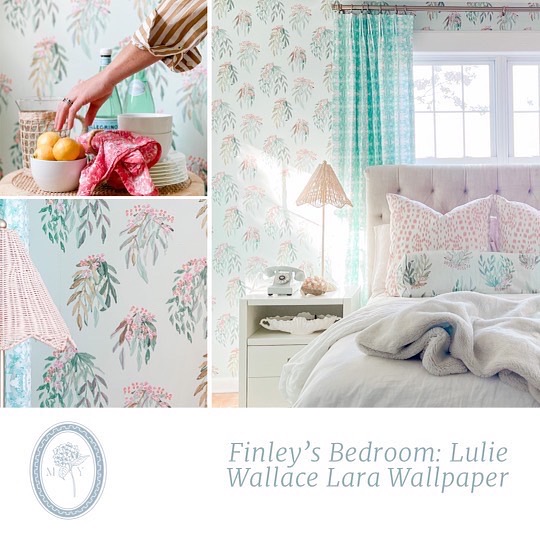 This Lulie Wallace Lara wallpaper in Finley's room is like a breath of fresh air.  It has all of her favorite colors in it and has served her room so well as she has transitioned from a little girl to a teen.  We opted to only paper one wall in an effort to stay within budget and color-matched the rest of her walls with the background color of the wallpaper.  I have even used it as a backdrop for a few of my photo shoots because I love this pattern so much.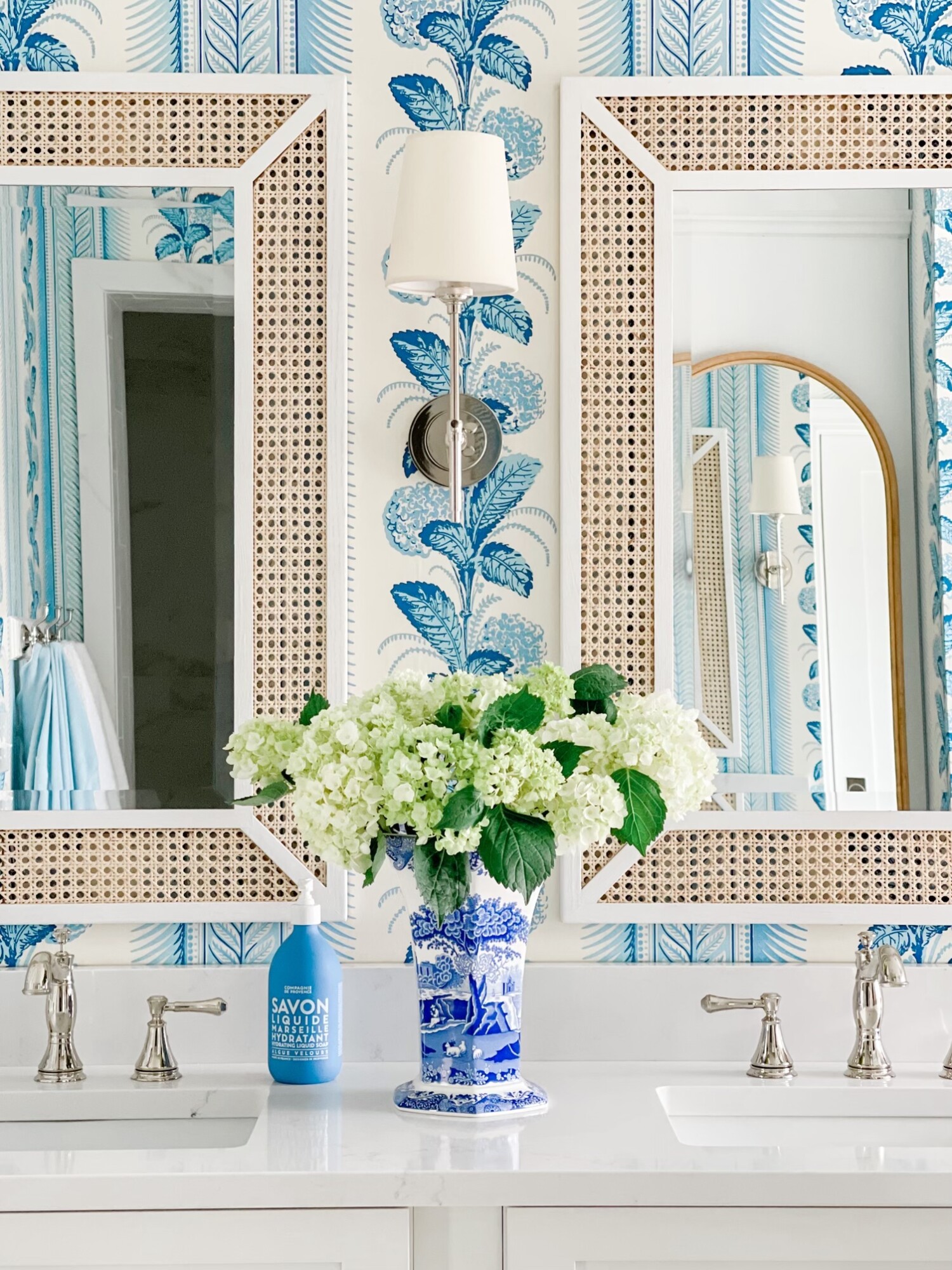 Our primary bathroom off of our bedroom needed a major makeover. It was a labor of love for me and it took a few months for it all to come together. To brighten up the space, I went with my favorite color scheme: blue and white. It's now such a fun yet serene space for me to unwind at the end of the day. I used Quadrille's Climbing Hydrangea wallpaper to achieve the look.
Schumacher's Hydrangea Drap Delft Wallpaper is a very similar paper. You can read all about our bathroom remodel here as well as how I styled it with items from The Home Depot.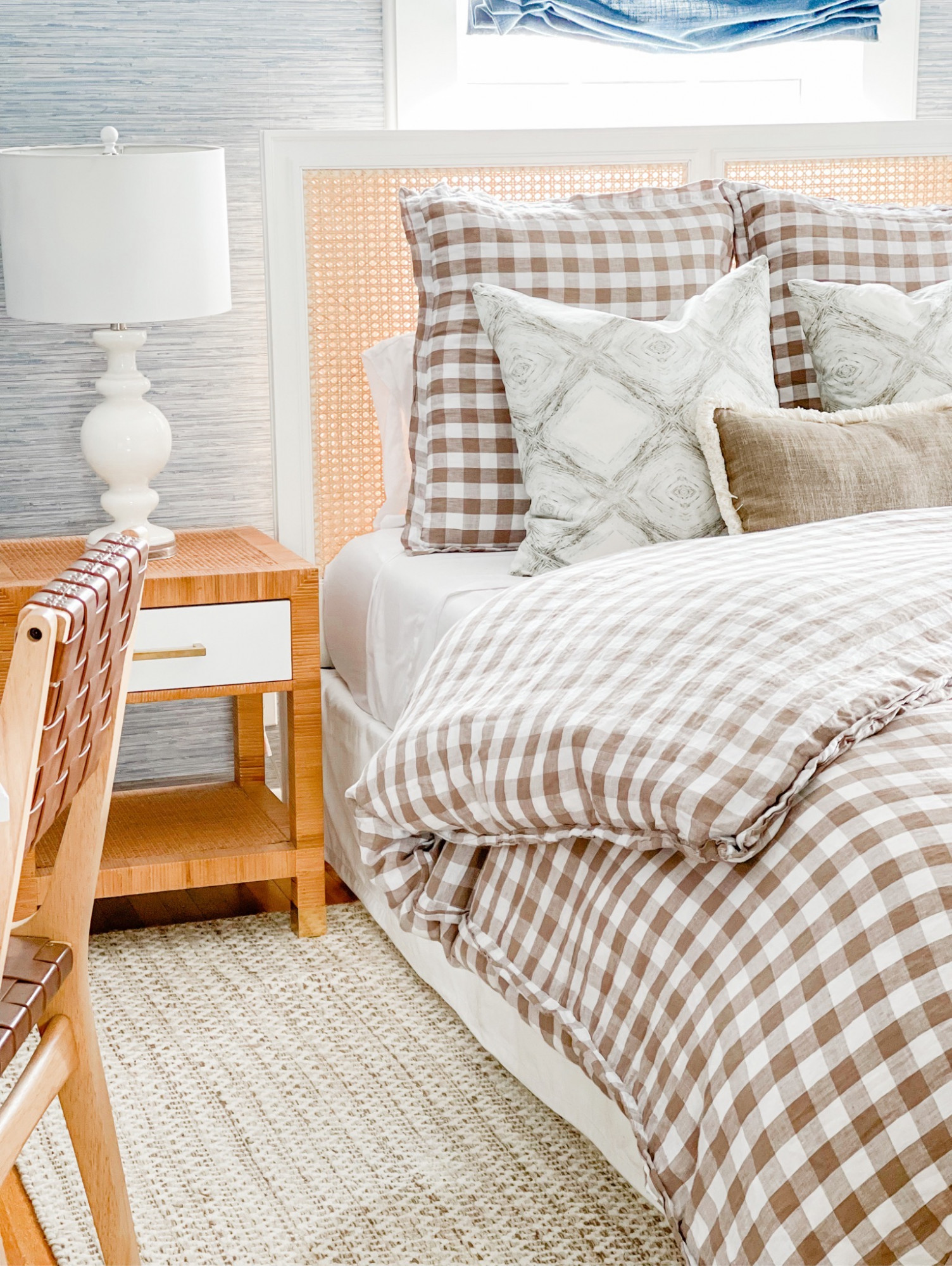 For Henry's bedroom, I used warmer tones to give it a more grown-up feel and set his room apart from his younger brothers' space. With the neutral gingham and headboard, I chose a grasscloth wallpaper for his walls. While the exact one I used is no longer available, Serena and Lily's Swansea Paperweath wallpaper is very similar.
I hope that seeing the wallpapers in my home inspire you to use wallpaper in yours.
Disclosure: This post may contain affiliate links that I may earn a small commission from, at no additional cost to you. I only recommend products I would or have used myself.