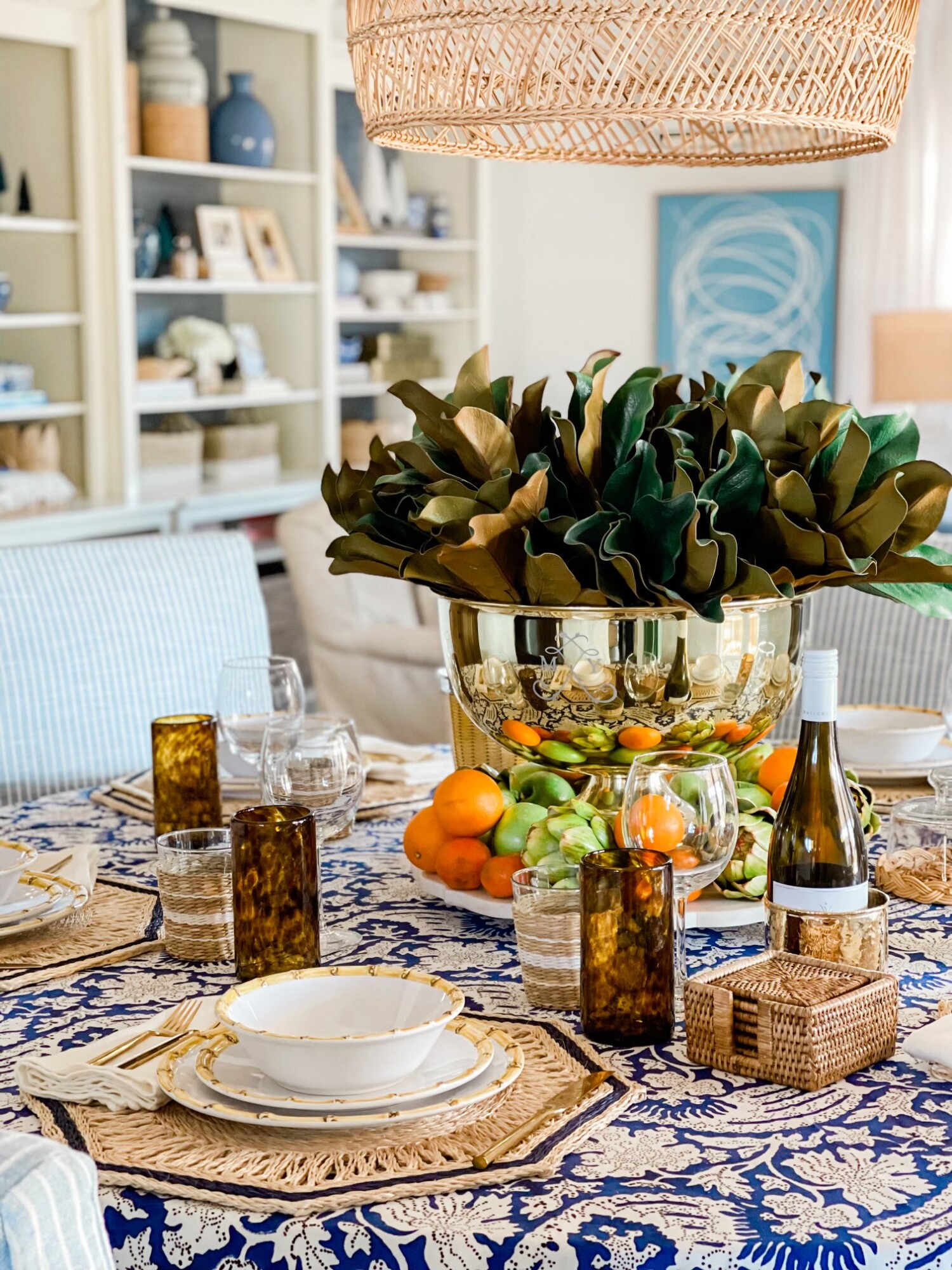 Thanksgiving is a wonderful time of year when we gather with family and friends to express gratitude and share a delicious meal. One of the most important aspects is the Thanksgiving table setting. A beautifully set table can create a warm and inviting atmosphere that encourages conversation and connection. Setting a Thanksgiving table can seem like a daunting task, but with a little planning and creativity, it can be a fun and enjoyable experience. Here are some tips for setting a beautiful Thanksgiving table:
1. Start with a Tablecloth or Runner
The first step in setting a Thanksgiving table is to choose a tablecloth or runner. This will set the foundation for your table setting and can help to create a cohesive look. Traditional fall colors like orange, red, and yellow are popular choices, but you can also choose a neutral color like white or cream. For this table setting, I wanted a show stopper so I used a beautiful dark blue and white patterned tablecloth. I love how it adds dimension to the more neutral elements.
2. Add Plates and Silverware
Once you have your tablecloth or runner in place, it's time to add plates and silverware. Begin with a dinner plate, followed by a salad plate, if desired. Place your dinner fork on the left side of the plate and the salad fork outside of that-smallest on the outside. Your knife and spoon go on the right side. You'll want to put your napkins underneath the forks if you aren't using napkin rings. If you're rolling your napkins with a ring, place them next to the forks. If you're serving soup, you can add a soup spoon on the outside of the knife. I used a rattan placemat underneath the dinner plates to add a bit of texture and bring in a bit of a coastal theme.
3. Add Glassware
Next, add glassware to your table. A water glass should be placed above the knife, and a wine glass can be placed to the right of the water glass. If you're serving multiple types of wine, you can add a wine glass for each type. I brought in more rattan with the water glasses to align with the chargers. They have a different weave and colorway so that it's not too matchy. I used tortoise glasses to bring in another colorway to the table to add dimension. I also placed rattan coasters on the table for any pre-dinner cocktails that make it to the table and a rattan-wrapped wine cooler. To tie in the centerpiece, I pulled in this wine caddy which can also double as a decorative candle holder.
4. Create a Centerpiece
A beautiful centerpiece can help to tie your Thanksgiving table together and create a focal point. You can use a simple floral arrangement or create a more elaborate centerpiece with candles, pumpkins, and other fall décor. Just make sure that your centerpiece is not so tall that it obstructs the view of guests across the table. I wanted a touch of glam for this centerpiece so I used a champagne bowl filled with magnolia leaves to bring in a natural element and the green of the leaves coordinates nicely with the tablecloth. I placed the bucket on a white marble serving tray and scattered faux artichokes, apples, and clementines around the base to add in more pops of color. We're still using traditional fall colors but in a fun and fresh way.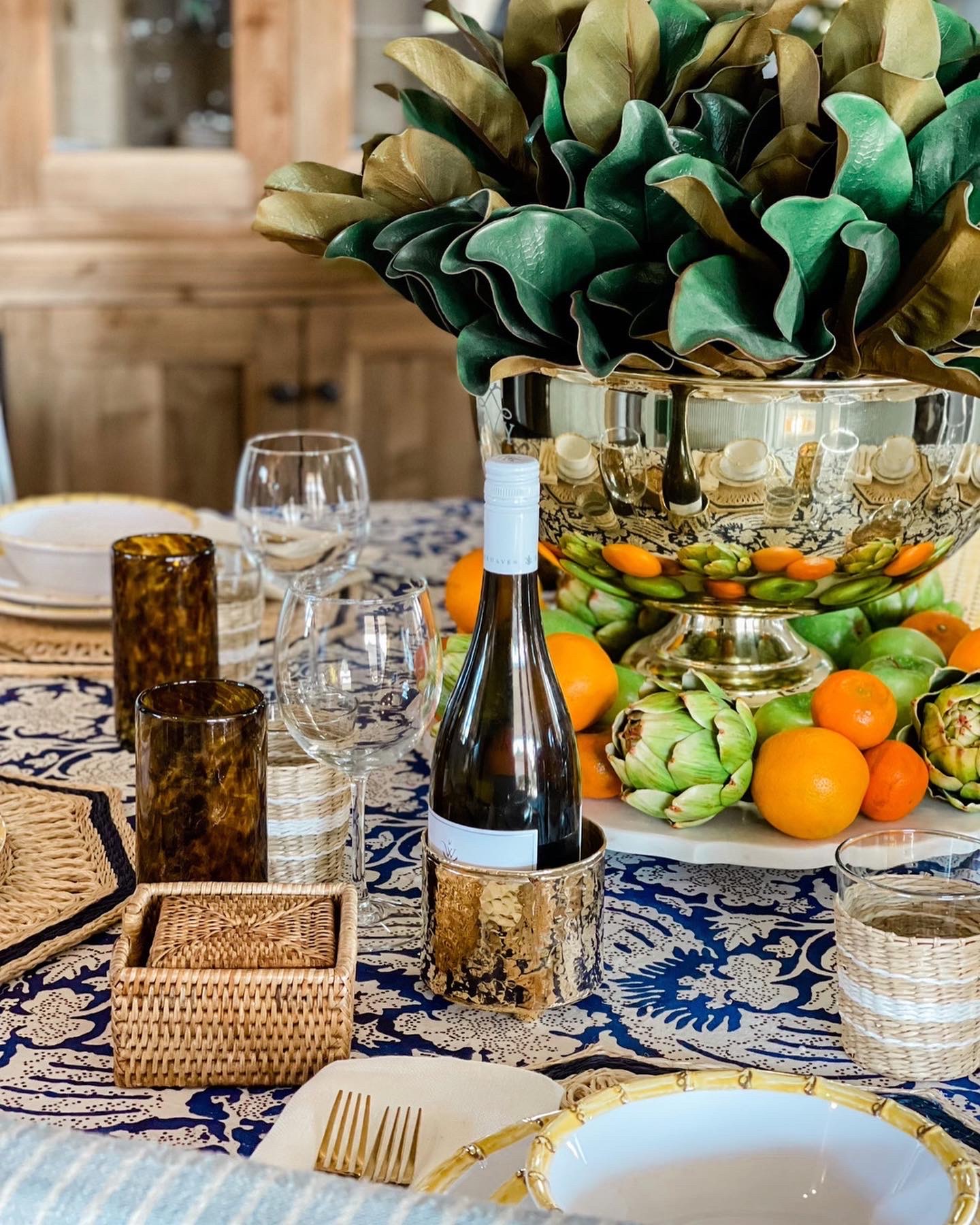 You can find more inspiration for Thanksgiving table settings over on my Fall LTK page.  If you're looking for more fall decor, see how I added fall touches to our home this year. A few years ago we hosted a Thanksgiving happy hour in our greenhouse. See how I decorated this casual space in this post.
Disclosure: This post may contain affiliate links that I may earn a small commission from, at no additional cost to you. I only recommend products I would or have used myself.