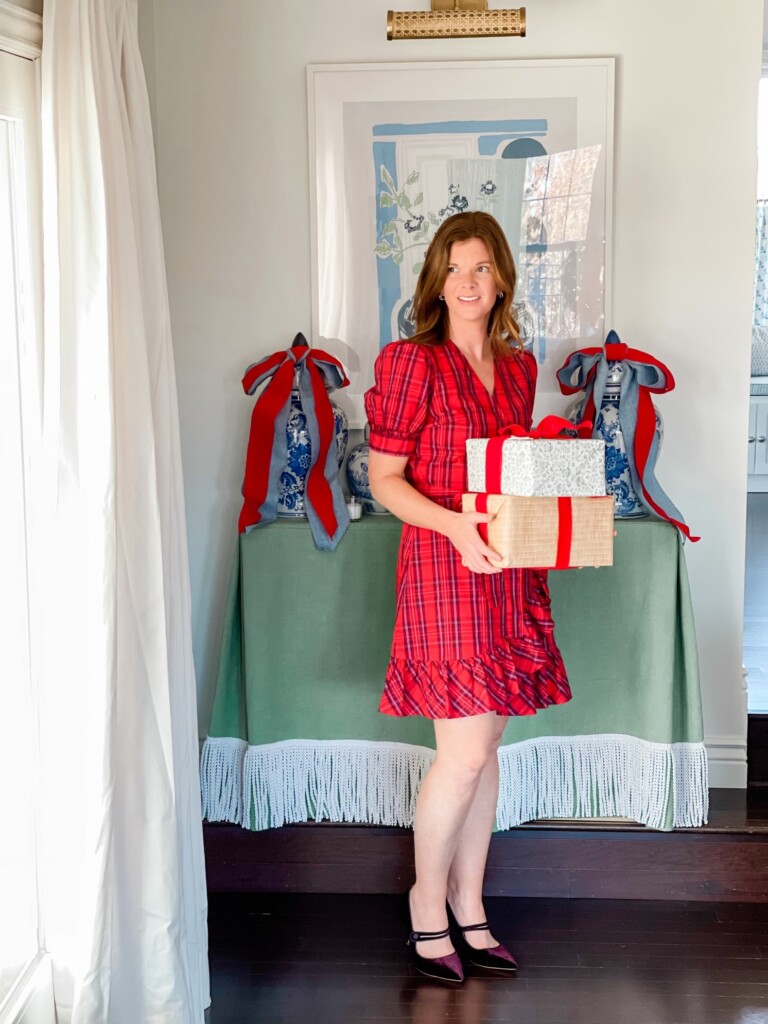 Our home is holiday ready and we are ready to sit back and enjoy it! I love dressing up (plaid dress here) (shoes here) during the holidays and entertaining family and friends! This year I wanted to share our home decked out for the holidays and I've teamed up with a couple of friends to create a week long tour of holiday homes! So be sure to check out these lovely ladies and their holiday decor!
Let's get started…
Our Holiday Stairway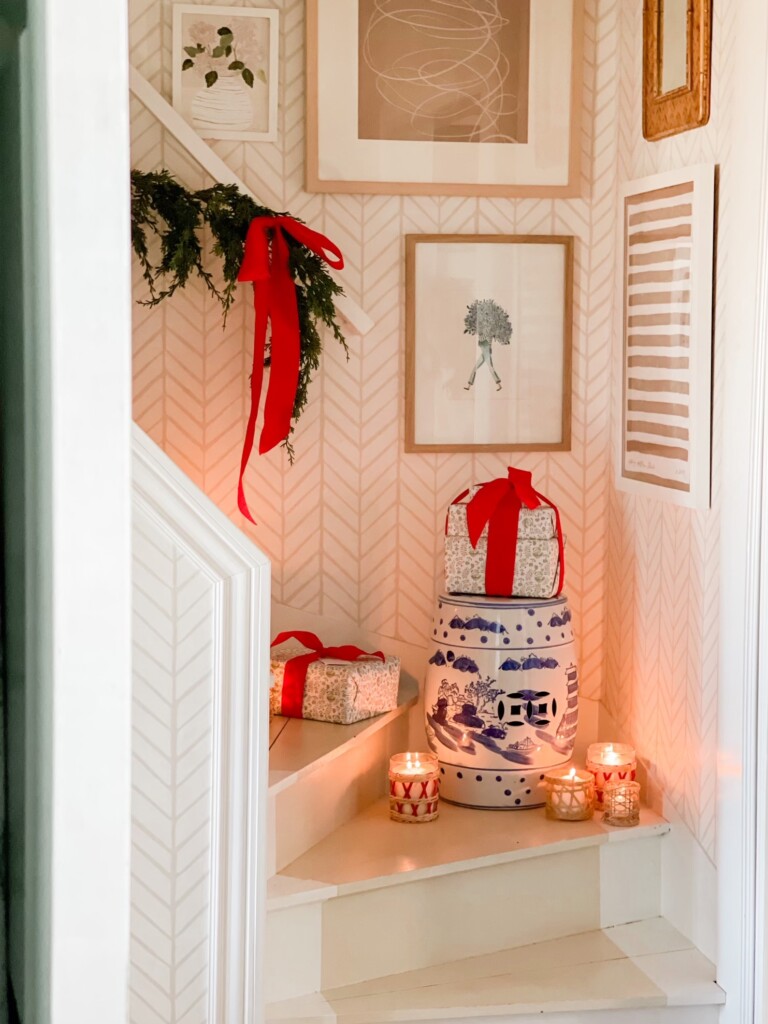 I love adding magical moments to our home during the holiday season. The feeling that comes with Christmas is to me far better than the season. It is a true feeling of magic and I want our children to remember that feeling forever. I love adding candlelight in my favorite glass hurricanes or twinkle lights whenever possible. Sometimes that means throwing practical to the wind and embracing the magical! I always add a faux cedar garland to our wallpapered stairway and adorn it with ribbon for a festive touch.
Our Holiday Dining Room

I love adding in traditional Christmas red during the holiday season especially with blue and white decor.  Something about the pop of red mixed in with our daily home decor makes our home extra festive.  It is a fun time to embrace an extra pop of color when I ordinarily wouldn't.
One of my favorite ways to decorate during the holidays is with greenery both real and faux. It is an easy way to fill this wicker vase and adds instant texture to the room. It also compliments our dining pendant as well! I added a combination of red and blue linen ribbon to our ginger jars in the dining room. It was a simple and inexpensive way to add a festive touch. I found this classic blue and white chinoiserie Christmas tree and thought it would be the perfect touch. This blue and white tablecloth has carried me through all the seasons.  I love a touch of classic navy!
Holiday Powder Bath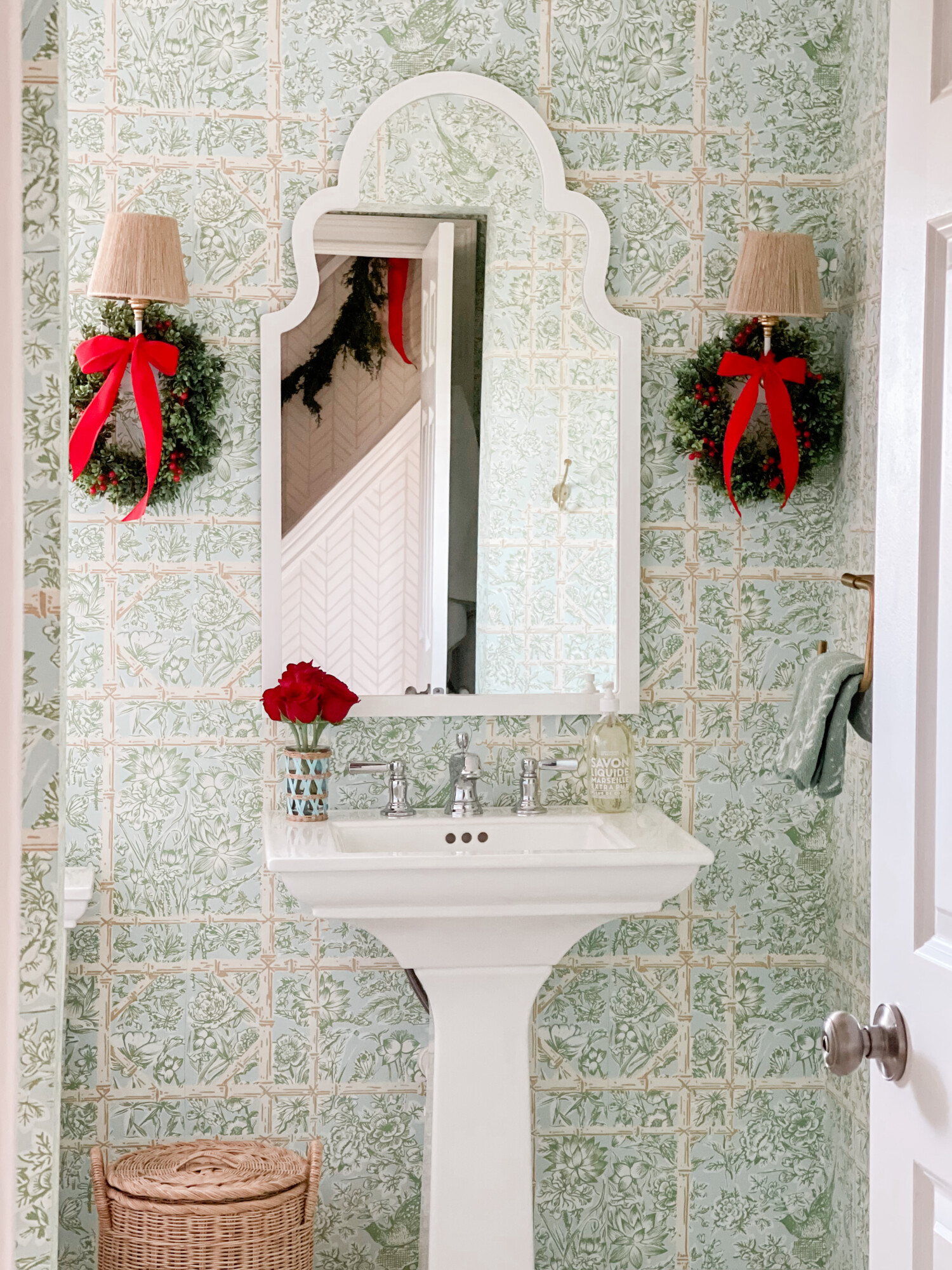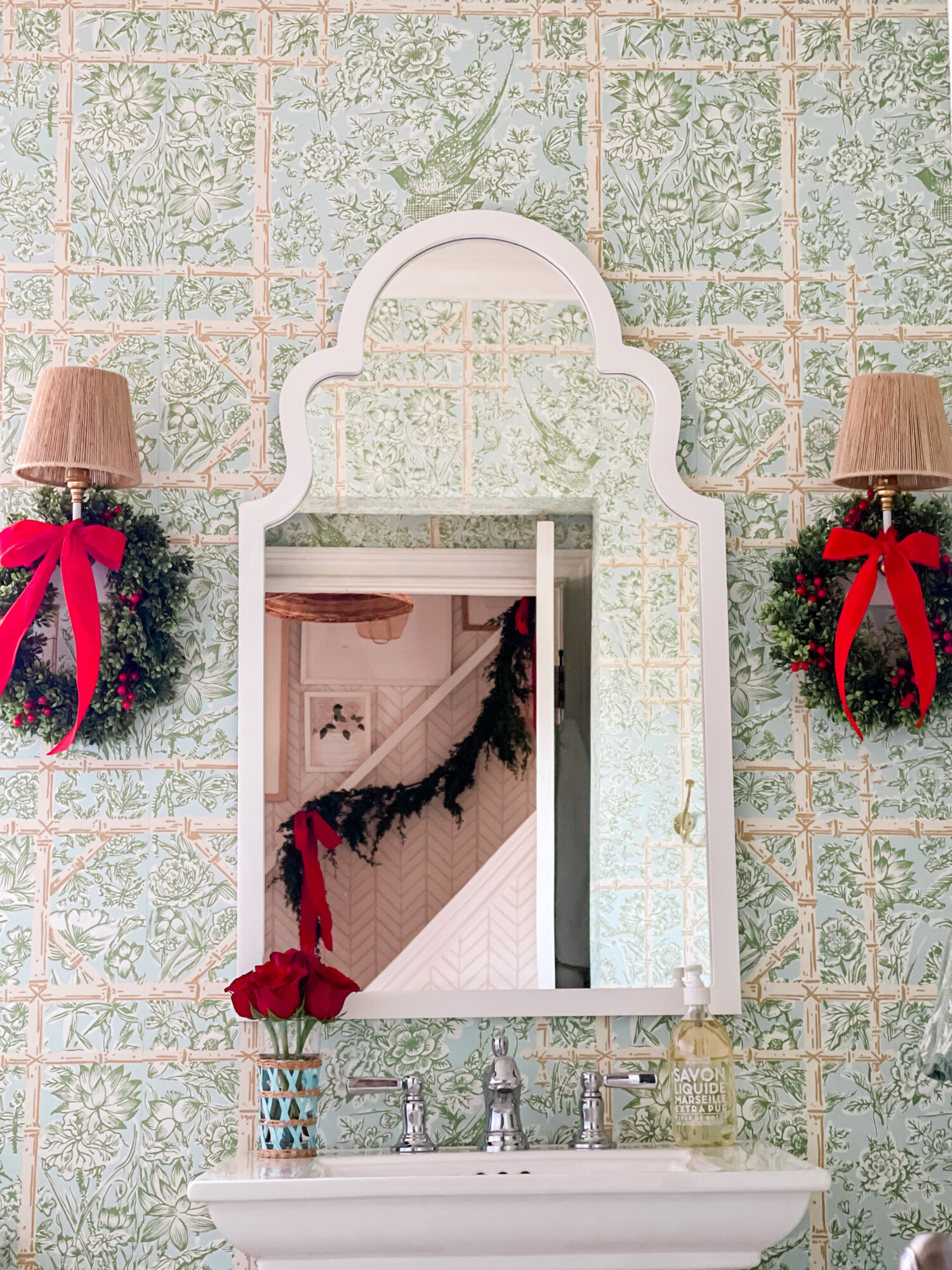 This already cheerful bathroom became even more so with a little holiday decor. I love adding a swag or wreath to wall sconces.  I found these sweet boxwood wreaths with red berries and added red ribbon for a nostalgic feel. I love these raffia wrapped glasses that I often double as a vase! Perfect vase for a small surface like our pedestal sink!
Holiday Living Spaces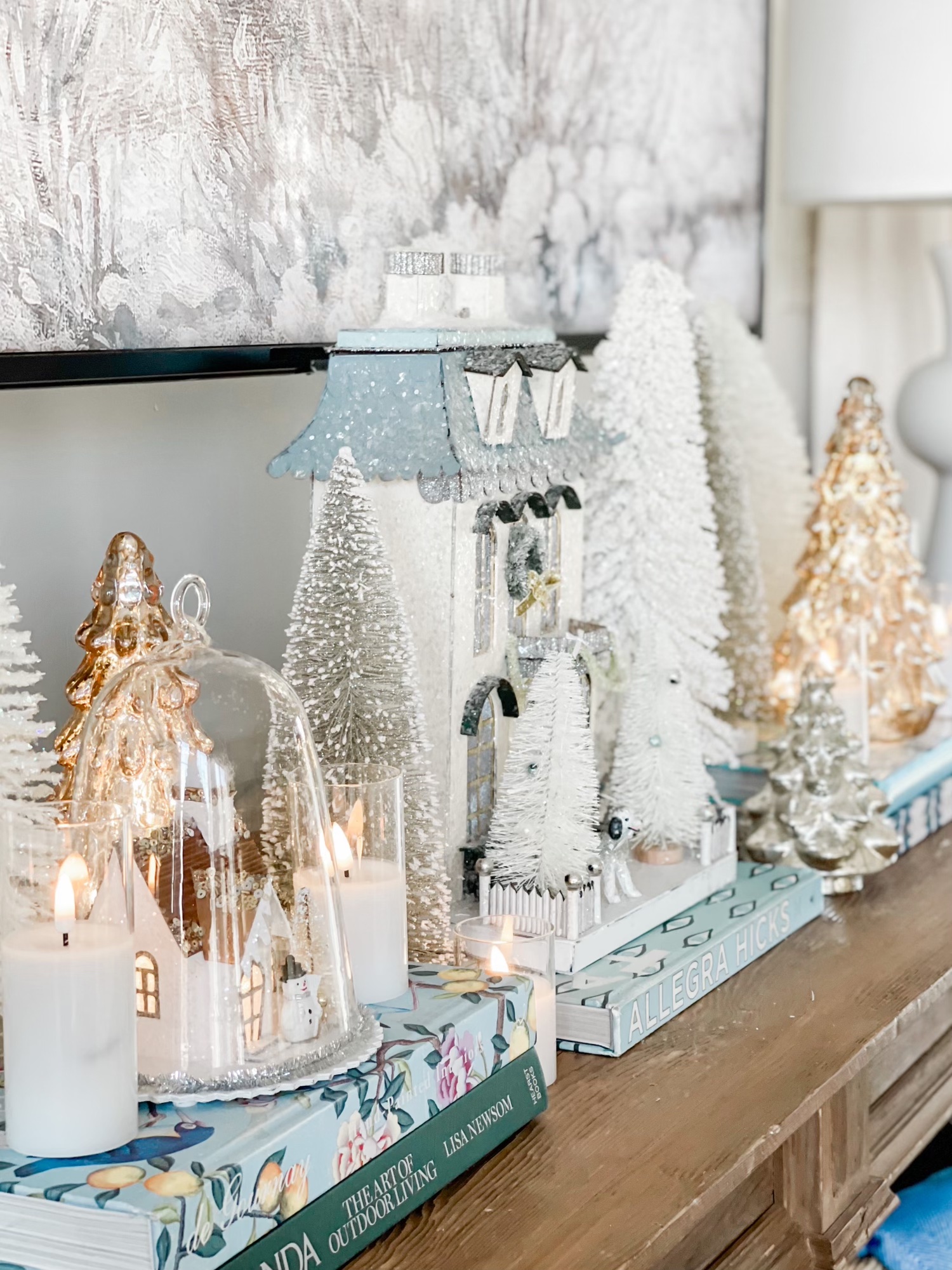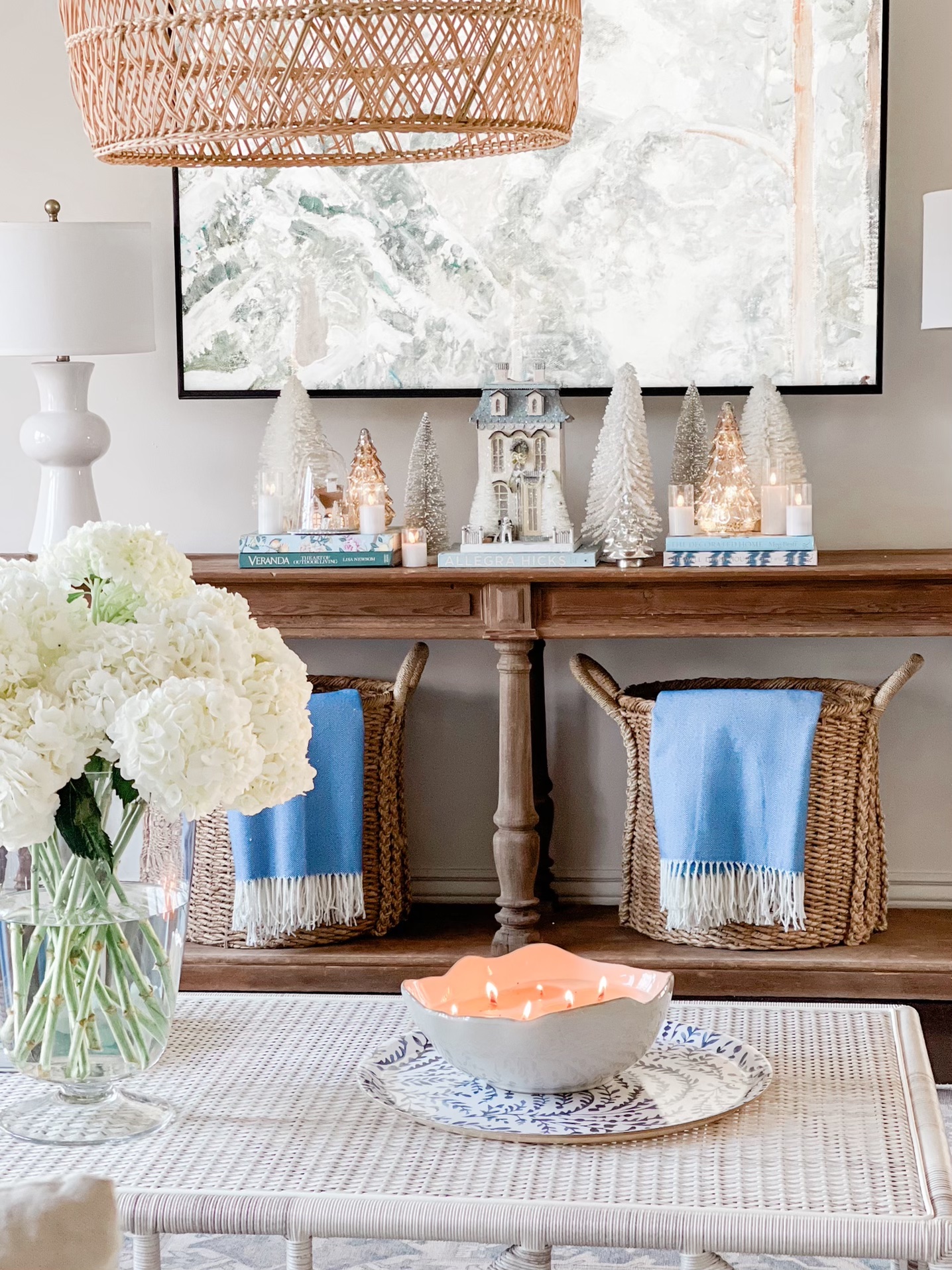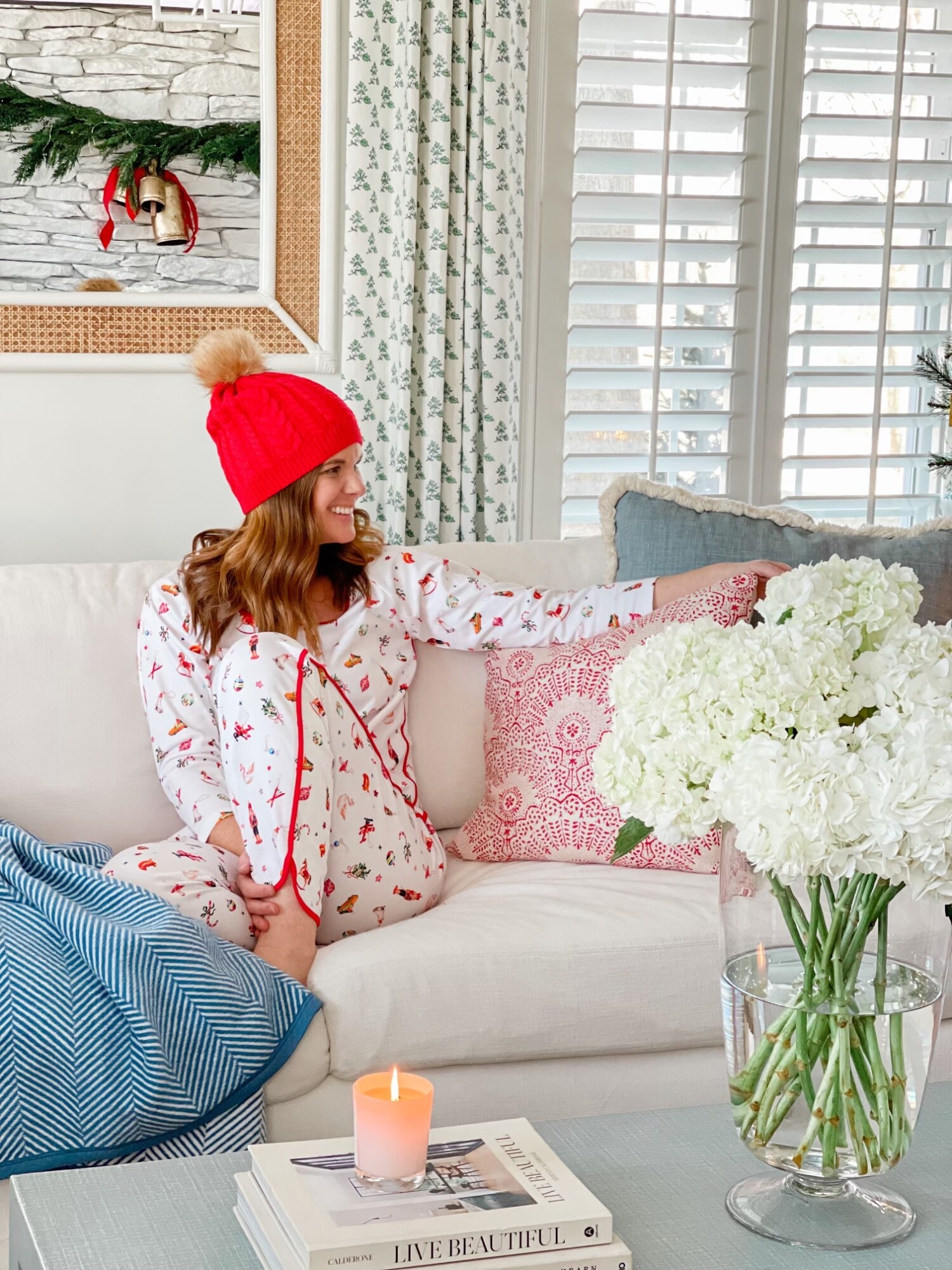 Creating a cozy holiday haven for our littles has always been something I love to do. Our children really get into the holiday spirit and they love decorating the house and I love creating a joyful space for them to celebrate the season! We love gathering here to cuddle with our favorite blue herringbone blanket by the fire (fireplace screen linked here) , burning a Christmas candle, and watching holiday movies. Those are my favorite nights! We even built the Home Alone lego house this year to display! One of my all time, any season coffee table centerpieces is a large glass vase of hydrangeas.  It doesn't matter what season it is because they are my favorite and I think decorating with what you love is ultimately most important!
Touches of Holiday in the Bedroom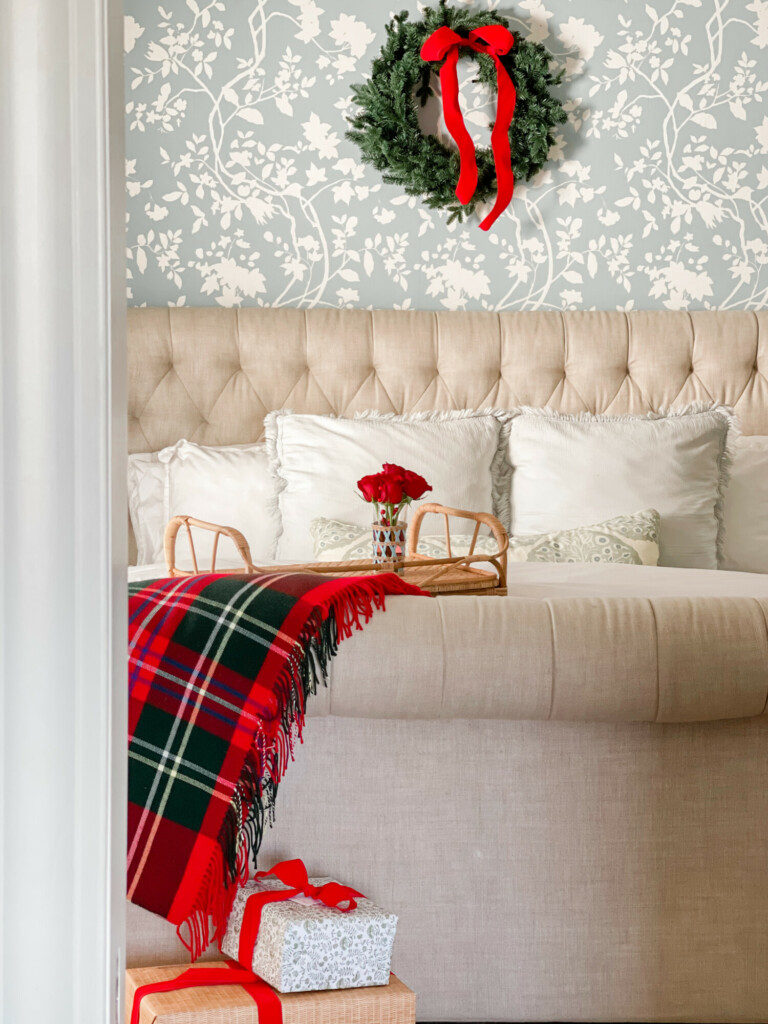 I couldn't resist adding a few holiday touches to our bedroom to make it extra cozy. I added in a plaid throw for extra cool nights and of course a wreath with a pop of red ribbon!
There are three things I love most about holiday decorating:
Mixing collected decor from over the years with new, using clippings from the outdoors, and pops of traditional red!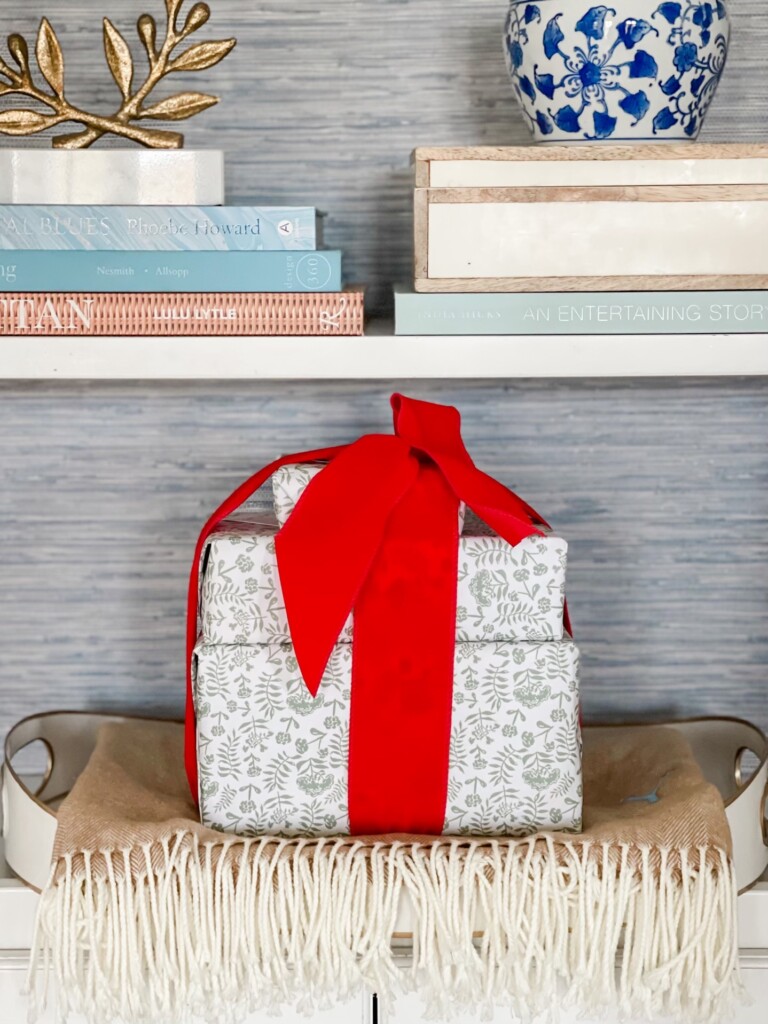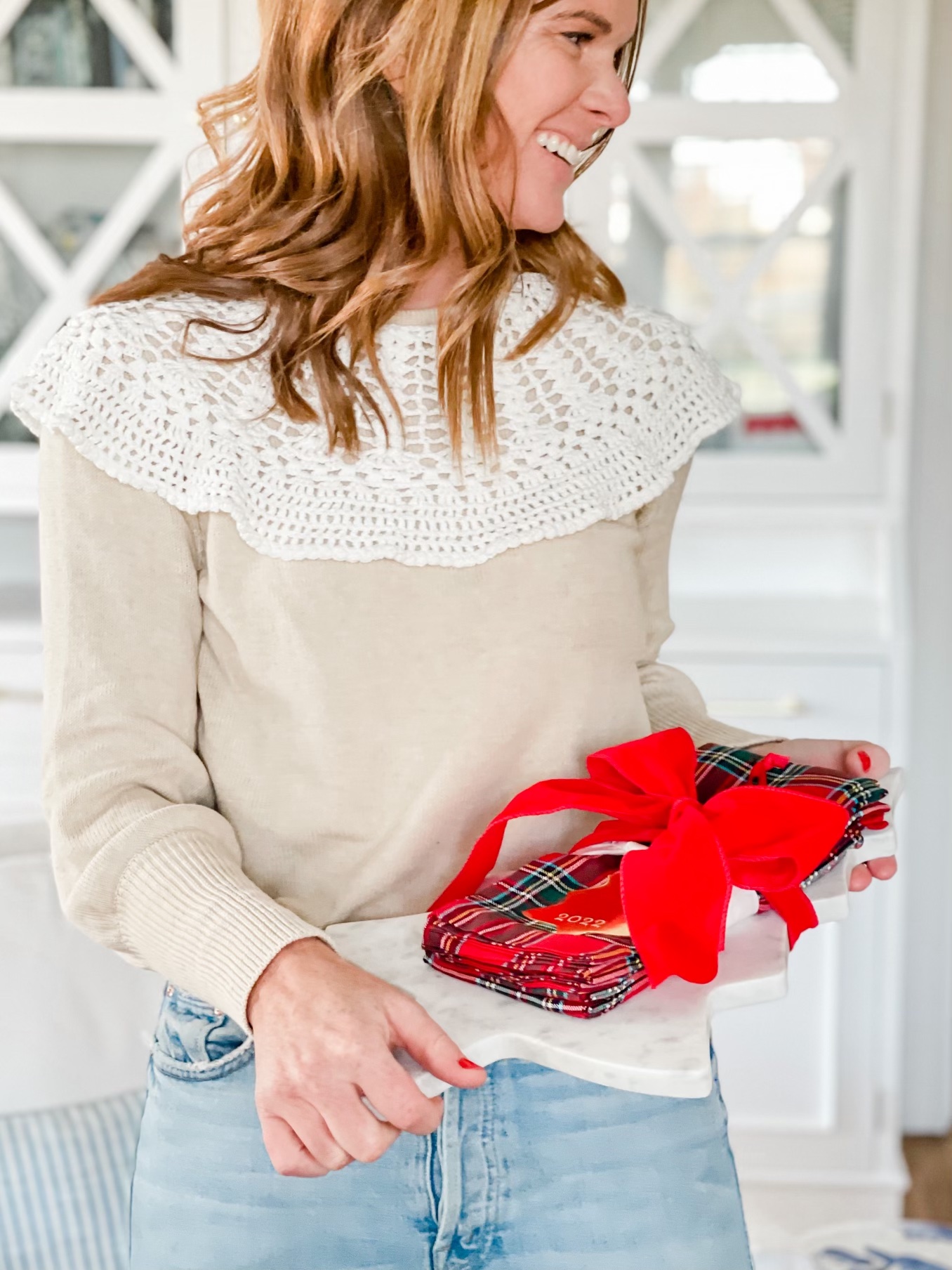 Thanks for stopping by! You can shop more of my holiday decor here and read about holiday decorating with Cailini Coastal here.
Make sure you check out Sarah Tucker, Kristy Cadwallader, Kate Hammer, and Sarah Weisbrod's beautiful holiday decor this week!
Disclosure: This post may contain affiliate links that I may earn a small commission from, at no additional cost to you. I only recommend products I would or have used myself.