Styling a console table is a great way to add personality and style to your home decor. Console tables are not only functional, but they also serve as a stylish centerpiece for your living space. These are my go-to tips for how I style a console table.
1. Start with a theme: Before you start styling your console table, it's important to choose a theme or color scheme that will guide your styling decisions. This will help you create a cohesive look that is both stylish and functional. I used coastal and white as my guiding theme for the console above.
2. Add a mirror or art print: Adding a mirror or piece of art to your console table is a great way to create a focal point and make the space feel larger. Mirrors reflect light, which can help brighten up your space. As this console feature is for our entertainment center, I used an art screen saver to pull in the coastal theme.
3. Layer your decor: One of the most important things to keep in mind when styling a console table is to create depth and dimension. Layering your decor is a great way to achieve this. Start with a few large pieces, such as a vase or lamp, and then add smaller items in front or around them. I used coffee table books, a tray, and vases to layer our entertainment console.
4. Play with height: To add interest and dimension to your console table, play with height. Use items of varying heights, such as tall vases or candlesticks, to create visual interest. Since this is a larger piece of furniture, I anchored the look with tall, matching table lamps.
5. Add greenery: Adding plants or flowers to your console table is a great way to bring life and color into your space. Whether you choose a large potted plant or a small vase of fresh flowers, greenery is a sure way to make your console table look amazing.
6. Keep it functional: While it is important to create a stylish display, it is also important to keep your console table functional. Use the space to store items that you use frequently, such as keys or mail for smaller console tables. Our entertainment console has a large amount of storage which was much needed!
By following these tips and tricks, you can create a beautiful and functional console table that is sure to impress. Remember to have fun and experiment with different styling options until you find the perfect look for your space.
If you're in the market for a new console table, I rounded up all of my favorites here.  See more of my styling mood boards over on my LTK page.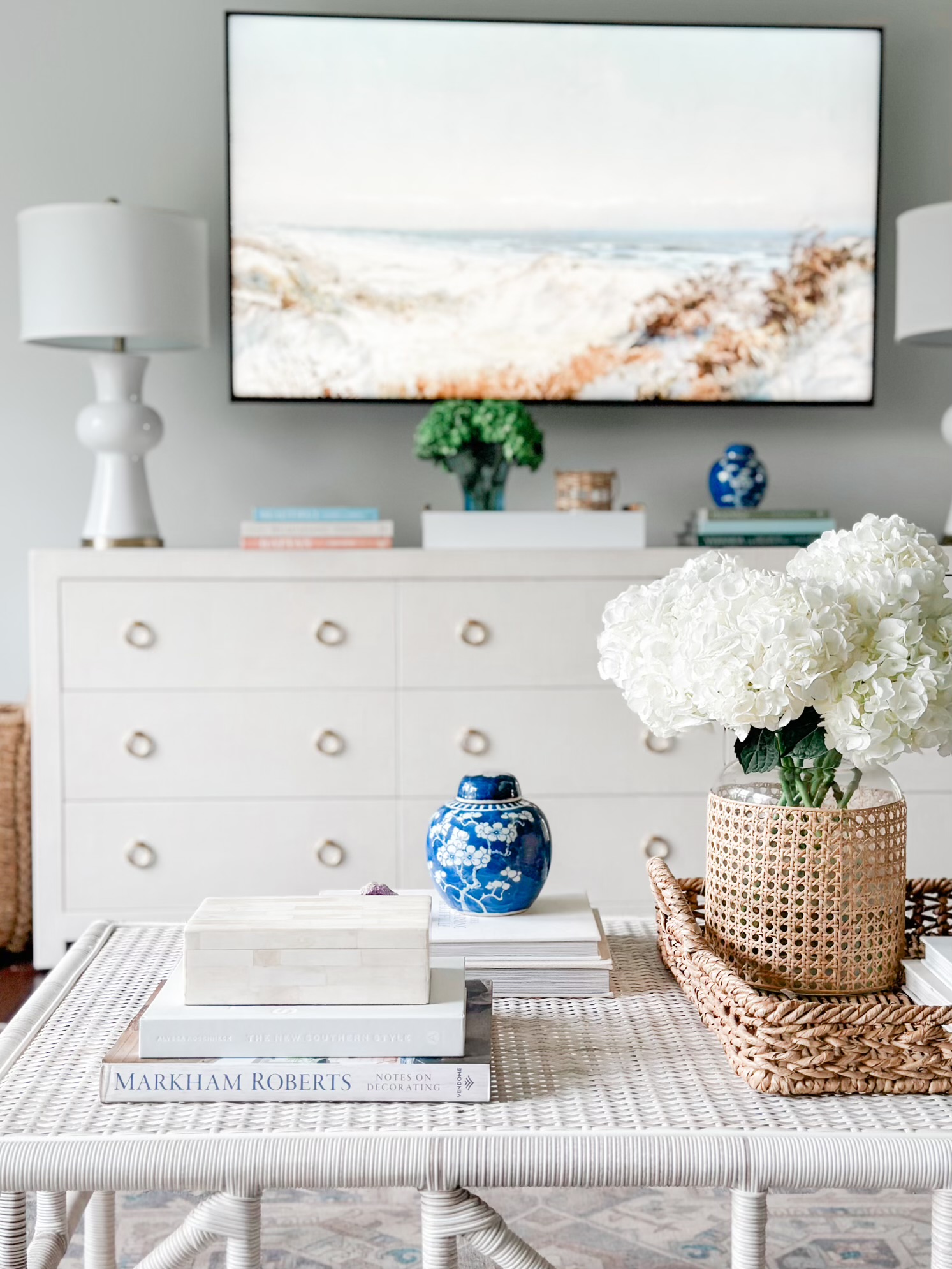 Disclosure: This post may contain affiliate links that I may earn a small commission from, at no additional cost to you. I only recommend products I would or have used myself.