The following content may contain affiliate links. When you click and shop the links, we receive a commission.
This time of year I can't help but have Spring on my mind.  It is one of my favorite times of year.  I love being in the fresh air, opening the windows, and knowing warm weather is on the way!  I also love to get my home feeling Spring ready by making simple updates, refreshing surfaces, and slowly removing the cold weather layers.  The Winter months can feel extra long so I always find adding in fresh flowers and touches of spring helps ease the Winter blues especially when there are inches of snow outside!  Here are some simple steps to get your home feeling Spring fresh!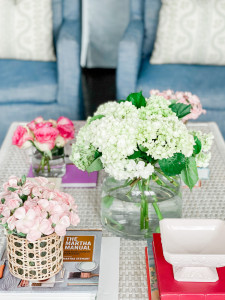 When I am refreshing a space I always start with a clean slate.  So if you are restyling your coffee table it's best to start by removing everything from it and starting from scratch.  I love to layer in coffee table books and choose them seasonally by their color.  For a little Spring refresh I chose beautiful shades of pastels mixed with bold colors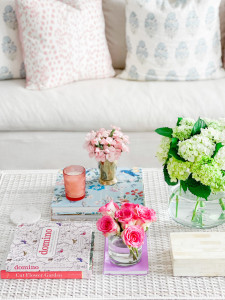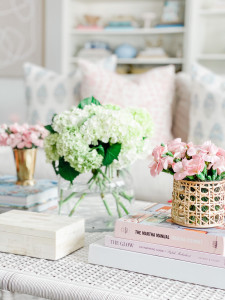 Add in fresh flowers! Fresh flowers always make my house feel more cheerful and they always help get me through the colder months! I love having vases with fresh hydrangeas, tulips, and pretty roses.  They last longer with fresh water daily!  I pop into my local market or flower shop quite often for a pick me up!  If you are looking for a good silk option to always have around these are beautiful!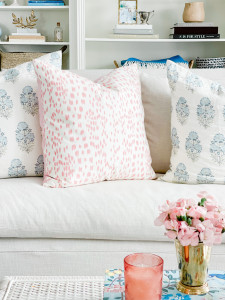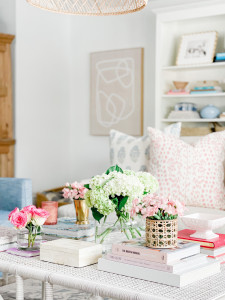 Mix up your throw pillows and remove the winter layers!  Sometimes a refresh can be achieved by simply adding in new pillows!  I pulled some pink and white pillows from a different room in my home to give this space a fresh, Spring feel!  Swap out the velvet for linen and dark for light and airy.  I find so many beautiful pillow options from this shop here.  In case you missed it check out my post on mixing and matching pillows! Swap out the heavy blankets for light cotton throw blankets.  You can also update your bed linens and swap out flannel sheets for crisp percale sheets that will keep you cool as you sleep!This is also a great time to organize your closet and rotate out the heavy sweaters for cotton knits!
Refreshing your home for Spring with these easy steps will not only brighten your living space but will brighten your mood!