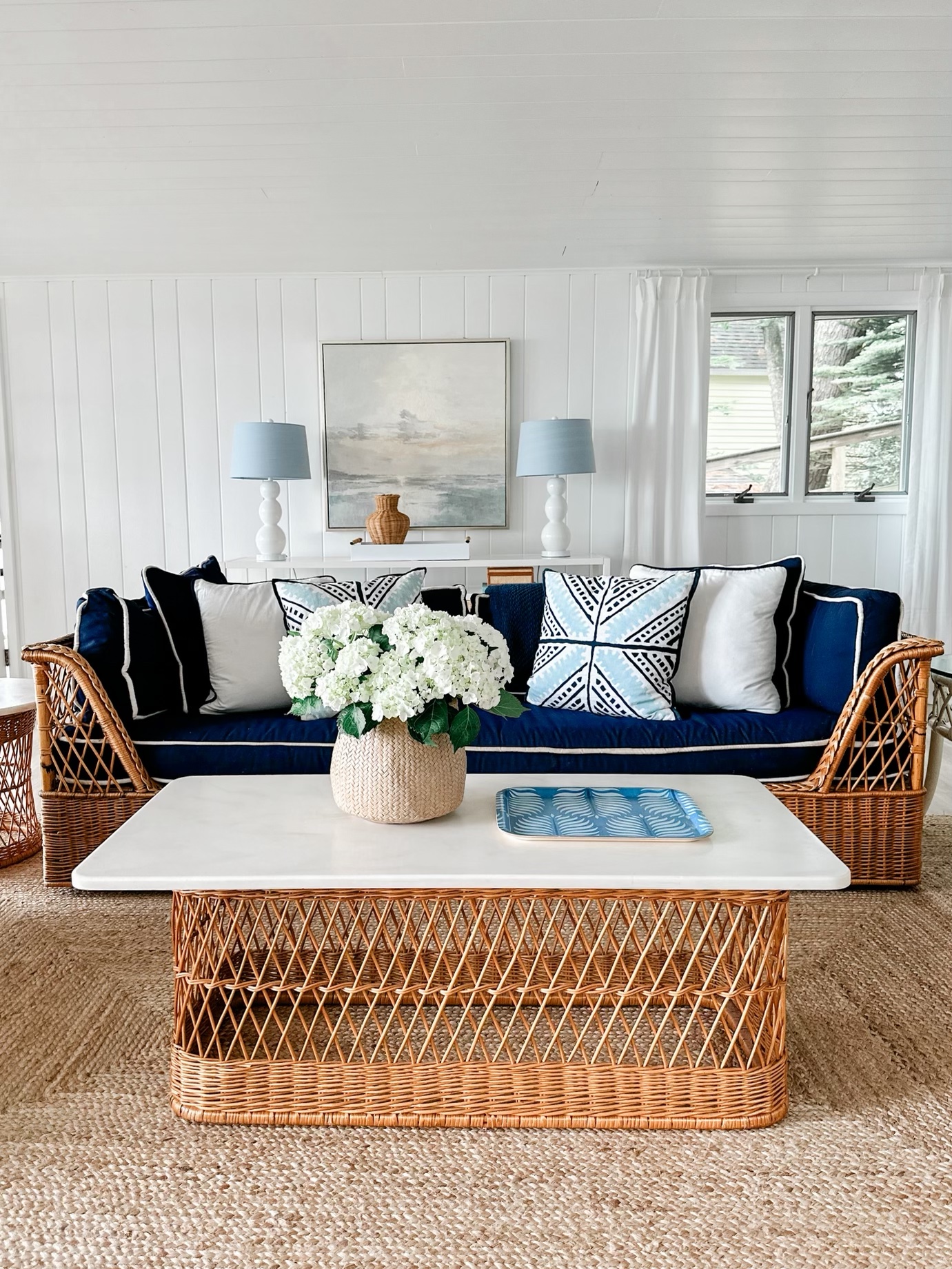 It was time for a refresh. We have been slowly updating our family beach cottage on Lake Michigan and most recently updated the living room rug with Revival!  Revival has always been a favorite place to source rugs. They offer a mix of both vintage and fresh off the loom curated options. Their rugs are made with high quality materials and they are affordable! You may remember when I added the Hart Jute Rug from Revival in our farmhouse bedroom.  This is one of my favorite rugs and I knew Revival would be a great place to find the perfect rug for our family cottage.
When giving a space a refresh I always find that a new rug is a great place to start.  A beautiful rug creates a foundation for any space and sets the tone for the room. Our living room faces the lake and is full of vintage wicker and blue and white details that have been collected over time. This is a gathering place for our extended family and it was important that this room felt cozy and like a home away from home. Adding in a new rug was the perfect way to bring in warmth to this light and airy space.
Selecting the right rug was important to me. I wanted a rug that would ground the space and natural fiber rugs are always my go to especially for coastal settings. I love natural fiber rugs for their charm and warmth and how they just feel classic. So I selected the Revival Venus Jute rug because it felt like the perfect neutral backdrop for the space.  This is a braided jute rug with a beautiful scalloped edge detail and it adds just the right amount of texture to our living space. This rug is also really soft underfoot which is unusual for a jute rug! It's perfect for our large extended family! Jute rugs are timeless and stylish and I know this will be a rug to love for years to come.
Our living room feels so inviting thanks to our new Venus Jute rug from Revival.  You can see some of my other favorites from Revival below and use code MARGARET for a discount on this rug and many other options!