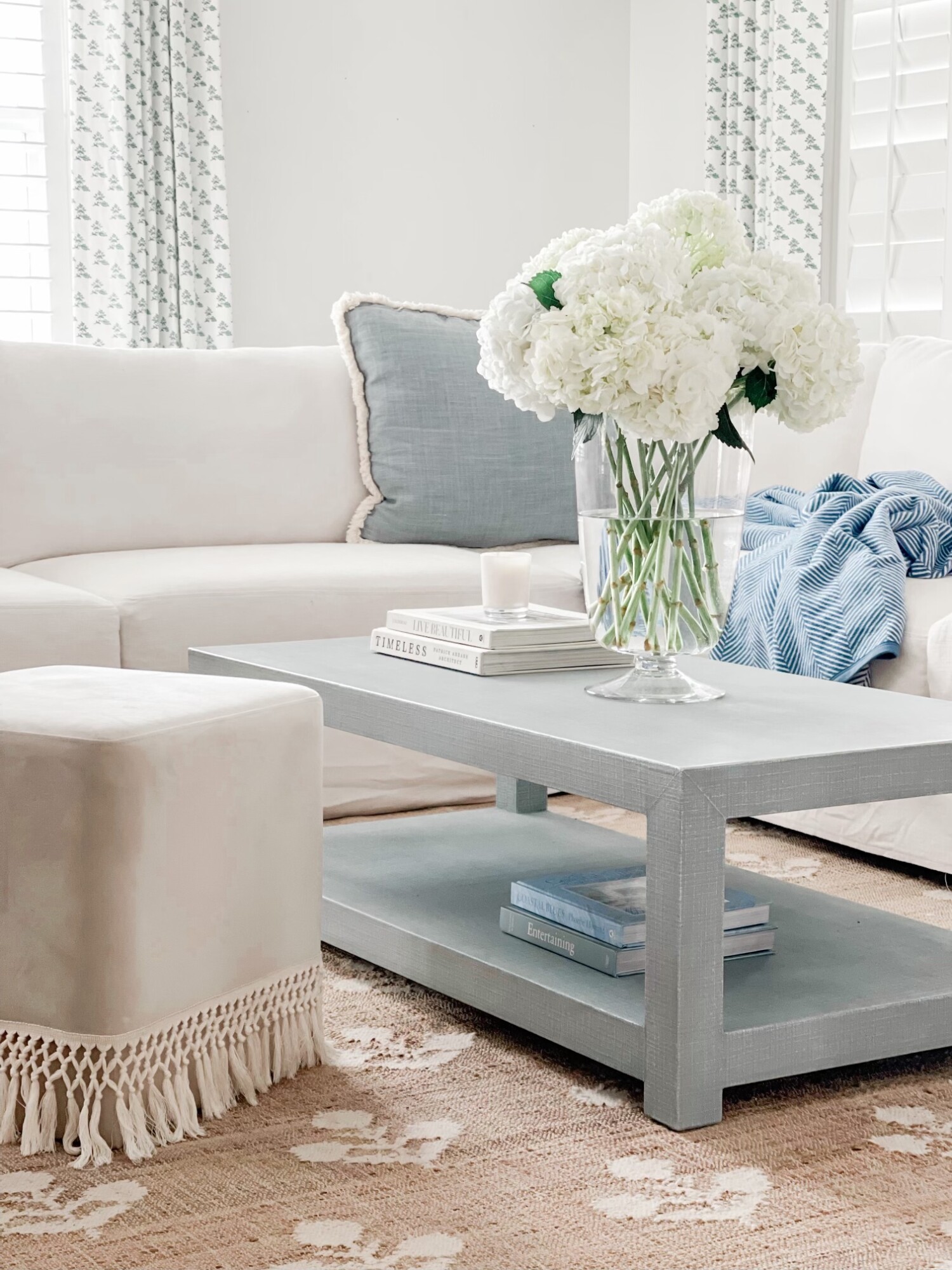 I adore the holiday season so much that when we take down our Christmas decor I get a little heartsick. I think that's totally normal because it is such a joyous season and it has a tendency to fly by and be over before we realize it. So every year when we take down our holiday decor I make a point to refresh our home in an energizing way! January is a fun time to reset surfaces and also a time to get back to the basics of home decor.  Our home has a strong blue and white palette that feels just as fresh during the winter months as it does in summer. We have a mix of natural fiber rugs, rattan, grasscloth wallpaper, and some traditional touches.
When refreshing your home here are a few tips to keep in mind:
Clear the clutter  Put all the Christmas gifts away.  If your children received new toys for Christmas keep them organized but clear the clutter. I purchased clear bins and gave each new item its own container. This helps teach the kiddos to put their items back in their corresponding container. I keep all of my gift cards in a zipper pouch in my purse so they are easy to find and hang up all new clothing items. Sometimes this initiates a bit of a purge. My rule is if it's broken discard it.  If you haven't worn it in a year donate.
Reset your surfaces Resetting your surfaces gives a fresh feel to your home. After the holiday decor has been put away I like to restyle my coffee tables and bookshelves giving them a fresh new look. It's fun to mix up your surfaces and makes your home a new start for the new year! Start by removing everything from the surface and then re-add any items you want to display. I love using coffee table books, candles, and flowers.
Add in new throw pillows An easy way to change things up is by swapping out your throw pillows! This is a no-fail easy way to give your sofa or seating a facelift! This is also a great way to bring in a little color if you are feeling the winter blues creep in! A comfy throw blanket also helps keep things cozy in your space!
Fresh Flowers When in doubt add fresh flowers or a plant! This gives your room new life! I buy fresh flowers for our home every two weeks. I put fresh water in the vase each day in an effort to make them last longer. It's amazing how fresh flowers can elevate your mood and your space! Check your local market or florist for options!
When you feel like your home needs more than a little shushing; a new piece of furniture, a new vase, or a rug can do wonders. Here are some of my favorite interior items that will also give your space a fresh and clean feel, perfect for the new year!
Disclosure: This post may contain affiliate links that I may earn a small commission from, at no additional cost to you. I only recommend products I would or have used myself.