This post has been sponsored by Mark and Graham and contains affiliate links that I may earn a small commission from, at no additional cost to you. I only recommend products I would or have used myself.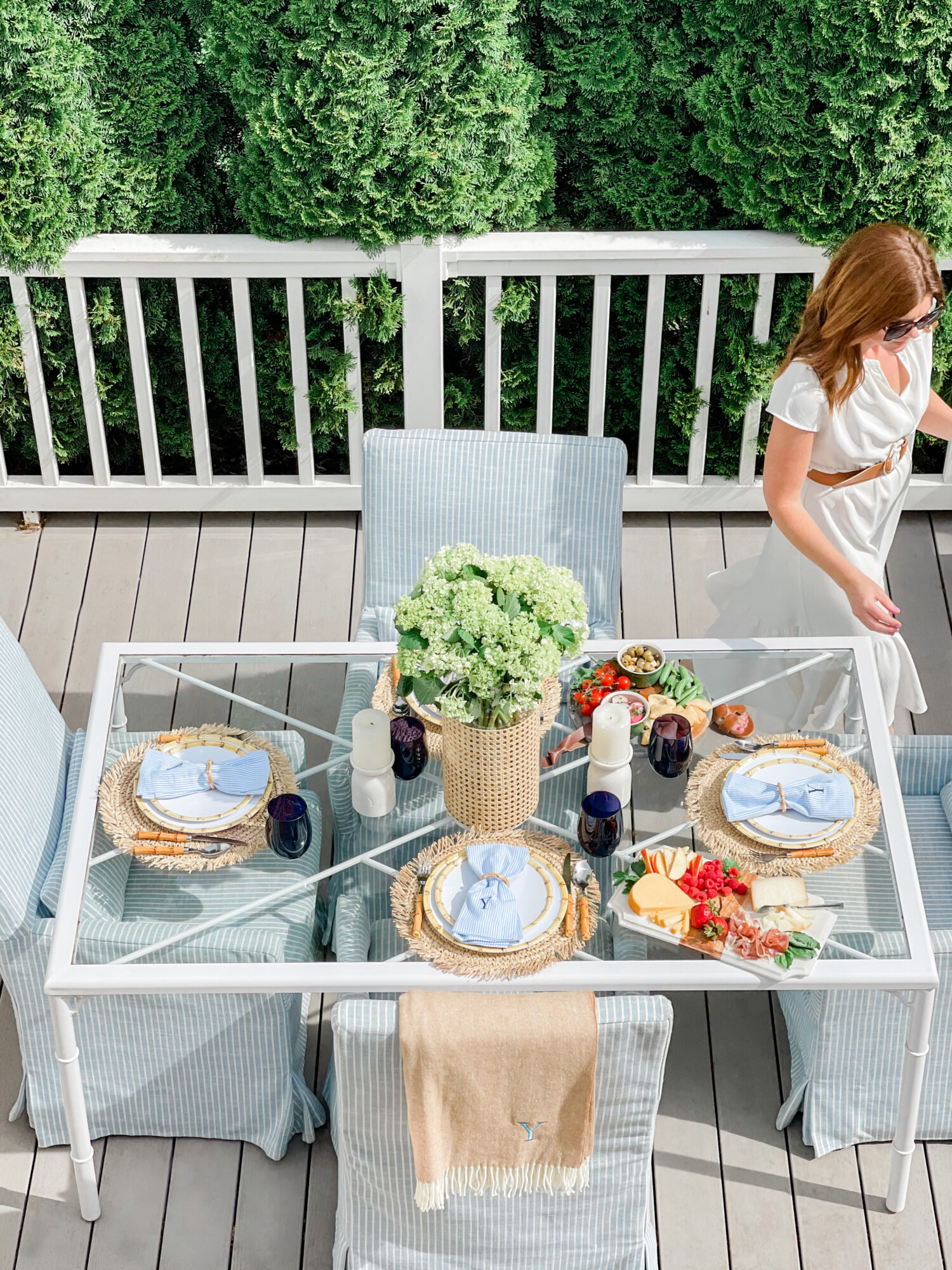 School is out and the summer season is in full swing!  This is the season for making lasting memories.  We welcome every opportunity to host gatherings on our patio. There is something so special about moving your meal outside when the weather is just right. I partnered with Mark and Graham to kick off the summer entertaining season with some of my favorite entertaining essentials! Marble cheese boards, lacquered trays, and personalized wine glasses are a few of the beautiful pieces that I love to use from Mark and Graham. Entertaining can be overwhelming, but I am here to help you keep it simple, beautiful, and make it an evening you and your guests won't soon forget!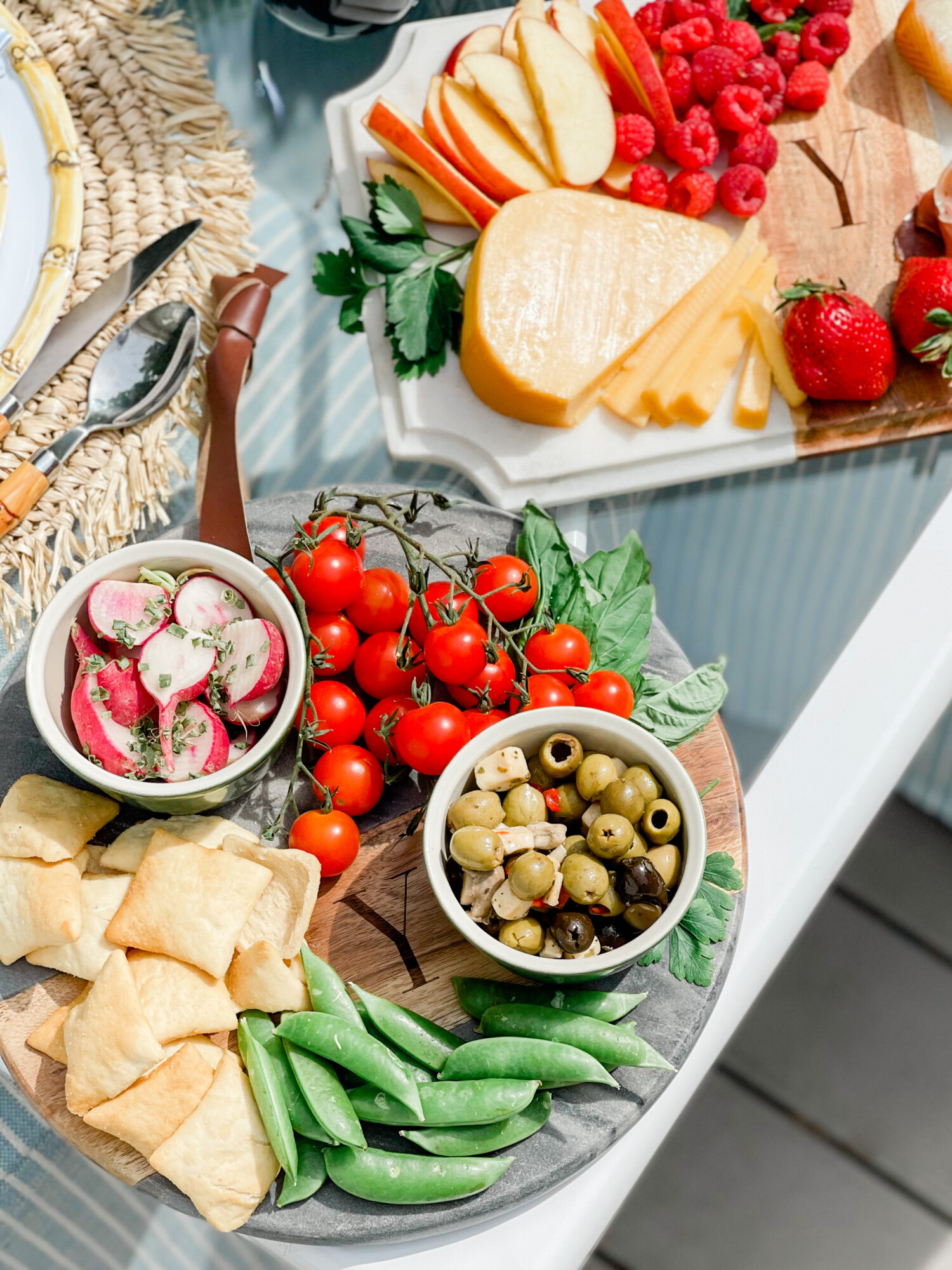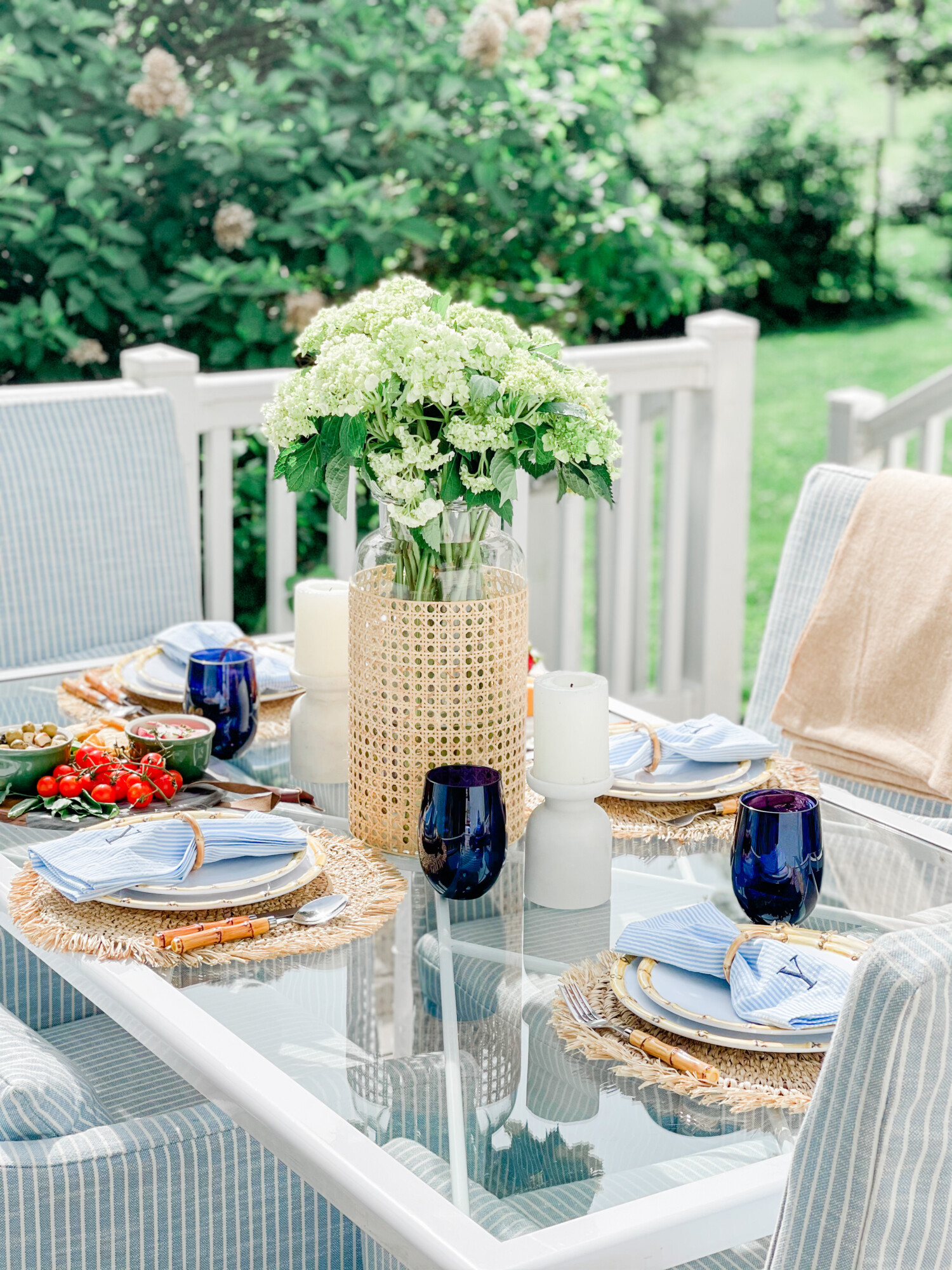 Make it memorable and magical
Moving your meal outside creates a fun new experience. I love to enhance the 5 senses to create an unforgettable moment for my guests.  Whether it is the smell of a charcoal grill, dimly lit candles, or the setting sun in the background, you are instantly creating a memorable experience with your loved ones. One they will look back on and hope to recreate themselves.
When it comes to entertaining, even just for my family, I like to elevate the moment and create a visual feast.  An easy way to do this includes putting fresh flowers on the table.  Whether you visit your local florist for a bundle of hydrangeas or gather them in your yard, your guests will appreciate the special touch! Using beautiful serving pieces, even just for summer staples like hamburgers off the grill, elevates any outdoor meal. Layer your tablecloth, placemats, and personalized linens to add texture and warmth. This creates a memorable and magical atmosphere for your guest.
Keep it simple and in season.
The simpler the menu the better. Visit your local farmers market to find beautiful fresh produce to add to your menu. Serving a seasonal menu of grilled vegetables, fresh fruits, charcuterie, and crudité create a visually beautiful feast. Mark and Graham's marble and wood cheese boards are the perfect serving pieces for any event. Utilize the day before to prep any food to make it easier the day of.
I cut or purchase my flowers a day ahead and put them in a beautiful vessel such as this handcrafted cane vase (comes in a set of 2). I often use hydrangeas because they set the scene for summer so effortlessly and, I adore them. Another option is to cut flowering branches from the yard to fill vases for a bold centerpiece.
I load my favorite bamboo lacquer serving tray with sparkling water, sodas, and seltzers as well as a variety of wines and beer so there is something for everyone. Bowls of sliced citrus for garnish add the finishing touch.  I prepare a playlist in advance to set the tone for the evening. Here is one of my favorite playlists for outdoor entertaining right now! (Maggie's outdoor entertaining playlist)
Find balance between beauty and comfort.
Making sure your guests are comfortable and relaxed is key! It is important to me that everyone feel relaxed, welcome, and happy. I keep these Mark and Graham Italian herringbone throws scattered around for chilly evenings when the sun goes down. Comfortable seating allows everyone to unwind and settle in. Cheers to the summer season and creating magical moments with your loved ones. Mark and Graham's beautiful products make summer entertaining effortless and beautiful!