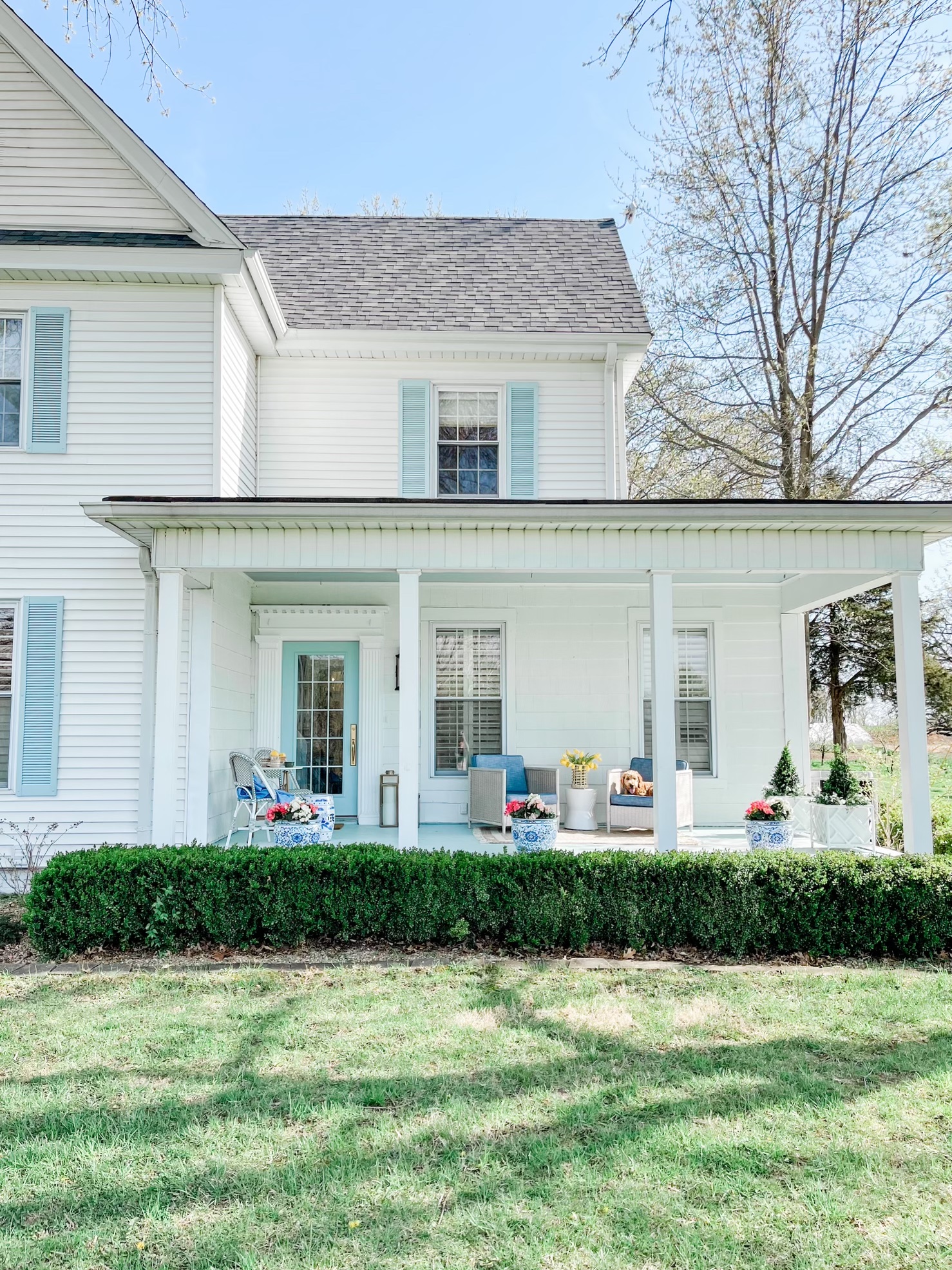 Happy Friday, Friends! I don't know about you, but many of my favorite moments are spent resting and relaxing on my front porch. Your front porch should always be a beautiful, peaceful spot where you can spend your mornings with a good cup of coffee or your evenings unwinding with family. There was a time that we didn't use this porch but after putting some elbow grease into it we have found a spot that the whole family enjoys.  We have the most spectacular sunset views from here too. To help inspire your outdoor decorating, I wanted to share my front porch favorites with you.
We recently gave the ceilings and floor a fresh coat of paint.  I decided to match our shutters and painted them both Blue Porcelain by Benjamin Moore.  My favorite shade of blue! I love when porch ceilings are painted blue and think it adds a beautiful touch of color. Our front porch is the only spot on our home where the original shingles are exposed and I love it so much.  Someday I would love to remove the siding and expose the rest of the house.
I love this french bistro folding table and it's become a definite staple on my porch.  Perfect for morning coffee, breakfast, a laptop with lunch, or an evening glass of wine. I paired it with these weather-friendly grey outdoor riviera dining chairs which also come in a pretty natural dune and bright atlantic blue. I love that they are so easy to care for and wipe down if needed.  I found this outdoor rug that adds an extra layer of comfort to the porch.  It is soft to the touch and easy to vacuum when necessary.  Adding in layers creates so much warmth and this rug really helped achieve that feeling in this outdoor space.
To add extra greenery to my porch, I took this set of white planter boxes and filled them with beautiful flowers.  Along with these classic, white planters, I use these pretty blue and white planters to help brighten my porch with more of my favorite blues. And, I find it important to keep exterior lighting classic, especially on a traditional farmhouse like ours so I've placed this outdoor wall lamp by our front door. This outdoor brass lantern would also be a great addition to place on a side table, on your porch steps, or by your front door.
You can always add a little bit of peace and beauty to your front porch just by picking the right items to decorate it with.  Our front porch is one of my favorite spots to sit and relax with my family. The items I've curated on my porch are a mix of all of the things I find charming and beautiful, and those are aspects I make sure to use in every space of my home. So, if you loved seeing my front porch decor, check out My Living Room Decor.