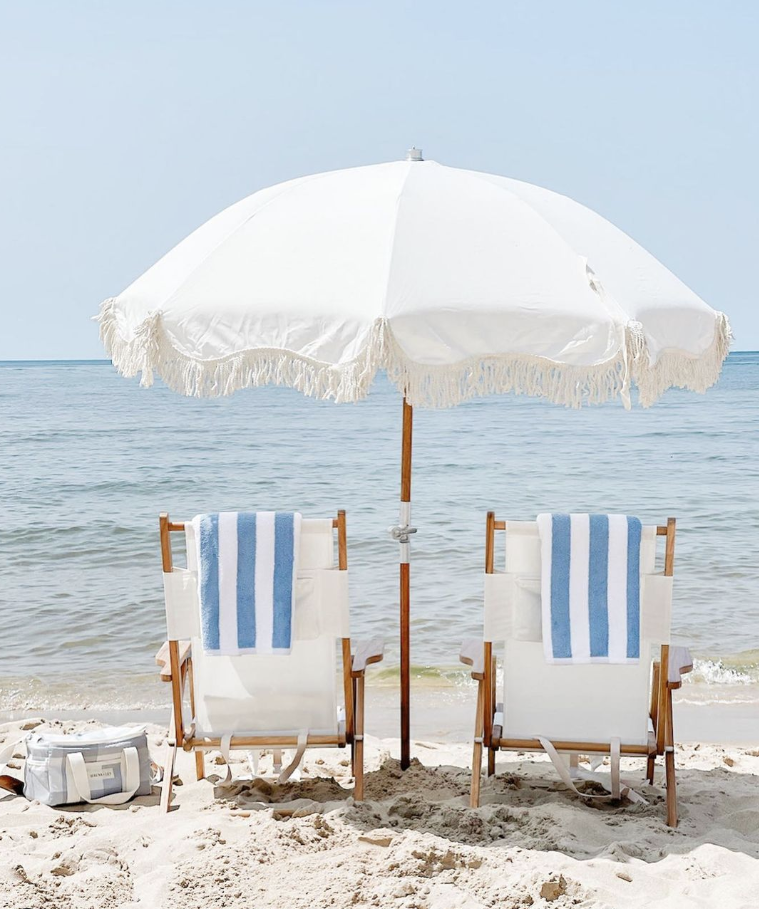 Happy unofficial summer! The sunny season is officially here and there's no better way to spend it than soaking up the sun's rays on a beautiful beach somewhere. So make sure to prep for that much-needed vacation by gathering all of your beach items. It can be overwhelming to remember everything you need so I've rounded up all of my favorite beach essentials.
The first beach essential I get out is the all-important beach chair. I love having so many beautiful options when shopping for the perfect folding beach chair. One of my favorites is this cabana chair bundle. Not only does it come with its own pillow, but you can choose from over 100 different patterned fabrics when designing your chair and pillow pair. Or you can grab this teak beach chair in a classic white or pretty gingham coastal blue. I also love this striped chair that would be perfect for the beach or for using at any outdoor event.
Don't forget to grab an umbrella for those moments when you need a break from the sun! This is definitely one of my favorite beach essentials. You can pair this tide stripe umbrella or this white umbrella with their matching teak beach chairs. I also love this scalloped umbrella with contrasting piping. Or a striped navy blue or a bold navy blue umbrella would be a good addition to your beach trip.
And you will definitely need a really good beach towel. Pack these blue cabana striped beach towels in your beach bag. These Turkish beach towels come in a variety of different colors and are quick-drying. Last year I used these monogramed Turkish towels on my girls trip to Palm Beach. I'm also partial to this vintage stripe towel and this Riveria scalloped towel. Bring a quilted beach house blanket along so you have a place to comfortably relax on the sand. And for those moments when you need a refreshment or two, use this pinstripe cooler or this insulated wine tote to keep your drinks cold and a reusable snack bag to store your smaller food items.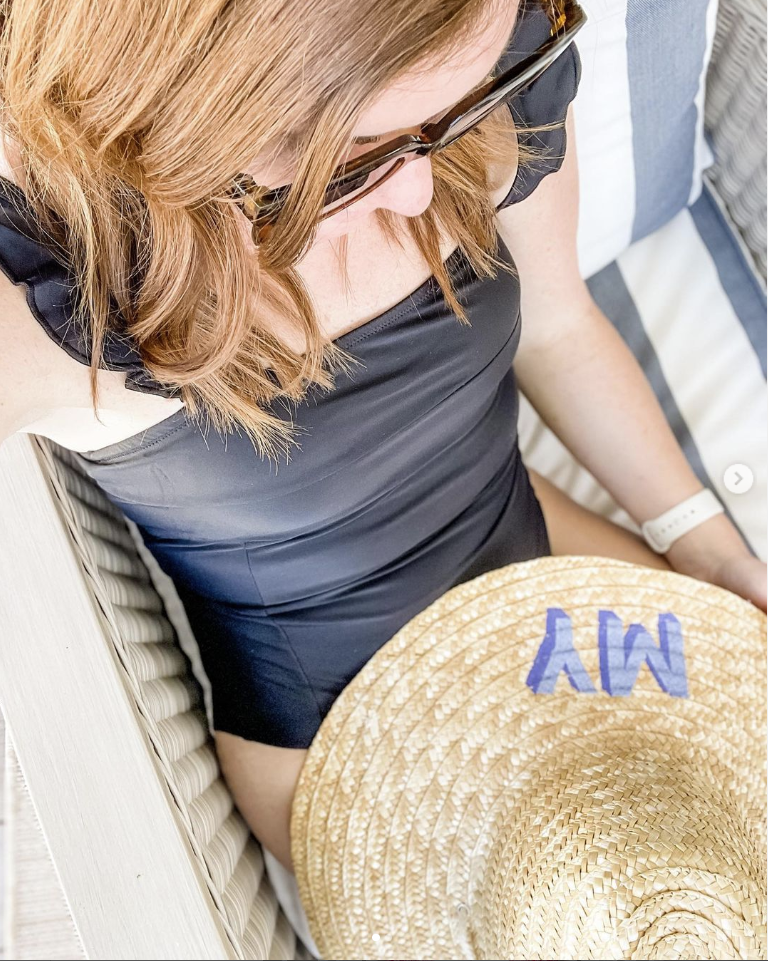 A good beach bag can make or break a successful beach day and is always top of my list of things to pack for my beach must-haves. I love this waterproof tote for its size and how easy it is to wipe clean. This straw tote with striped handles is so cute and I love the colors of this oversized tote. Then I use these clear travel pouches to keep my smaller items all corraled together. They can easily go from your purse to your beach bag. To protect my skin, I use Supergoop's Unseen Sunscreen and a face covering like this sunhat. Weezie just debuted their tote that perfectly fits their straw hat and I'm excited to test it out this year.
I've received a few new swimwear items to try out this summer. There's this adorable two-piece skirt swim set and this classic wrap one-piece that I plan on pairing with this beautiful beach sarong. You can find more of my favorite beach essentials over on my Shop page.
I'm so happy it's finally summer and I can't wait to enjoy some of my own summer days relaxing on the beach with my family. The last beach must-have I'll be making sure to bring with me is a good book to enjoy, so don't forget yours! If you're needing some reading inspiration for your upcoming vacation check out My Top Ten Summer Beach Reads.
Disclosure: This post may contain affiliate links that I may earn a small commission from, at no additional cost to you. I only recommend products I would or have used myself.