Disclosure: This post may contain affiliate links that I may earn a small commission from, at no additional cost to you. I only recommend products I would or have used myself.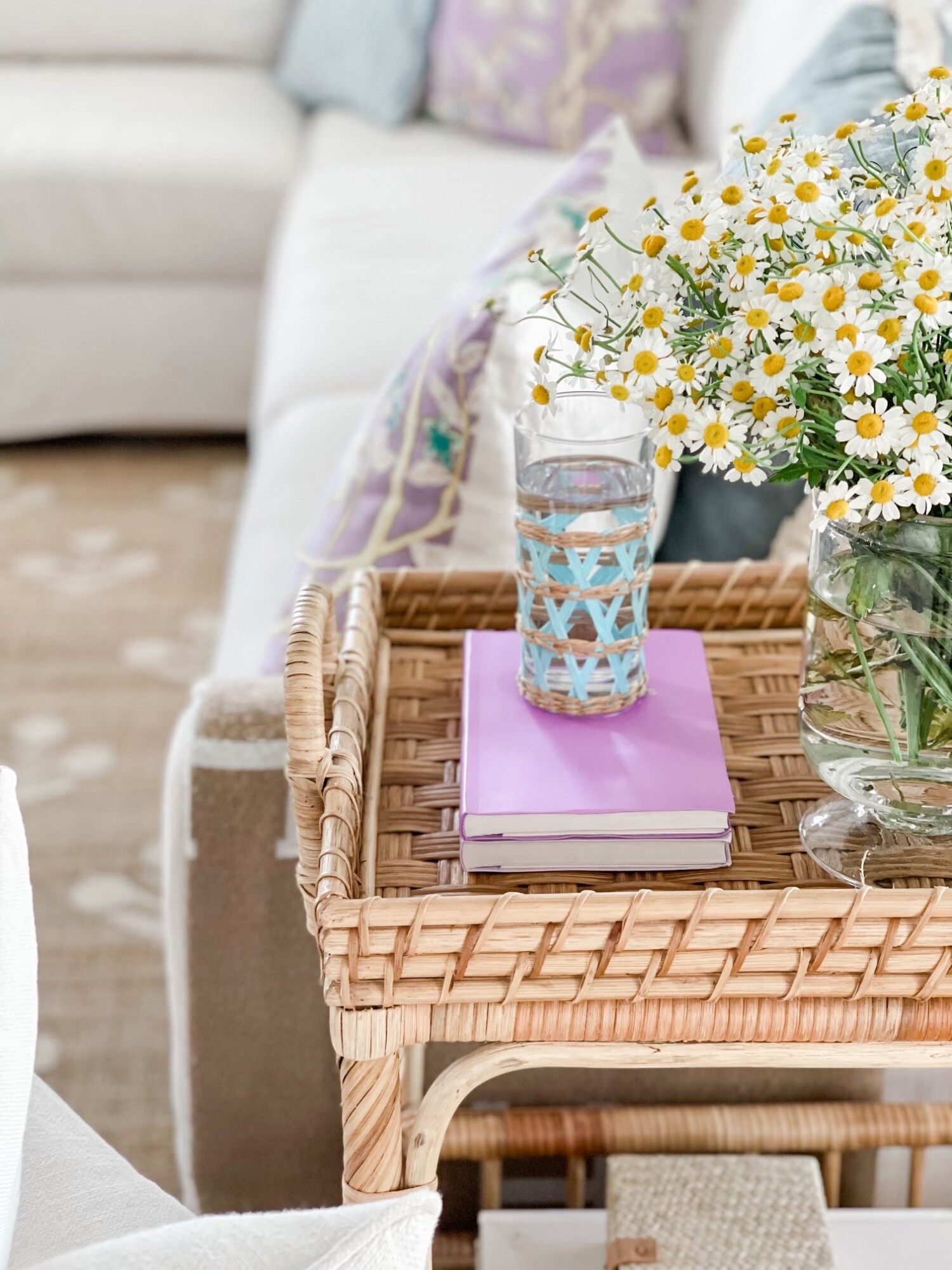 One of my absolute favorite pieces of furniture in our home is my bar cart.  It is one of the most versatile pieces I have ever purchased and can be used functionally in our home in almost every room.  Added bonus  that it is on casters and can be easily moved from one space to the next! There are so many different ways to use this piece of furniture. I have used it next to my bathtub as extra storage, pulled it out and set it up as a bar for parties and holidays (see my Valentine's Day bar cart post here), taken it outside for entertaining, set it up with jars of candy for trick or treaters on our front porch, as well as using it for a bar during Thanksgiving (read that post here) and Christmas holidays! I have never met a piece of furniture that can do so many things and that is why LOVE showing you mine so much!
Bar carts provide surfaces to stylishly style your belongings. I purchased this one at Serena and Lily and it is well built and has a classic rattan wrapped frame.  It is such a pretty piece and adds the right amount texture to every space.  If you don't have a bar cart and are considering getting one you won't regret it! There are so many ways a bar cart can be used or displayed without alcohol or setting it up as an actual bar and they are also great in small spaces! Check out the three different ways you can use a bar cart in your home below!
Bathroom Storage
I love using my bar cart as extra storage.  It has been so functional in my bathroom where I lack storage for some of my most used items.  I love to keep things organized and in their place so this is a perfect option for next to my bathtub.  It holds my favorite monogrammed towels and some of my favorite perfumes, hair care, and skin care products.  I keep my my favorite zippered pouch with my toiletries here as well!  You can read my post on styling a bathroom bar cart here!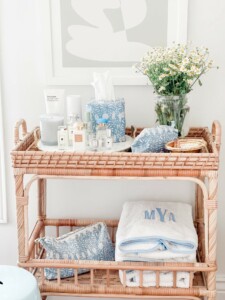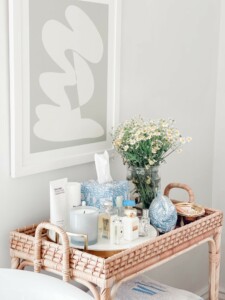 Living Space End Table
This might be one of my favorite ways to use this piece because you can really show it off when you have company over!  I turned the bar car vertically against our sectional and used it as an end table. It's the perfect surface size for a lamp, fresh flowers,  a stack of books, and still allows space to set down a glass of something refreshing.  The second shelf provides ample storage for extra books, folded throw blankets, puzzles, or board games.  This bar cart has a vintage feel to it and that is one of my favorite aspects! I also really love how the rattan looks against our white sectional (also from Serena and Lily).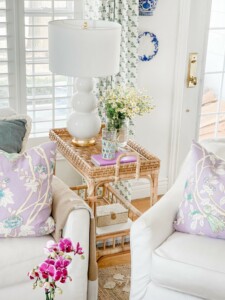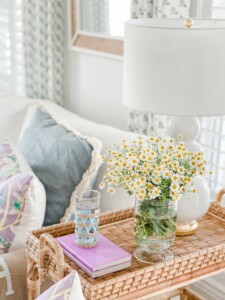 As a Nightstand
Talk about the perfect amount of storage!  This works beautifully as a nightstand in both a beautiful and functional way.  The rattan really pops against the wallpaper and creates such a beautiful moment in our primary bedroom! (similar paper here) There is plenty of space for a lamp (read about my favorite lamps here), a glass of water, books, and more. I also love to add fresh flowers in a pretty vase. They keep things cheerful!  If you use a bar cart as a nightstand you could add a pretty woven box on the shelf to hold unsightly items like hair ties and tv remotes.  It is such a great nightstand option!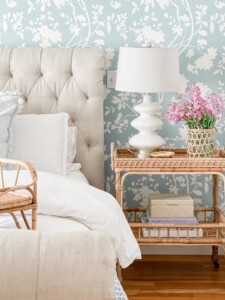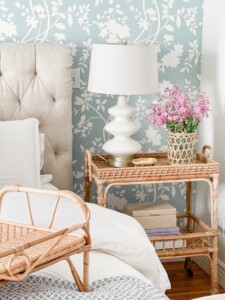 When styling your bar cart in any space in your home just remember to have fun with it!  It is a great surface to store and show off your favorite items in any space or for any occassion!