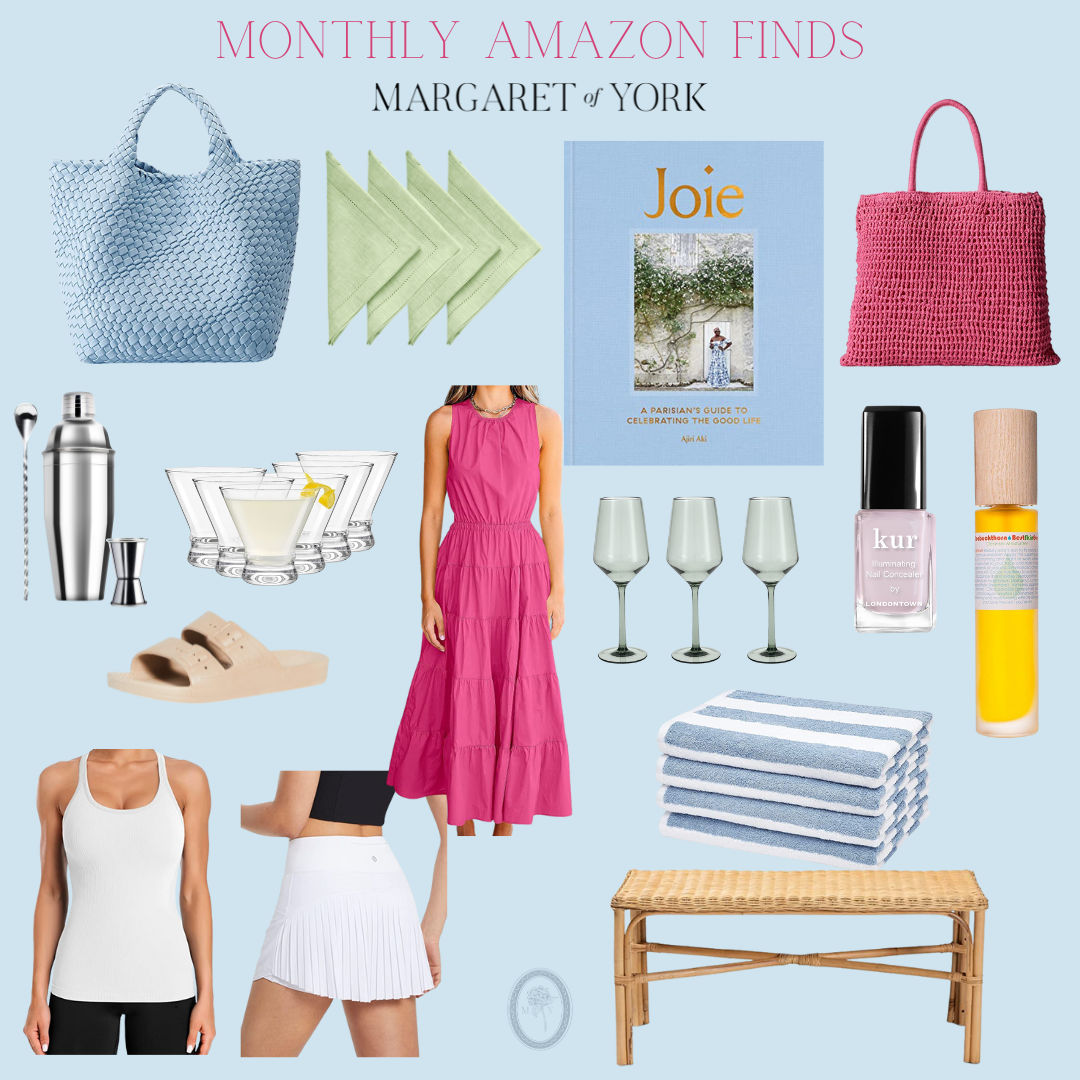 We're back this month with my monthly Amazon finds. It's so easy to miss great stuff with the online retailer and it can feel overwhelming when you're shopping. This month I have a few items to prepare us for the season of outdoor entertaining and to stock our bar cart. I'm longing for the days when we spend our time outdoors hosting family and friends. I needed skincare and beauty products so I stocked up on a few favorites as well as new-to-me items. I tried out a new workout tank that was my favorite Amazon find!
Disclosure: This post may contain affiliate links that I may earn a small commission from, at no additional cost to you. I only recommend products I would or have used myself.
Amazon Finds For the Home
I have been looking for new glassware to use when we're dining outside. These shatter-resistant wine glasses are just what I was looking for. They have multiple color options available but I love these sage green ones. The linen napkins are the perfect pop of color to add to our bar cart for cocktail hour. We were in need of new beach towels and the striped ones are so cute! And how lovely is the rattan entry bench? I could see it in so many places in our summer cottage in Michigan.
Skincare & Beauty Amazon Finds
The Living Libations cleansing oil has been saving my skin lately and I'm having my teens start using it as well. When I need a bit of a glow, I love to use the Ilia serum highlighter. On makeup-free days I'll use this all over like a tinted moisturizer. You can also use it on top or under your makeup to highlight certain areas. If you haven't tried the Kur nail concealer yet, it's a must! It's quick-drying and adds just a touch of color to that conceals any nail imperfections. I love the pink color and my friend has the milky white version that she is a huge fan of.
Women's  Style
I love the colorful pink dress for summer I can't say enough good things about this tank top! It's a dupe for the popular Lululemon tank and I have bought it in several colors. I sized up to a medium. It pairs perfectly with the high-waisted tennis skirt. I love the pleated hem at the back! For running errands, I've been reaching for the woven tote lately and have had my eye on this pink crochet one to switch things up this summer. They would both be great for farmer's markets, too!
If you missed my April's monthly Amazon finds, you can read it here. I also have a lot of favorites listed in my Shop and you can always visit my Amazon storefront, which has so much more!