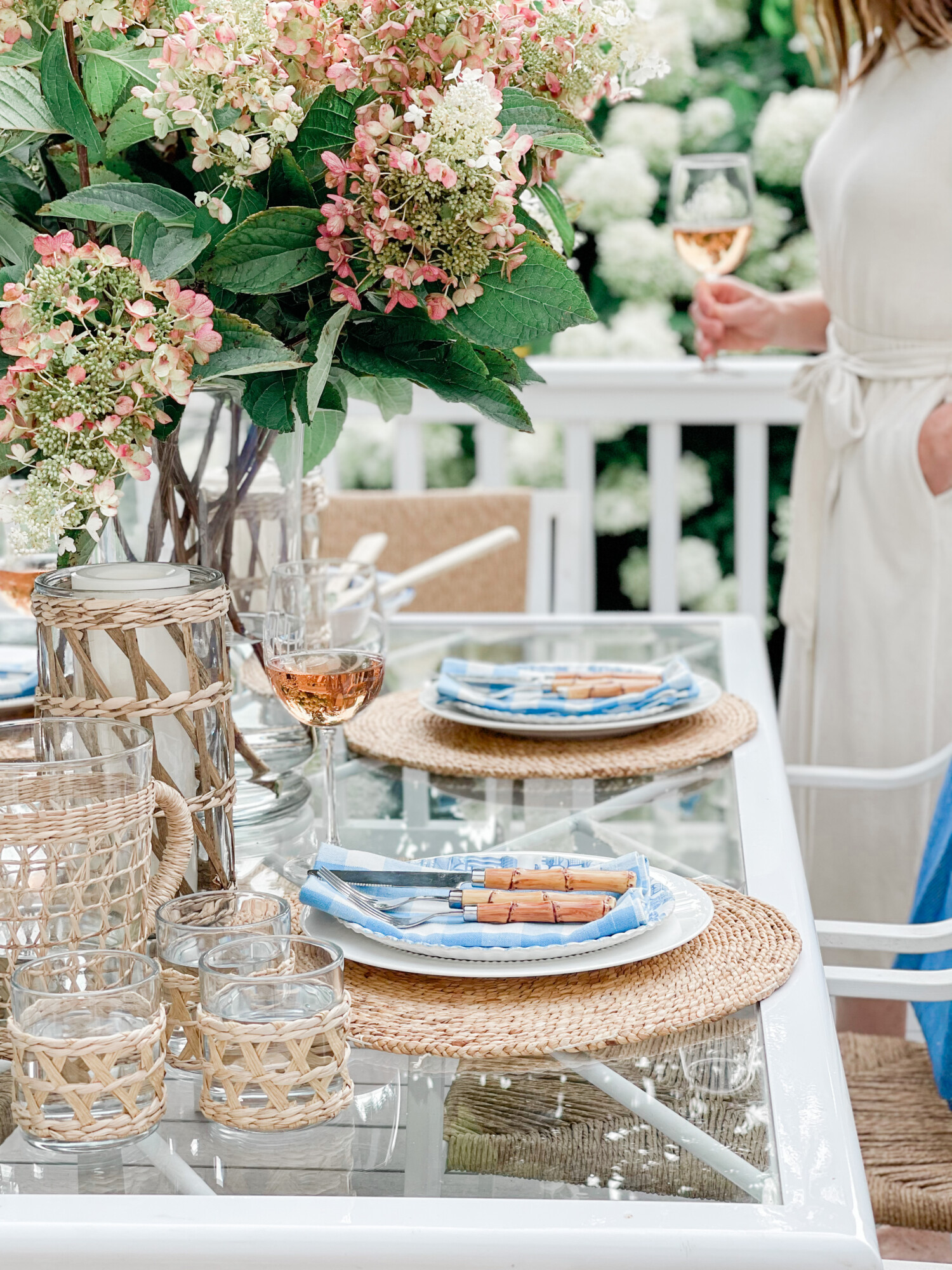 Disclosure: This post may contain affiliate links that I may earn a small commission from, at no additional cost to you. I only recommend products I would or have used myself.
Happy Friday, Friends! The warmer days are slowly approaching, and I'm hoping to take advantage of them as much as I can this Spring. One way I'm doing that is planning an al fresco dining experience for my family and friends. Whether it's for brunch, lunch, or dinner, you can make your al fresco dining complete by decorating your table with textures like bamboo and wicker, melamine serving platters and dishes, pretty linens, gorgeous glassware, fresh flowers, and your favorite candles.
When setting your table for al fresco dining, the best place to start is with a good set of placemats that add a pop of color, like these blue buffalo plaid check placemats. Then add this set of classic chinoiserie melamine plates* or these pretty hydrangea patterned melamine plates. Pair them with a set of bamboo plastic piece silverware* which are great for outdoors. Add a pretty set of gingham napkins wrapped with these wood bamboo napkin rings to finish off your set-up.
Next, choose your glassware. I love these monogram wine glasses* which can add some personalization to the mix, or these gorgeous cobalt stemless wine glasses are a good option, too. You can also add texture to your table with these beautiful island wrapped glasses.
Decorate your outdoor dining table with this poetta vase filled with your favorite fresh flowers and place your favorite candle in this island wrapped hurricane. This cambria melamine bowl* is a beautiful piece to use to serve salad or store fruit at the center of the table, and a gorgeous seagrass wrapped pitcher* is a practical piece that will include more texture in the mix.
Lastly, choose the best set of chairs to fit your table. I love this set of buchanan patio dining chairs*. They're made with weather-resistant steel and woven with all-weather wicker. This gardener dining chair is another good outdoor option. It has a beautiful, classic iron frame and its cushion is made from all-weather fabric. Dress the backs of your chairs in a soft herringbone throw blanket* just in case your guests need a little bit of extra warmth as the summer sun goes down.
I love hosting an al fresco dining experience, and I especially love the decorating and set-up involved so I can make sure it's a beautiful one for my guests. Any piece I use in setting my table is thoughtfully planned and placed, and it helps to have a good space where you can create beautiful moments for you and your loved ones.
(*indicates items in photos)