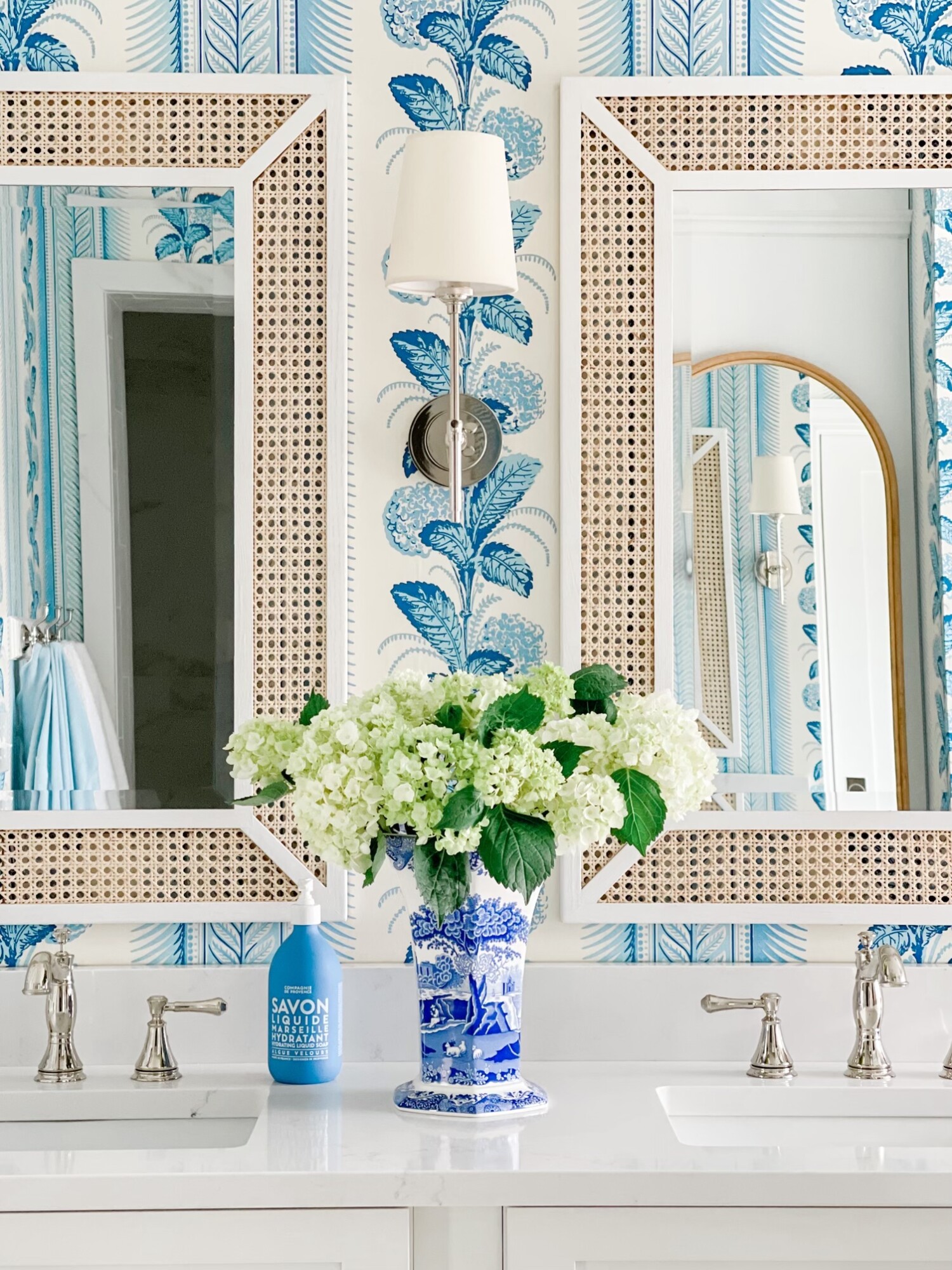 Disclosure: This post may contain affiliate links that I may earn a small commission from, at no additional cost to you. I only recommend products I would or have used myself.
I love adding beautiful mirrors to help enhance a room and there are many reasons why I find them beneficial to use in your decorating! They're versatile, come in a variety of looks and styles, and they can be a reflection of your home's interior design. So, let me share my top five reasons why mirrors are the perfect addition to any space.
1) Mirrors make a room look bigger.
Because of the way mirrors reflect light and images, when you hang one on your wall it immediately increases the size of the room. This is an illusion of course, but if you have a space that feels too small, add a mirror and you'll find that it makes the room feel fuller. The bigger the mirror, the bigger the difference, so don't be shy when choosing the right-sized mirror to add depth to your space.
2) Mirrors can brighten up a room.
Since mirrors are a reflective surface, adding one, two, or even a few of them will give your space more places to bounce light off of. If you have a room that feels a little dark or dull, strategically place a couple of mirrors so that the natural light from your windows or the light hanging from your ceiling bounces off of them which will automatically brighten it up.
3) Mirrors are a work of art.
If you feel like your space is missing something, it could be that you need the right mirror to tie the room together. With all of the variety you have to choose from, they're the perfect addition when you need the right centerpiece to place over your mantel or table, or if you just need a mirror or two to use as accents along with your other pictures and paintings. You can't go wrong when finding a beautiful mirror to add more decoration and help enhance your design.
4) Mirrors make a classic statement. 
A beautiful mirror can be absolutely eye-catching in the right space. They can really elevate your home design and add a professional look to a room. Hang a big, beautiful mirror on your wall to add a touch of class to your living room, entryway, bathroom, and bedroom.
5) Mirrors are multipurpose.
They can do it all! Mirrors are a great option to use for decoration or to help cover up an imperfect wall. They come in all kinds of shapes, sizes, colors, and textures which means you can always find the perfect one to fit your style and decor. And, they keep you looking good, so place one in your bathroom, bedroom, and entryway so you always have a way to check yourself out before heading on with your day!
Mirrors are fun, functional, and oh-so versatile! And they're a great addition to any space that is needing a little something extra. Check out some of my favorite beautiful mirrors in the gallery below! You can also get design inspiration from my favorite lamps by taking a look at my post, Beautiful Lamps to Light Up Your Home.